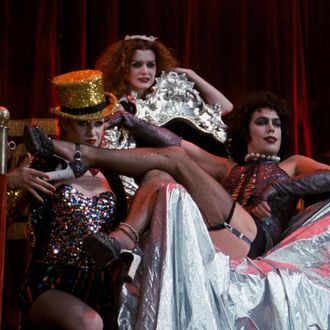 Photo: Twentieth Century Fox
At the beginning of (and throughout) every month, HBO adds new movies and TV shows to HBO Go and HBO Now. Here is a quick list of several titles you might be interested in. Some of these may have been on HBO previously, only to have been removed and then added back. Feel free to note anything we've left out in the comments below.
Relative to the other streaming platforms, HBO has always felt like the popular high-school kid who has just started to realize that people might be a little more adventurous in college. HBO knew exactly what to make to get people's attention just a few years ago (sex, drugs, violence — it was all so easy), but now the network's a little worried that it's started coasting. What are Ballers and The Brink, after all, but the TV versions of the prank humor that you can only get away with before Dad tells you to put away the sports car, buckle down, and do something serious?
In honor of HBO's attempts to broaden its tastes, here are September's streaming offerings, presented in the form of short fiction about college life.
For the sophisticate: In the Heat of the Night (1967), Manhattan (1979)
HBO struts into his new dorm room, leather messenger bag looped gracefully over his letterman jacket. He's carrying a pile of his favorite DVDs and starts to unpack them in front of his new roommate, a slim, techy-looking dude — he thinks he has the world figured out at 18, and he's a little insufferable because of it — let's call him Nate Flick. Anyway, HBO shows off his TV collection: Game of Thrones, The Wire, all the impressive stuff is in there. Nate's pretty impressed, but he says he's kind of over "the whole antihero thing," so HBO switches over to his film collection.
"Ever hear of In the Heat of the Night?" HBO asks. Nate mumbles something unintelligible. He doesn't watch anything from before the '90s.
"Great Sidney Poitier performance," HBO says. "And so relevant now, given the current tensions over race and policing."
Nate is playing a game on his phone now. "Yeah, sure."
HBO feels like he has it made. He pulls out his next DVD, "And look at this, Manhattan!"
Nate glances up, "But, like, Woody Allen."
HBO says, "What?"
Both available September 1.
A sleepover playlist: Bring It On (2000), Doll & Em (Season 2), Wild (2014)
HBO was on the cheer team in high school; now that she's in college, she's trying to downplay that part of her past. She keeps a copy of Bring It On hidden in her desk drawer, which she loves and watches when she misses her high-school friends, but she wants to project an air of seriousness. When she meets Amy Zuna and Holly Lu in a sociology class, she proposes a movie night. Now's the time to prove she's more than just a pretty face!
First, HBO puts on Wild. "I loved Reese Witherspoon in Legally Blonde," she tells her new friends, "And look how much depth she brings to the screen here — it's so brave and so real."
Holly Lu's more of a TV girl. She watches in silence for about an hour and then perks up. "Wait, doesn't Reese know Mindy Kaling?"
Undeterred, HBO moves onto her next offering: The second season of Doll & Em. "Dolly Wells and Emily Mortimer were actual childhood friends," HBO explains. "In the first season, Doll was Em's assistant, but now they're going to be in a play together."
"Wow, this is exactly the kind of thing I love," Amy Zuna says. "The complex and vulnerable female characters, the stark British humor, the short, easily digestible seasons."
"Yeah," HBO smiles at her. "I'm so glad I get to introduce you to it."
Bring It On is available on September 1, Wild on September 5. Doll & Em premieres September 13.
It's midnight somewhere: The Rocky Horror Picture Show (1975)
HBO was a man's man in high school: star of the swim team, prom king, you name it. But he's been hanging out with a new crowd in college — Nate Flick keeps talking about this Orange Is the New Black show and offhandedly mentions he has Queer As Folk on DVD — and he's not sure how to process everything. On a crisp late-September night, HBO sees a poster for a midnight showing of The Rocky Horror Picture Show. He's not sure why, but he knows he has to go. He also knows he has to dress up. He finds an old wrestling singlet and spray-paints it gold.
At the screening, HBO sings along to every word and jumps at the chance to participate wherever he can. He buys a DVD afterwards. Huh, HBO says to himself. Maybe there's a reason I was so mean to those Looking guys in high school. The cool fall air swirls around him as he leaves the video store. The world seems bigger now; he's ready for some some even more radical adventures. I should get back in touch.
Available September 1.
Oldest new title: The Good, the Bad and the Ugly (1966)
Winter has started to set in, and HBO misses her parents more and more by the day. Everyone in college is nice enough, but they're into Vine stars and Instagram — nobody wants to talk about her favorite movies. She calls home.
"Yesterday," she tells her father. "I wanted to watch Thelma & Louise, but Holly said she'd rather watch a sitcom."
"You like sitcoms," her dad says. He's a little worried that HBO's trying too hard to be cool.
"Yeah," she says. "But only when they're from established indie directors or British writers or Lena Dunham. And even then, people say they're not funny enough, or too fast-paced, or problematic."
"Okay, okay," her dad says. "I'm going to send you a care package. It's one of my favorite movies. It's got Clint Eastwood and Sergio Leone and Ennio Morricone and everything. I know you love Westerns."
"Daddy," HBO doesn't want to make it sound like she's calling about money, but she totally is. "Does this mean you'll get me a new Deadwood movie?"
"Let's see how your grades look first."
Available September 1.
FULL LIST OF NEW TITLES ON STREAMING:
TELEVISION:
Premieres of new original programming:
Ferrell Takes the Field (9/12)
Project Greenlight (9/13)
Doll & Em (Season 2) (9/13)
Heroes Cotidianos (9/16)
VICE Special Report: Prisons (9/27)
MOVIES:
Available September 1:
Beetlejuice (1998)
Blades of Glory (2007)
Blade Runner (1982)
Bring It On (2000)
Center Stage (2000)
The Departed (2006)
The Faculty (1998)
The Good Son (1993)
The Good, the Bad and the Ugly (1966)
Her (2013)
How Stella Got Her Groove Back (1998)
In the Heat of the Night (1967)
Manhattan (1979)
The Rocky Horror Picture Show (1975)
Staying Alive (1983)
Thelma & Louise (1991)
Titanic (1997)
V for Vendetta (2005)
Available later in September:
El Beso (short) (2014) (9/4)
Wild (2014) (9/5)
El Vientre (2014) (9/11)
Night at the Museum: Secret of the Tomb (2014) (9/12)
Sexo Fácil, Películas Tristes (2014) (9/18)
Exodus: Gods and Kings (2014) (9/19)
Unbroken (2014) (9/26)