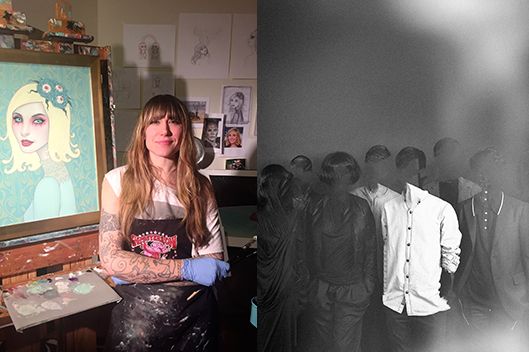 McPherson (left) and Syndicate
From Salvador Dalí and Man Ray to Patti Smith and Robert Mapplethorpe, artists' peer relationships are as valuable as their creative ones. To celebrate Singapore: Inside Out, a showcase of the country's most genre-bending artists (it hits Manhattan's Madison Square Park September 23–27), we spoke with painter-illustrator Tara McPherson and Syndicate, which pairs visual art with electronic music, about the importance of art communities. The NYC-based McPherson, who got her start illustrating band posters, some of which are at the Rock and Roll Hall of Fame, helped launch the Cotton Candy Machine gallery to boost fellow artists. And the music festival favorite Syndicate, part of Singapore: Inside Out, has demonstrated that there's strength in numbers by forming an avant-garde collective. And yet, despite their geographic distance, as McPherson explains with Syndicate's art director Kiat and visual artist Brandon Tay, they have much in common.
Why did you create art communities?
Kiat: The communities have always existed on some level, although they might have been rather fragmented. What we have done is to create a kampung (community/common ground) space for these different scenes to come together, to create something beyond the individual. That was in 2010: I remember snail-mailing large posters to like-minded individuals or groups from various disciplines to invite them.

McPherson: My partner, Sean Leonard, and I wanted to celebrate the work of artists we love. We also wanted to create a place where their art and merchandise would be accessible and affordable, as well as a flagship store for all of my prints, books, and merchandise that was sold online. We've hosted exhibitions, book-signings, workshops, 'zine fests, plays, musical performances, and more. It's been so great to have a space where we can do anything we want.
When did you decide to explore the overlap between visual art and music?
McPherson: I started playing bass when I was 15, and have always been into seeing live music. When I went to Art Center, I was really focused on learning how to paint. After graduating, I finally had time to start a band and, being the visual artist in the band, I designed our flyers. They were turning out pretty cool, I thought. So I approached some venues around LA and started making rock posters. It was such an obvious evolution in my artwork.

Tay: It is my life's work. I think I first realized this attending a concert by Cornelius in Melbourne in my university days. At that point, the cohesiveness of the entire performance and the finesse of its components made it something transcendent.
How do you subvert or expand the notion of what art can be? Kiat: I really think the idea of what constitutes art is hard to define. With regards to what we do, we try our best to communicate our intentions in the most honest way possible. As long as we feel that our work has integrity, it will show. That hopefully creates a dialogue between us and the audience.

McPherson: I love the essence of portraiture, capturing this perfectly idealized moment in time, but I also like pushing the boundaries of it as my characters are not based on real people but more on facets of personalities. I can explore a surreal take on the human condition and impart a power into the gaze of the subject. I really love to explore ideas that maybe wouldn't typically be associated with art, like biology, astrophysics, and psychology.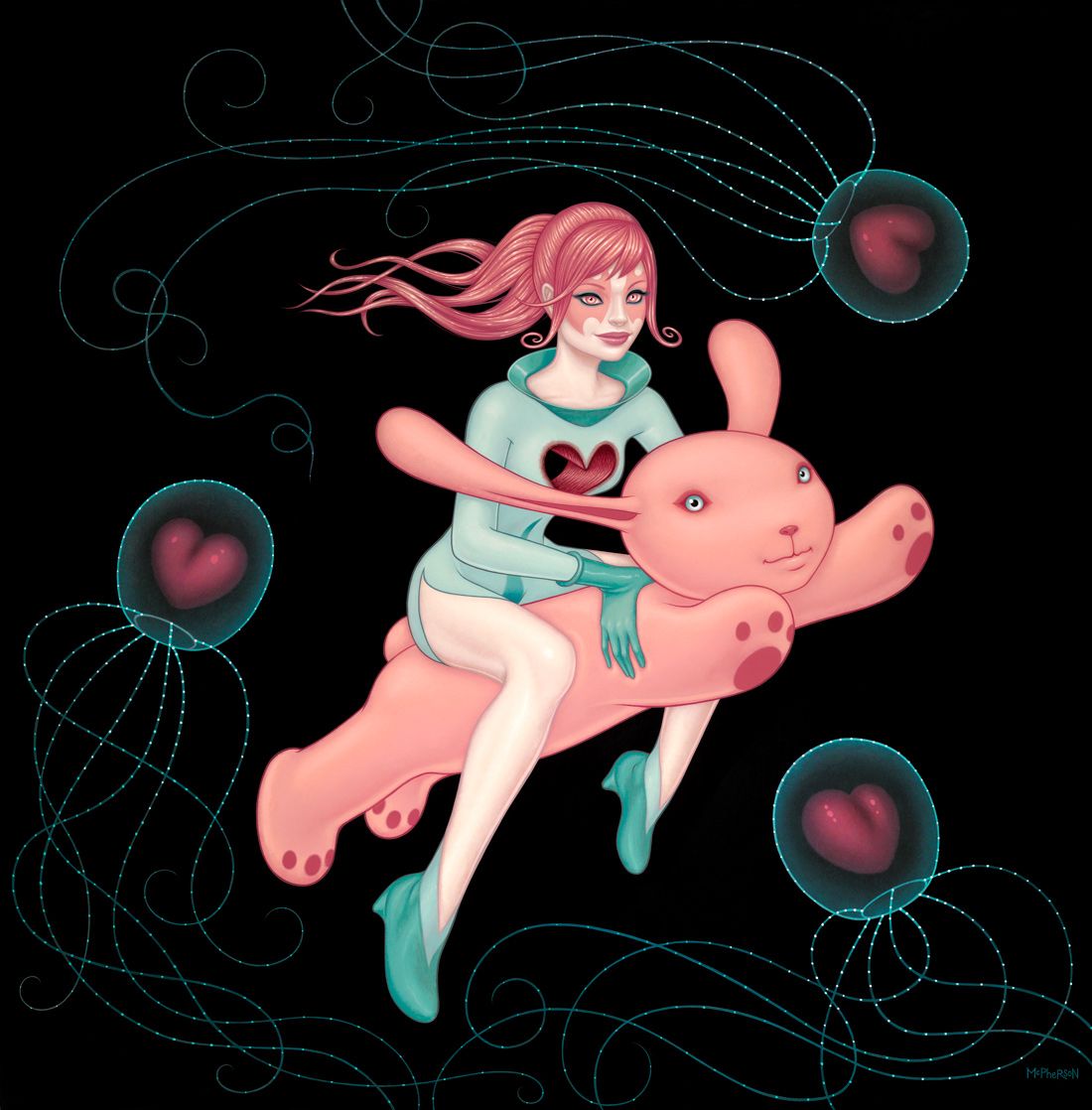 McPherson's "The Love Space Gives Is as Deep as the Oceans"
What are the inspirations behind your work?
Tay: Right now I'm interested in the idea of "slippage." In the media, it refers to visual cues that betray the methodology of how something is created. In performance, it's the miscues when a live performer, especially in an electronic context, exposes the hand of an artist during a show. For the viewer, I think it has something to do with manipulating the space between how they perceive time and space.

Kiat: Space. Both inner and outer.

McPherson: I have an ongoing exploration of the physical manifestation of thought in my work, things growing and flowing out of a body from the power of the subject's mind or a heart-shaped physical void created by loss and devastation from emotional trauma. My last solo exhibition at Jonathan LeVine Gallery here in NYC was called "Wandering Luminations" and was based on bioluminescence, the evolution of life in the absence of light, where deep oceans parallel deep space, where the subjects create and emit their own eerie glowing light in their ongoing quests.
How does the Internet impact what you create?
McPherson: The Internet is my encyclopedia. I can research anything that pops into my head without having to go to the library, so it impacts my creativity with efficiency. The Internet's efficiency also helps in sharing my art with the world. It has created a wonderful global community. I can travel anywhere and people know what I was doing last week in Rome. It's pretty magical.

Kiat: It's an enabler and connector. It has allowed us to reach into the farthest places on the planet and exchange ideas with like-minded people. The perception of distance has changed.
What is your next step creatively as an artist?
Tay: A few things I'm interested in at the moment: virtual reality, brain-computer interfaces, dynamic projection mapping, 3-D scanning, digital avatars, post-Internet aesthetics.

McPherson: My next solo show will be with Jonathan Levine Gallery in December 2016. I'm ready to embark on a new series of portraits of women and creatures that take on more destructive forces. Not only in reference to how we physically and mentally decay, but the power struggles with others and how destructive humanity can be.

Kiat: I would like to explore immersive experiences where the audience is transported into other realms. The mediums don't matter as much to me as the idea behind the piece. There is no point getting the best technology or programmer if your idea is faulty.
What Is a Sponsor Story?
This is paid content produced for an advertiser by New York Brand Studio. The editorial staff of nymag.com did not play a role in its creation.
x