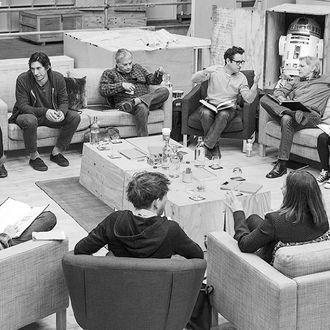 J.J. Abrams and the Force Awakens cast.
Photo: David James and Walt Disney Studios
As a Star Trek man, J.J. Abrams originally turned down the chance to direct The Force Awakens. Besides the potential rift in the nerdiverse the move could have caused, he was in the middle of wrapping up Star Trek Into Darkness, he tells EW, and preferred to step away and do more personal projects. But then LucasFilm president Kathleen Kennedy hit him with the question that apparently changed his mind: "Who is Luke Skywalker?"
Abrams is obviously not going to answer that question in an interview four months before the movie comes out, but he and screenwriter Lawrence Kasdan dropped some vague hints, for which we will now offer an official spoiler alert!
We already knew that the new trilogy picks up 30 years after the end of Return of the Jedi, and the filmmakers say our original heroes are not as changed by the decades as you might think. "They've lived the same 30 years I have. What would that be like? How would you see things differently?" says Kasdan. "[O]ne of the surprises is that you don't learn all that much. You haven't become much wiser than you were, and things are not clearer to you, and the world is just as confusing as it always was … Age does not necessarily bring wisdom; it just brings experience."
And elsewhere, it seems the new film will continue to explore the notion of the thin line between good and evil. "We're looking, obviously, for aspiration, for characters who are conflicted between good and evil, dark and light," says Kennedy. "George [Lucas] spoke often about that tension in everybody between what's good and bad. He always felt that it was easier to be bad than good." If you've been keeping up with the Force Awakens rumors, this is heady stuff, indeed.