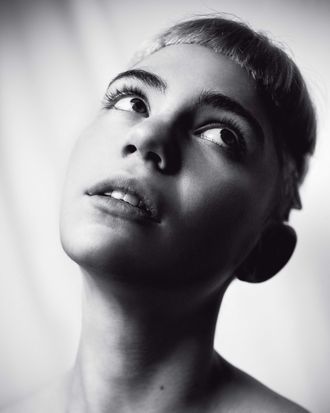 For about a month in 2011, the then-little-known Montreal-based producer-singer Claire Boucher, a.k.a. Grimes, barely left her apartment. She blacked out the windows and spent a string of sleepless (and allegedly Adderall-fueled) nights recording music alone on the standard-issue Apple software GarageBand — making propulsive beats, crafting hypnotic keyboard loops, and layering her airy falsetto into dense harmonies. As she's described it since, she entered a kind of self-imposed fugue state. "[After nine days] you have no stimulation," she told The Guardian, "so your subconscious starts filling in the blanks … I started to feel like I was channeling spirits." The resulting album was pretty, spooky, personal, and a little hallucinatory. Fittingly, she called it Visions.
Despite its unassuming origins, Visions became a sensation, and the album's creation story has turned into a kind of holy writ for any aspiring producer with big dreams, a weird haircut, and an overactive SoundCloud page. A lot of the attention had to do with "Oblivion," an irresistible puff of sonic cotton candy with incongruously dark lyrics. Visions turned Boucher, now 27, into the poster girl for a particularly millennial form of internet-era eclecticism — her genre-agnostic sound consciously celebrated an era in which it's not so unusual to find Mastodon and Mariah Carey sitting side by side in someone's iTunes library. But as Boucher's celebrity began to transition from underground to mainstream — she was a muse for Karl Lagerfeld; she signed with Jay Z's management company, Roc Nation — she also became an exemplar of that distinctly contemporary phenomenon of the viral pop star, the girl who's proved it's possible to go from humble bedroom producer to avant A-lister in a few swift clicks.
At the same time, Boucher was outspoken about the perceived limitations for female musicians, especially in the tech-y, still-male-dominated world of electronic music. "I'm tired of men who aren't professional or even accomplished musicians continually offering to 'help me out' (without being asked), as if I did this by accident and I'm gonna flounder without them," she wrote in a widely shared 2013 Tumblr post. "Or as if the fact that I'm a woman makes me incapable of using technology." Though she's occasionally pushed back against the pressures of the digital world (and the blogs that treat her social-media updates as breaking news), Boucher's internet persona is key to her appeal. Her Tumblr and Twitter feeds are highly personalized collections of self-penned manifestos, K- and J-pop videos, and unofficial endorsements of vegan ice cream. At a time when more polished pop stars have teams of people maintaining their social media, Grimes's accounts feel comparatively anarchic and unpredictable. She gives off the impression — a crucial virtue in this day and age — that she has #nofilter.
Another great thing about her ­anything-goes nature: Some days you wake up and, out of nowhere, Grimes has tossed out a brand-new song. It has happened twice this year: The first time, it was a Cocteau Twins–esque reverie called "Realiti"; the other was the more straightforward pop earworm "Entropy," made in collaboration with Jack Antonoff's band Bleachers and prominently featured in an episode of Girls. These were two very different songs, and they seemed to represent two possible futures for Boucher: When she releases the follow-up to Visions (in 2014, she scrapped recordings intended as her next album), will she stick to her old DIY-and-proud aesthetic, or will she make a break for honest-to-God pop stardom?
We'll finally get an answer in October, with her as-yet-untitled fourth LP. In an August cover story in The Fader, Boucher was all over the place when she tried to describe the album's sound: guitars and breakbeats; girl-group and metal influences; a club track that features three female rappers and is about "being too scary to be objectified." Like Visions, it's still adamantly independent: Boucher recorded, engineered, and played every instrument herself. If anyone can turn such a hodgepodge of influences and reference points into something cohesive, it's Grimes. In a recent interview, her friend the producer BloodDiamonds summed up her distinctly millennial appeal: "I think she's the patron saint of this generation," he said, "where everything's possible."
*This article appears in the August 24, 2015 issue of New York Magazine.