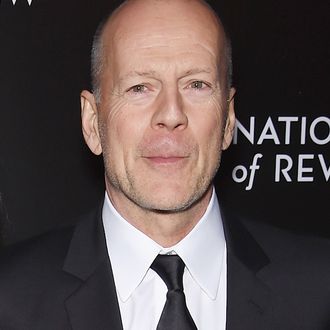 Bruce Willis.
Photo: Dimitrios Kambouris/Getty Images
Bruce Willis has exited Woody Allen's newest film, though the reasons why remain ambiguous. Deadline reported that Willis left due to a scheduling conflict, as he's set to star in a Broadway adaptation of Stephen King's Misery (he's playing the writer, not the psychotic nurse), but we're not sure we agree 100 percent with the site's police work: Willis was photographed on set yesterday, in costume, sitting in a car driven by Jesse Eisenberg, in front of a camera rig, doing what we can only assume is acting. Actors tend to notice scheduling conflicts before they begin filming.
The Wrap's Jeff Sneider* tweeted that Willis was fired, which wouldn't be unprecedented. Allen has swapped out actors before, most famously replacing Michael Keaton with Jeff Daniels in The Purple Rose of Cairo. Allen's film, currently in production, features Blake Lively, Parker Posey, Kristen Stewart, Jesse Eisenberg, Jeannie Berlin, Corey Stoll, Anna Camp, and Paul Schneider. Allen's PR says he'll find a replacement for Willis without interrupting shooting, because nothing stops that man from hitting his one-film-a-year quota.
* An earlier version of this article misidentified Jeff Sneider. We regret the error.