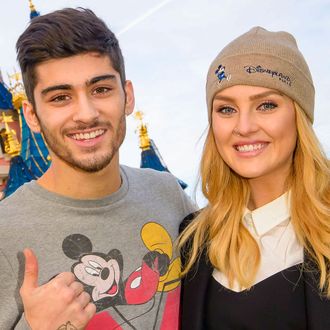 I guess, in the end, his wings were made to fly.
Photo: Philippe Perusseau/Corbis
According to People, Zayn Malik and Little Mix's Perrie Edwards have called off their engagement, which means that, much like Zayn's career, their lives will no longer go in one direction. Zayn reportedly called off the two-year engagement weeks ago, and it's unclear which dating app will obtain his services as a solo sex artist. Regardless, this is the latest incident in this summer's worrying celeb-breakup trend — see Gavin and Gwen, Blake and Miranda, Ben and Jen — and experts fear that if this goes on, the U.S. may face a devastating celebrity-couple shortage by 2025, which in turn could dry up our precious celebrity-baby reserves. Think of the (incredibly famous) children!