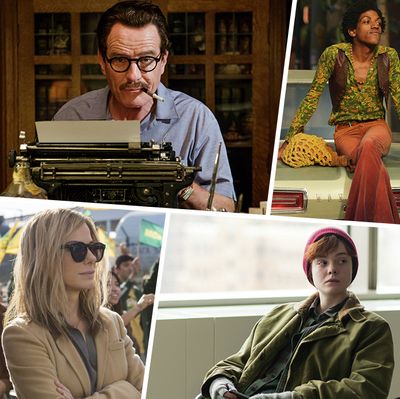 Oh man, if you're a regular moviegoer, September has been rough. A Walk in the Woods? The Transporter Refueled? Before We Go? It's a whole world of no out there, but fortunately, things are about to get better: The Toronto Film Festival begins today, and its eclectic collection of studio movies, Oscar contenders, and sure-to-surprise sleeper hits will give you plenty to look forward to. Your trusty Vulture team will be on the ground covering these titles, but which ten do we expect will generate the most hype? Let's take a look.
First, though, a disclaimer: Though this list encompasses ten films that are world-premiering in Toronto, we're just as anxious to see and cover a few other titles that made their film-festival debuts over the past week at Venice and Telluride. Expect our thoughts on Eddie Redmayne's performance in The Danish Girl, for example, or the sinister Johnny Depp turn in Black Mass that many are hailing as a comeback. I suspect, based on glowing advance word and mainstream appeal, that Tom McCarthy's newsroom drama Spotlight will be a major Oscar contender, but I'm just as excited to see some of the more challenging, unique entries coming to Toronto, like Cary Fukunaga's Beasts of No Nation, Charlie Kaufman's stop-motion Anomalisa, and the Brie Larson kidnap drama Room.
As for those ten Toronto premieres, here's what we're looking forward to:
Demolition
Director Jean-Marc Vallée has become a TIFF staple over the past two years, and his sensitively staged dramas Dallas Buyers Club and Wild went on to impress Oscar voters, too. That's why his new effort, starring Jake Gyllenhaal as a grieving widower, surprised industry observers when Fox Searchlight moved it out of awards season and into next spring. What has the studio got on its hands? We'll find out opening night.
The Martian
Does Ridley Scott read Vulture? We ask because his new marooned-astronaut thriller, The Martian, surrounds star Matt Damon with a supporting cast full of our faves, including Jessica Chastain, Kristen Wiig, Sebastian Stan, Donald Glover, Michael Peña, Mackenzie Davis, and Chiwetel Ejiofor. (Plus Kate Mara with markedly better hair than she had in Fantastic Four.) If there had only been a cameo by current Vulture obsession BB-8, we'd start to suspect that this movie was designed for us in a lab; let's hope it lives up to the sky-high expectations conferred by that cast.
Our Brand Is Crisis
You wouldn't expect Hollywood executives to cast Sandra Bullock as James Carville, and they didn't at first. In this fictionalized account of the 2002 Bolivian presidential race, the main character based on the wily political operative Carville was originally scripted for George Clooney, until Bullock came to the project and requested a gender flip. This is her first live-action role since 2013's Oscar-nominated Gravity, so let's see if the recently picky Bullock has chosen wisely.
I Saw the Light
Country-music pioneer Hank Williams died too young at age 29, but who's going to argue against a doppelgänger like the talented 34-year-old Tom Hiddleston playing him in this new biopic? Co-starring Elizabeth Olsen as his wife Audrey, I Saw the Light could provide the sort of behind-the-scenes music story that Oscar voters often respond to, if it hits all the right notes.
High Rise
I Saw the Light isn't Hiddleston's only big play in Toronto: The Marvel veteran (who will soon be seen in Guillermo del Toro's gothic chiller Crimson Peak) also toplines this adaptation of the J. G. Ballard novel about a war between the haves and have-nots who inhabit a towering apartment. Among those thrust into conflict: the tower's architect, Jeremy Irons, and a lower-dwelling couple played by Luke Evans and Elisabeth Moss.
Truth
You'll also find Moss in Truth, but make no mistake — this is the Cate Blanchett show all the way. In it, Blanchett plays 60 Minutes producer Mary Mapes, who found herself at the center of a firestorm in 2004 when questions arose about an exposé she'd engineered about then-president George W. Bush's record in the National Guard. Mapes denied wrongdoing, but the scandal brought down both her and Dan Rather (played by Robert Redford), and the movie tells her side of the story.
The Program
Do three crusading-journalist films constitute a trend? In addition to Truth and Spotlight, we've also got Stephen Frears tackling the Lance Armstrong scandal in The Program, where reporter David Walsh (Chris O'Dowd) becomes convinced that the Tour de France–winning cyclist Armstrong (Ben Foster) is secretly doping. Spoiler alert: He was right!
About Ray
The Danish Girl isn't the only high-profile film about a trans person in Toronto: Gaby Dellal's About Ray casts Elle Fanning as its titular trans teenager, whose mother (Naomi Watts) and grandmother (Susan Sarandon) struggle to adjust to Ray's gender identity. This is a major year for trans characters in Hollywood, though many quibble with the fact that those figures are still played by cisgender actors like Fanning. We'll see how she and the film handle it.
Trumbo
Dalton Trumbo wrote some of the most acclaimed Hollywood films ever made, like Roman Holiday and Spartacus, though you wouldn't have known it then, since the blacklist forced Trumbo and other Hollywood figures to take pseudonyms in order to work. His interesting story now gets the big-screen treatment itself, with Bryan Cranston as Trumbo and Helen Mirren in the juicy role of gossip columnist Hedda Hopper.
Stonewall
Roland Emmerich told us that it wasn't easy to make a period film about the Stonewall riots, though the toughest challenge may be yet to come, as Emmerich must assuage online concerns that he has turned a diverse, pivotal moment in gay history into a story about some cute blond twink. Will the controversy overwhelm Stonewall, or has Emmerich filmed a broader tapestry of queer life than the trailer would seem to indicate?