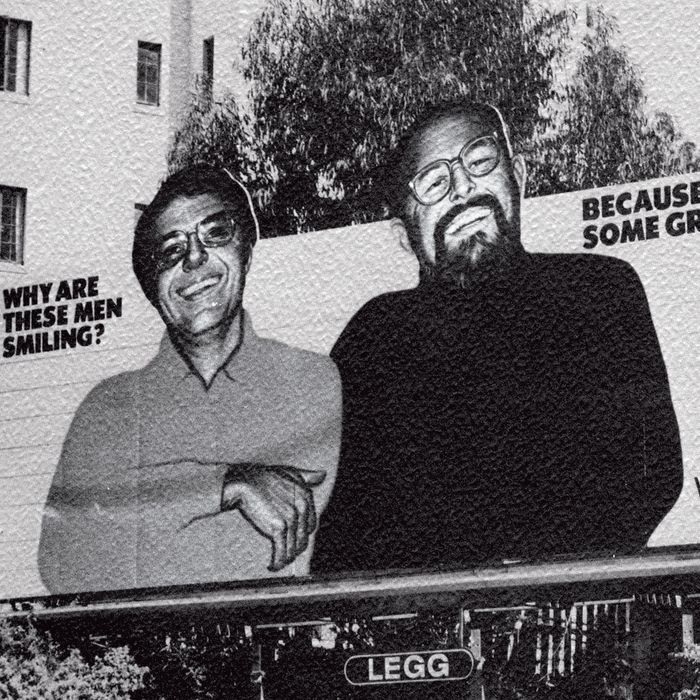 Warner Bros. Records execs Joe Smith and Mo Ostin on a billboard on Sunset Boulevard, 1970s.
Photo: Rhino
The music business is and has always been just that: a business. But for a time — specifically, between the birth of rock-and-roll radio and the digital uprising — the record industry was virtually peerless at generating and wantonly spending unseemly amounts of money. Below are select excerpts from music-business memoirs that perfectly, salaciously capture some very different times in this radically changed industry.
******
"'One of the things I did at Elektra when I was working there was little promotional items,' says [former Elektra staffer Sally] Stevens. 'And for Carly Simon's "You're So Vain," I did little coke mirrors. It was very socially acceptable.' At Elektra's recording studio … it was considered great sport to take one of the framed gold records … lay it on the grand piano, spread a gram or so on the glass, and spin it until the coke arrayed itself in a giant spiral. Straws would be distributed and six or so hangers-on would snort until the spiral was gone."  —Laurel Canyon: The Inside Story of Rock and Roll's Legendary Neighborhood, by Michael Walker (Faber & Faber, 2006)
"I called [Tom Jones's manager] Gordon Mills and told him I had an idea, a sure-fire moneymaker. I got on a plane and flew over. Gordon Mills lived in a mansion outside London. He had his own zoo. We talked in his garden. Giraffes wandered by, zebras, and tigers. A lion cub pissed in my lap!" —When I Stop Talking, You'll Know I'm Dead: Useful Stories From a Persuasive Man, by Jerry Weintraub with Rich Cohen (Twelve, 2010)
"Interior decorator to the stars Frank Austin did a $125,000 makeover of the Ruthless offices — Eazy's in black leather, mine in tasteful pastels, Dre's with a big red leather desk chair. Eazy's enormous couch got a lot of action. We had an official couch cleaner come in once a week, just to mop up all the spilled genetic material. The same thing happened with Eazy's $8,600 burled walnut desk from Smania." —Ruthless: A Memoir, by Jerry Heller with Gil Reavill (Simon Spotlight Entertainment, 2006)
"[Warner Bros. Records CEO] Mo [Ostin] moved me next to him into the executive end of our building. I got to redecorate my new place, which, with its 15-foot ceiling, was big enough for indoor volleyball. My 'executive' vice presidency allowed me perks like two secretaries, black leather couches, a fully mirrored wall, a customized Cadillac convertible (our company handyman, Jimmy Rowe, called it 'the pimpmobile'), and no job description." —Exploding: The Highs, Hits, Hype, Heroes, and Hustlers of the Warner Music Group, by Stan Cornyn with Paul Scanlon (Rolling Stone Press, 2002)
"One of my first clients at my PR firm was Don Arden. Determined to exude wealth and power, Arden rented a mansion in Beverly Hills formerly owned by Howard Hughes, the living room of which had a retractable roof. Once when he took me along on a shopping trip to Tiffany in Beverly Hills, he walked out and told me dismissively, 'Van Cleef and Arpels craps all over this place.'" —Bumping Into Geniuses: My Life Inside the Rock and Roll Business, by Danny Goldberg (Gotham Books, 2008)
"I had lunch daily at the Playboy Club two blocks away from my office at Mercury … I had a friend who worked at the club, Chuck Childers, who was the manager in charge of 129 bunnies … Chuck was my main man and our guide, because Playboy Clubs had a lot of serious rules — no notes to the girls, no dog talk, no target practices, no nothing. Ritualistically we'd pick out four or five and Chuck would run down the status — available or not — and let them know that we were interested … Then we'd meet the girls two blocks away at a place called the Pussycat, where anything went." — The Autobiography of Quincy Jones, by Quincy Jones (Doubleday, 2002)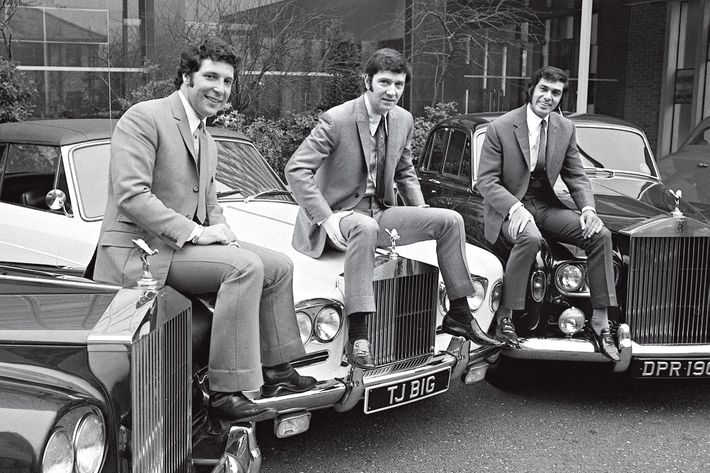 "By the middle of January 1974, we were ready to work, but then we were sidetracked when Warner invited us to its convention in Acapulco. This was a major event within Warner culture. The company would fly in its entire promotional and sales staff from around the country and present them with all kinds of awards, but the event's primary function was to bolster morale. Dinners were massive events, and the convention hotel, the Acapulco Princess, was the height of tropical opulence." —And Party Every Day: The Inside Story of Casablanca Records, by Larry Harris with Curt Gooch and Jeff Suhs (Backbeat, 2009)
"Such was the privileged opulence of daily life inside Apple [Records]'s £1 million Savile Row headquarters, those lucky enough to get a seat on the gravy train were draining the river dry. A kitchen staff cooked meals on order and even kept an ever-replenishing cellar of fine wines. Its payroll of forty was teeming with friends, consultants, and various parasites who all ran up expense bills. John Lennon's acid buddy, a crank scientist nicknamed Magic Alex, had personally wasted £300,000 trying to make flying saucers, an artificial sun, electric paint, a seventy-two-track studio, and various other mad creations." —Cowboys and Indies: The Epic History of the Record Industry, by Gareth Murphy (Thomas Dunne Books, 2014)
"I remember going to meet with Michael [Jackson] at the presidential suite at the Four Seasons. When I walked into his four-thousand-square-foot penthouse, I couldn't believe what I saw. The suite was filled with life-size, fully clothed mannequins. Twenty-four of them, in all different outfits. It was eerie. Like walking into a wax museum. It spooked me out. I asked Michael what the deal was with the mannequins, and he said, 'Oh, I just like them. They're my friends.' He brought them with him everywhere he went. When I made the mistake of complimenting him on his friends, the next day he sent me two of my own, fully clothed and decked out in their regalia." —Hitmaker: The Man and His Music, by Tommy Mottola with Cal Fussman (Grand Central Publishing, 2013)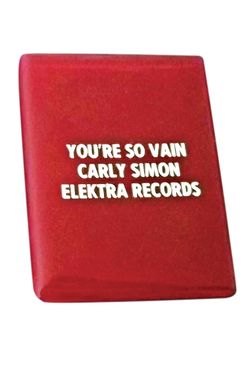 "The former program director of a mid-sized California radio station… admitted in 1987 that he had taken about $100,000 in cash from an independent promoter over a three-year period. Every week he got a 'birthday card' in the mail, delivered to a post office box he had set up under an assumed name, as instructed by the indie. Each week he added three or four songs for the promoter and found between $500 and $1,000 in his birthday card." —Hit Men: Power Brokers and Fast Money Inside the Music Business, by Fredric Dannen (Vintage, 1991)
"Eat It, the first album under the [Humble Pie]'s new contract, was going to be the big payday. A huge marketing and promotion campaign was plotted, including billboards in Times Square, a tour of Japan, and a headlining show at Madison Square Gaden … The album's obvious failure didn't alter [manager Dee] Anthony's grandiose plans, chief among them to film Humble Pie's upcoming tour of Japan for theatrical release…Anthony chartered a Boeing 707, but when the plane left for Japan, the forty passengers included the band and their three female backup singers as well as the road crew, a couple music journalists, Anthony's family, and Anthony's new English chauffeur, Ernie – but no film crew. The cost for the Japanese jaunt was staggering…. When the tour continued in America, the group leased two custom Lear jets, one for the band and one for their baggage." —The Mansion on the Hill: Dylan, Young, Geffen, Springsteen, and the Head-On Collision of Rock and Commerce, by Fred Goodman (Times Books, 1997)
"With a few hit records in the stores, Geffen decided to take [Warner Bros. Pictures production exeuctive] Bob Brassel and [Geffen Company President] Eric Eisner, who several months earlier had married a woman named Lisa Norris, to Mexico for a vacation. Warner Communications had purchased an elegant house in Acapulco and made it available to Warner executives for the purpose of socializing with actors, singers, and other business partners. Called Villa Eden, it had tennis courts, a screening room, and a world-class cook." —The Operator: David Geffen Builds, Buys, and Sells the New Hollywood, by Tom King (Random House, 2000)
"In 1972, when [Harvey Schein] left CBS for Sony, [Walter] Yetnikoff succeeded him as president of the International Records division …Twice a year he was in Tokyo trying to extract increased dividends from [then-CBS Sony Records President Norio Ohga's] Ohga and failing, but the men remained fast friends. One day they were out on a walk and happened to pass a Porsche dealer Yetnikoff stepped inside and wrote a check for a new car as a gift to Ohga from CBS." —Sony: The Private Life, by John Nathan (Houghton Mifflin Company, 1999)
"In the summer of 1965 [Phil Spector] took possession of a new property that he felt more properly befitted his Olympian status in the music business – a rambling, twenty-one-room Spanish-style mansion … At the front of the house was a paved courtyard set with an ornamental fountain; at the rear, gardens and the inevitable swimming pool … Life-sized blackamoors, dressed in gold leaf, lined the hallway; a Steinway grand piano in the living room. In the library, Spector installed a mammoth sound system, with industrial-sized speakers from Gold Star, and a pool table. Just as he did in the studio, he kept the air-conditioning set to almost arctic temperature, the drapes closed to shroud the house in a perpetual twilight. In the sitting room a large fish tank provided the main source of illumination …" —Tearing Down the Wall of Sound: The Rise and Fall of Phil Spector, by Mick Brown (Knopf, 2007)
"[The Outlaws] were memorable participants in the unbelievable third-anniversary party I threw for Arista at Studio 54 in 1978. I'd become a regular there, and Arista had become so hot that Steve Rubell and Ian Schrager were happy to turn the club over to me for the celebration party. We had Latin Quarter chorus girls bathed in platinum, reflecting Barry Manilow's huge success, descend from the ceiling on poles to the floor. We had a roller-skating team come in to represent the Bay City Rollers. We had cowboys and Indians on horses there to represent the Outlaws … Not bad for a company that was only three years old." —The Soundtrack of My Life, by Clive Davis with Anthony DeCurtis (Simon & Schuster, 2013)
"The crew, which I'm guessing had more than one hundred employees, traveled in really cool rock star buses. I traveled with the band and the band's entourage, which was about thirty of us. Because everything was so fast-paced, we only traveled on airplanes and in limousines …. Ninety percent of the time we traveled on a private plane — the MGM Grand. This was luxury at its finest. The plane had about thirty-five first-class seats, some individual, and some in state-rooms at the back of the plane. In the middle section was a long bar filled with drinks and tons of incredible appetizers and desserts. We drank and ate like kings." —Welcome to My Jungle: An Unauthorized Account of How a Regular Guy Like Me Survived Years of Touring With Guns N' Roses, Pet Wallabies, Crazed Groupies, Axl Rose's Moth Extermination System & Other Perils on the Road With One of the Greatest Rock Bands of All Time, by Craig Duswalt (Benbella Books, 2014)
*This article appears in the September 7, 2015 issue of New York Magazine.