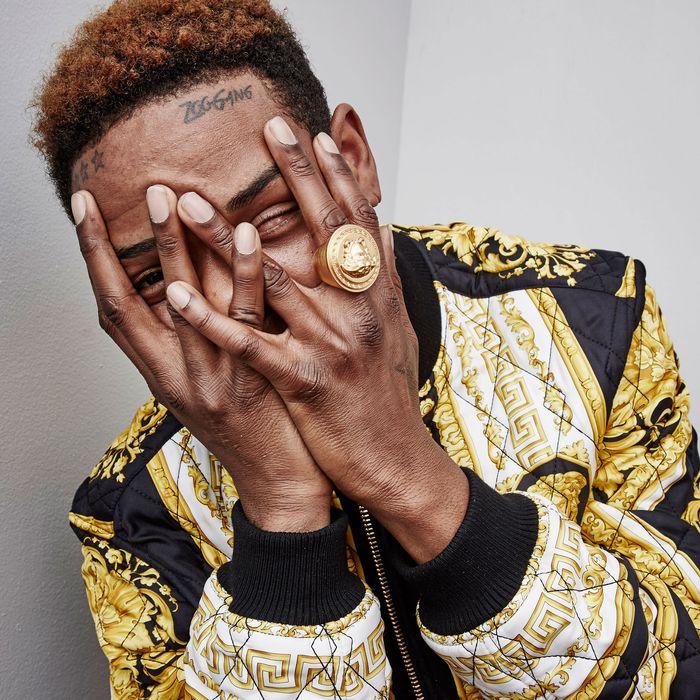 Fetty Wap.
Photo: Maarten de Boer/MTV1415
No matter whose #hive you rep on Twitter, Fetty Wap was showing up in your mentions all winter, spring, and summer, extolling the virtues of good women. Listeners know him as the guy behind "Trap Queen" and any of its sound-alike follow-ups, "Again," "My Way," and "679." Taking on some of the best characteristics of his predecessors, the Paterson, New Jersey, rapper-singer sounds like the second coming of Akon, the new Mr. Steal Your Girl, or T-Pain's more talented nephew — which is a polite way to say, of course, what Fetty Wap does is nothing new.
Rappers as legendary as Method Man and Biggie have played the romantic-thug card for generations to balance out tough talk and streetwise braggadocio. Apache had his "Gangsta Bitch." LL Cool J had his "Around the Way Girl." Hell, Ja Rule built his multi-platinum career off pop paeans to down-ass chicks, with a series of singles relatable to every woman who ever stood by her man like Tammy Wynette famously implored. Lately, though, that sort of sentimental trope has fallen out of favor somewhat in rap, with an almost nihilistic emphasis on hedonism taking its place.
Just look at rap's two biggest contemporary stars. Following the Ciara devotionals of his commercially disappointing Honest, Future's career uptick came only after a post-separation heel-turn and antiheroic regression into the narcotized lothario so admired on DS2. A long way from his endearing "Best I Ever Had" days, every new Drake single that isn't about Meek Mill or his squad seems like an attack on an ex-girlfriend.
Even if Fetty represents the latest edition of a tried-and-true model, chances are you've heard merely a fraction of his 2015 output. Sure, you can probably sing most of "Trap Queen" in your sleep at this point, but how much do you know about his crew Remy Boyz or the number sequence 1738 you've subconsciously memorized? All year long, Fetty's been doing guest verses on dozens of rap and R&B songs by other artists, as well as dropping new tracks of his own via SoundCloud. To celebrate his eponymous debut album on Lyor Cohen's 300 Entertainment, which finally dropped on Friday, here are 17 gems you might have missed from ya boy Fetty.
Remy Boyz, "Tuesday"
Like most of today's rappers on the SoundCloud and mixtape circuits, Fetty indulged in his share of freestyle covers of popular tracks. One of 2014's biggest hip-hop hits, iLoveMakonnen's "Tuesday" gets the Remy Boyz treatment well before the New Jersey squad became the most buzzed-about hip-hop crew of 2015. No surprise, crooner Fetty takes on the original's melody with aplomb, pulling it off even better than Drake did on his official remix, while fellow Remy Boyz Montana Bucks and P-Dice take more liberties with the verses.
Don Lu (feat. Fetty Wap), "One Night Only"
It must seem so strange when a relative unknown you recorded with once suddenly blows up. Such is the case for rapper Don Lu, whose collaboration with Fetty dropped mere months before 300 picked him up. As "Trap Queen" grew out of winter and blossomed into spring, the fellow Garden Stater shrewdly reissued his "One Night Only." The DJ Mustard clone beat might put off a few rap grumpuses, but it's a great early example of Fetty's chops, with a slick nod to Dej Loaf to boot.
Audrey Rose (feat. Remy Ma and Fetty Wap), "Ice Cream"
Flipping an iconic RZA beat takes guts. Fortunately, Terror Squad alum Remy Ma lends this R&B jam some of hers, coming out the gate with respect for the Wu and a few characteristically tough bars of her own. New Jersey singer Audrey Rose bookends that verse with one from her neighbor Fetty. Released roughly a month after 300 rereleased "Trap Queen" as a commercial single late last year, "Ice Cream" finds Fetty playing with flow and not yet relying on what would soon become his signature style of repetitive sung melodies and viable exclamatory catchphrases.
Zoo Gang, "Show You"
Sometimes Fetty goes by the name Zoo Wap. Sometimes his Remy Boyz crew goes by the name Zoo Gang. That's not important. What is important is that "Show You" puts them all together for the best of the posse cuts we've heard from his team outside of "679." Another play for an attached woman, the tuneful chorus promises her all the finer things if she leaves her current bum of a beau.
Chedda Da Connect, "Flicka Da Wrist Remix"
Viral hits are the primary driver of contemporary hip-hop, and 2015 has had loads of them. Houston's Chedda Da Connect scored one with this latest in wrist worship. A feature-stacked official remix soon followed, as has become custom, and the top-billed spitter was none other than fellow viral sensation Fetty. With the hook already intact and well ingrained in listeners' minds, Fetty rides the beat with a mélange of familiar yet effective approaches, outshining even Baton Rouge reality-rap proponent Boosie Badazz in a rare feat.
Gucci Mane (feat. Fetty Wap), "Still Selling Dope"
Having blessed the official "Trap Queen" remix with a loose verse from his living archive, the incarcerated Atlanta legend extends that co-sign with a prominent placement on his King Gucci tape. Guwop meets Zoo Wap over this rugged beat from Atlanta hip-hop superproducer Metro Boomin, and the results are a lot more meaningful than anything off the Drake x Future victory lap What a Time to Be Alive. Fetty sounds so comfortable over the trap snares that one hopes there's more to come from this ATL connection.
Jhonni Blaze, "Ride Or Die" (feat. Fetty Wap)
A Love & Hip Hop star and music-video go-to, Ms. Blaze often seems to be at the wrong end of the male-dominated genre's ire, getting sneak-dissed on Instagram by Fabolous or outright assaulted by Kevin Gates. So there's some level of righteous revenge in her landing Fetty for her new single right as he's soaring in the charts. Consider this the other side of the "Trap Queen" conversation, which we finally hear from Her Majesty's perspective.
Monty & Fetty Wap, "OverNight"
The most prominent Remy Boyz member other than Fetty, Monty looms large over his pal's full-length debut, appearing on half of its tracks. Clearly there's a desire for the "My Way" collaborator to be next on deck, and his only commercial single as a lead artist to date, "OverNight," presents a strong case for that. Still, now is Fetty's time to shine, and he does so early and often on this track.
Rich the Kid (feat. Fetty Wap), "Keep It 100"
While Monty gets loads of shine on the album, 300 somehow squandered the opportunity to load Fetty's record up with any of his labelmates. At least Migos associate Rich the Kid got Fetty to feature on this single, which helps differentiate him from the crowded space taken up by Offset, Quavo, and Takeoff. While Rich has been a mainstay of Migos's many mixtape projects, the vocal contrast of him next to Fetty reveals a talented spitter who could very well break out of the shadow of his "Versace" brethren. There's more give and take on the Zaytoven-produced "Keep It 100" than expected, which suggests a genuine collaboration in this era of cynically tacked on verses.
Yo Gotti (feat. Fetty Wap), "Tell Me"
With a couple RIAA plaques of his own, Memphis spitter Yo Gotti makes a suitable partner for this ostensible "Trap Queen" sequel taken from his recent mixtape, The Return. Another Zaytoven production, the beat gibes so well with Fetty's uplifting hook that it'll be a shame if these two don't do more work together.
Yalee (feat. Fetty Wap), "Pretty Girl Dance Pt. 2"
Fetty works best in a positive environment, and here Yalee provides the ideal setting in this song-length testimonial in praise of women from the men who love them. With lyrics aiming to break through society's superficial views on beauty, the duo provides a corrective to the more crass approach taken by many rap peers.
K Camp (feat. Fetty Wap), "1Hunnid "
Though Fetty dominates the field of rap-game romance right now, Kristopher Campbell might be his main competitor, moderately more experienced but decidedly lesser in skill. Curiously relegated to a bonus track on the deluxe edition of K Camp's recently released Only Way Is Up, this understated team-up showcases the two rappers' dueling yet somehow symmetrical styles.
OnpointlikeOp (feat. Fetty Wap), "For Them Bands"
In all the fuss over "Trap Queen," people sometimes lose sight of that weighty first word. Part of what bothered many about 10-year-old George Dalton's well-intentioned comedic tribute to the song was the absence of the original gritty context. Trap music sounds good at a party, but its lyrical heft comes from the far less glamorous side of the hustle. To that end, Onpoint reps ungentrified Brooklyn well on this single, with Fetty reminding us that he's a rapper as much as a hooksmith. The bloody-cash image of the cover art makes a clear statement about violent realities.
Justina Valentine (feat. Fetty Wap), "Candy Land"
A sugary counterpoint to "For Them Bands," Fetty's appearance on this bag of Jersey Shore taffy initially seems an odd fit. But Justina Valentine's bright innuendos run counter to the Wonka-fied dance beat. Fetty's obviously in on the dirty joke, though, to his credit, his verse resists the sort of convenient vulgarities a lesser rapper might employ with a comic thud.
Rita Ora (feat. Chris Brown and Fetty Wap), "Body on Me Remix"
Crossing over effectively into the pop realm often proves difficult for rappers; the genre's history is littered with strange pairings and massive misfires that prove as much. But Fetty pulls it off rather well here alongside Rita Ora, rising to the occasion with amorous vows. In the presence of the real deal, Chris Brown seems a bit shook, though that didn't stop him from bringing Fetty on tour with him this summer.
M80 (feat. Fetty Wap), "Gotta Have You"
A Remy Boyz member who has yet to appear on a Fetty single, M80 logs only one feature on the new album. But those curious to hear more from this more traditional rapper turned singer should give "Gotta Have You" a listen. Fetty adds a tight verse and some slick ad-libs to a song that is decidedly M80's.
Fetty Wap, "Sumn Quick"
The way Fetty conjures up his memorable hooks already appears effortless. Yet by not even bothering to name this apparent studio throwaway, he essentially confirms that all this comes easy to him. The free-form second half of this barely polished demo finds Fetty casually and wordlessly vocalizing over the sparkling Yung Lan beat. He doesn't even have to try to get stuck in your head.