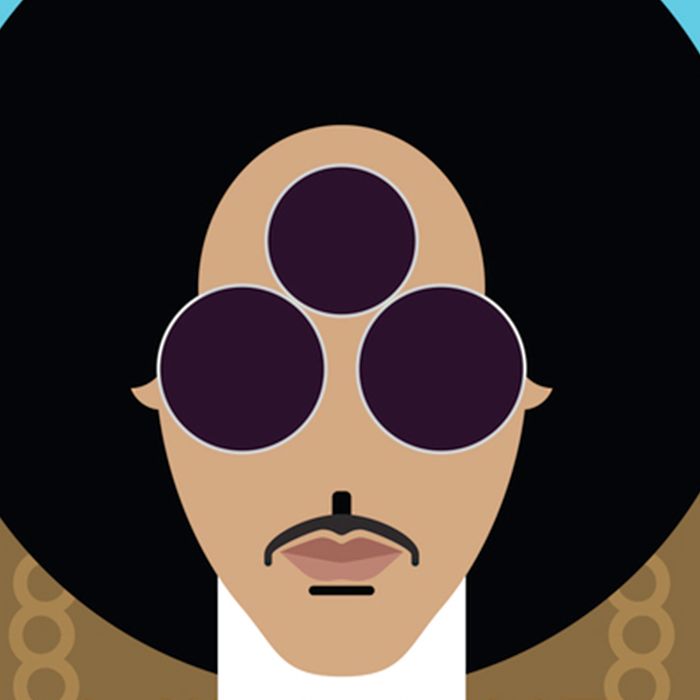 Last week, Prince fans grappled with a tough First World problem: To Tidal, or not to Tidal. The streaming music service championed by Jay Z, Madonna, and other starving artists was the only place where fans could hear Prince's new album, HITnRUN Phase One. It seemed like only yesterday that they'd agonized over the Sophie's Choice between Apple Music and Spotify, and now the Purple One wanted everyone to relive that nightmare all over again.

Fortunately, our Prince is an awesome Prince, and in his benevolence this week now permits non-Tidal subscribers to purchase HITnRUN Phase One on CD or as a download (via Tidal, of course). Seemingly the first in a series, as would befit the notoriously prolific artist, the diverse album considerably departs from last September's Art Official Age and Plectrumelectrum, reflecting a renewed interest in contemporary music and culture outside of his insular Paisley Park bubble. With an overloaded kitchen sink's worth of influences ranging from Caribbean dembow to dusted-off disco, the erratic HITnRUN hits slightly more than it misses, though it won't be anybody's favorite Prince record on this side of the millennium.

Still, in a general sense, it's a relief to see the music industry hasn't gotten Prince down to the point where he goes full recluse (though he's not exactly singing the biz's praises), instead inspiring him to try something different with both his influences and his distribution model (the latter recalling his forward-thinking NPG Music Club service). (After an infamous feud with and public protest against Warner Bros. lasting nearly two decades, Prince re-signed with his former label last year in a deal that secured him robust rights to his venerated back catalogue, as well as a home for his new music.) HITnRUN demonstrates, in several ways, just how closely Prince has been paying attention to music other than his own. In line with his not-infrequent numerological fixations, below are seven — yes, seven — influences that appear to have inspired the living legend in recent times.
DJ Mustard
Since his "Rack City" beat first tricked us into liking Tyga back in 2011, producer Dijon McFarlane has remained a relentless hit-maker. Known for his creative interpolations of pop classics, DJ Mustard's signature sound dominated the charts last year with huge singles for everyone from Big Sean and YG to Jeremih and Tinashe. As we learned when Jidenna's "Classic Man" borrowed from Iggy Azalea's "Fancy," even Mustard's clones have clones. Given his overt appreciation for the '80s, Mustard should view HITnRUN's "Like a Mack" more favorably than he does the shoddier work of imitators. Replete with repeated hey-hey-hey-heys and sparing synthesizer melodies, the track feels more like respectful homage than egregious ripoff. (Because honestly, in what world does Prince need to straight-up copy DJ Mustard? Let's be sensible here.)

Internet Memes
Rarely has a celebrity been so lovingly parodied as Prince by Dave Chappelle. An all-time great Chappelle's Show sketch, the reenactment of a surreal night of pickup basketball and pancakes at Paisley Park proved one of the short-lived program's most memorable moments. Social media continues to kindle our collective love for the comedian's hilarious purple-bloused take with animated GIFs, and Prince shrewdly swiped it for the cover art for his 2013 single "Breakfast Can Wait." Despite his somewhat reluctant and all-too-brief Twitter presence, Prince co-opted another meme for Art Official Age's "This Could Be Us" but apparently wasn't satisfied enough with it, revisiting the hashtag and its musical ode in a different style on HITnRUN. Riffing off a still from Purple Rain, of himself with former muse Apollonia on the back of his motorcycle, dubbed #ThisCouldBeUsButYouPlaying, "This Could Be Us" takes unrequited love's prevailing hashtag and transforms it into a winking yet sincere R&B jam.

Reggaeton
Over the years, Prince has dabbled in his share of genre experiments, ambitiously crossing over into hip-hop, jazz fusion, and psychedelia. Nonetheless, HITnRUN's biggest surprise comes in the form of "Mr. Nelson." Buoyed by the immediately identifiable dembow beat made famous by Jamaican reggae star Shabba Ranks, which subsequently helped spawn its own subgenre in reggaeton, the experimental track fuses Prince's trippy R&B sensibilities with the vibrant sounds of the Caribbean and young Latin America. Regrettably, Prince cuts the track a bit short, segueing too quickly into a robotic techno funk for its second half. But despite its brevity, "Mr. Nelson" implies that Prince has been looking beyond our borders for inspiration. More tracks like this would serve Phase Two well.
Miguel
Whether we're talking Controversy or Purple Rain, Prince's seminal works didn't emerge in a vacuum. He's never been shy about his '70s funk and soul roots, going so far as to produce music for his predecessors George Clinton, Chaka Khan, and Larry Graham. As such, there's little doubt he's noticed just how much his discography has rubbed off on the current generation of R&B artists. Given the constant comparisons, Miguel in particular assuredly blows up Prince's Google Alerts. The younger of the two sex symbols has helped to usher in a minor funk revival in the mainstream, something his elder benefits from. As a lifelong purveyor of funk, it seems likely — particularly after hearing HITnRUN's "Hardrocklover" — that Prince was keeping tabs on Miguel's increasingly impressive body of work (and accompanying fame) that owes much to the Purple One.

The Disco Revival
Prince's come-up occurred at the tail end of disco and the start of the so-called post-disco era, a nebulous yet inventive period that followed up the sounds of the late '70s with exciting new forms of music. The man on the cover of records like Dirty Mind and For You obviously spent his fair share of time working up a sweat at the discotheque. So the recent run of chart-topping boogie refreshes by Daft Punk, Pharrell, and Mark Ronson must've brought back some very satisfying, if blurry, memories of those good old days. An updated interpretation of a disco groove, "Fallinlove2nite" features Prince's upper-register coo over keyboard trills, subtle horns, and a solid 4/4 beat.

EDM
From Alesso to Zedd and all the letters in between, dance music reigns once again. Often overlooked while in plain sight, Prince's own contributions to the club are undeniable. Listening to the Rita Ora–assisted "Ain't About to Stop," clearly the weekend festivities at Paisley Park don't consist merely of moldy dance-floor oldies. Like so many of EDM's biggest draws, Prince's latest foray into booty-shaking beats has a prime-time rock-and-roll vibe. This is some arena-ready, Skrillex-style dubstep, with heavy bass drops and snappy crunchy snares, albeit it a few years too late to really feel current. Prince's boastful rap (seriously) over the combustible fray exudes Minneapolis pride and a redoubled commitment to staying a musical force to be reckoned with.

His Own Damn Self
Of course, nobody's more of an influence on Prince than Prince. Tellingly, HITnRUN opener "Million $ Show" generously self-samples his own "When Doves Cry" as if to defiantly remind listeners whose show this is. A indefatigable creator, he's got recording equipment in every room of his house — yes, even the bathroom. As he tinkers with genre and toys with fresh modern sounds, he refuses to abandon the idiosyncratic approach to songcraft that made him both auteur and star. With verses stripped down to mostly voice and drum, "Shut This Down" recalls classic New Power Generation–era Prince jams like "Sexy MF." Throughout HITnRUN  there are unusual elements like surprise cowbell and pasta paeans tossed into the mix. Nobody could make an album like this but Prince.