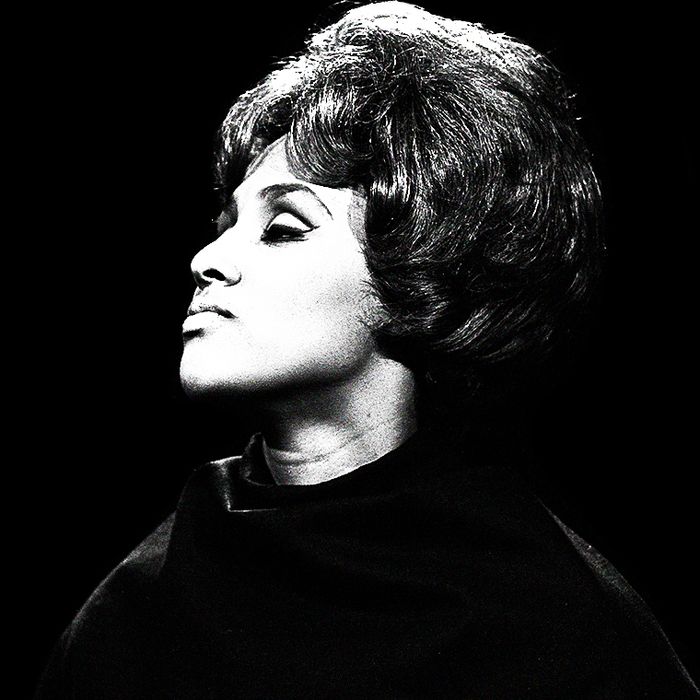 Photo: ABC via Getty Images
Darlene Love is finally having her moment. After spending the past half-century singing backup vocals for a who's-who in pop-music history, Love released what she's viewing as her first-ever proper solo album last week. Introducing Darlene Love, a collection of original songs written by A-listers like Bruce Springsteen, Joan Jett, Elvis Costello, and Jimmy Webb, is coming out just two years after the singer became a near-household name for her show-stealing role in the Oscar-winning documentary 20 Feet From Stardom. The songs on her new record were written, for the most part, specifically for Love's voice, which has only grown in its deep richness as the California-born singer approaches 75. "This is the first time I've really felt like people were doing everything for me, for Darlene Love," she says.

Introducing Darlene Love is the result of a long-standing collaboration and friendship between Love and Steven Van Zandt, who produced the record. "Stevie and I have been friends for so long, we knew eventually this was going to happen," says Love. "We just didn't know it was going to take 30 years."

To celebrate Love's coming-out party as a solo artist, we asked her to share stories from her days as a background singer when — as a member of the Blossoms — she ended up singing uncredited background vocals on some of the most popular records of the 20th century, from Frank Sinatra's "That's Life" to "Monster Mash" to countless Phil Spector–produced girl-group favorites. Love shared a few tales from some of her more memorable recording sessions.
"Rockin' Robin," Bobby Day (1958)
"The only reason you remember songs like this is because they were hit records. I can't tell you the ones that weren't hits, and believe me, there were plenty more of those. The Blossoms had gotten so we were working seven days a week, three or four sessions a day, which was literally killing us, physically. With the instruments that the musicians play, they can do that, but not with us using our voices. We had gotten to the point where we couldn't do more than three songs a day, because you're talking about a three- or four-hour session for each song. The Blossoms were actually the first black background singers that did recording sessions in California, but we had to start giving work away. We just couldn't do it all."
"Chain Gang," Sam Cooke (1960)
"The first session I always think of was the second song I ever recorded. Lou Rawls was one of the background singers. It was one of the sessions where if someone else was in the room, they'd go, 'Come on, come sing on this.' You can't really hear us singing on 'Chain Gang,' it doesn't sound like there are any girls in it, but with everybody else in the room, with the guys and everything, just made for that great sound. It was Sam and Lou Rawl's idea to do the working-on-the-chain-gang noises. It wasn't no ladies working on no chain gang!

"When I met Sam he already had a hit with 'You Send Me.' I knew him from the gospel days. I was in gospel for so many years, and we would go to his programs and see him sing with the Soul Stirrers. He was such an idol. He was so sweet, so nice, so accommodating. I fell in love with him. I thought, 'Sam, you could be the one.' I'll make it that clean."
"Zip-a-Dee-Doo-Dah," Bob B. Soxx & the Blue Jeans (1962)
"I found out a couple of years ago when I got inducted into the Rock and Roll Hall of Fame that one of Bruce Springsteen's favorite songs that we did with Phil Spector was 'Zip-a-Dee-Doo-Dah,' and it's because there's an unbelievable guitar solo on it. When we recorded it, I said, 'Phil, Song of the South? Zip-a-Dee-Doo-Dah? Come on!' This was a comedy, an animated movie. I was like, 'Do you know where this came from?' But after he got through doing the track, of course we were all in. I was like, 'Wow, this is fantastic.' When you get inducted into the Rock Hall, you sing songs that you're known for, like [the Crystals'] 'He's a Rebel' or what not, and they said, 'You're doing 'Zip-a-Dee-Doo-Dah,' Bruce really loves that one.' And I went, 'Okay, all right, Bruce. Whatever!'"
"Be My Baby," the Ronettes (1963)
"We did background on all of Phil Spector's records. It was almost like we were the house band, but we were the house singers. Our biggest fights were with Phil Spector, because he was always fighting with the musicians. Sometimes they could take five or six hours just to get the music right for the session. On 'Be My Baby,' the Ronettes were there, but they wanted us to sing. We knew that 'Be My Baby' was a great song. Sometimes I'll see a commercial out nowadays with 'Be My Baby' and I'll say, 'I think I want to get paid!'"
"Monday, Monday," the Mamas & the Papas (1966)
"The Mamas and the Papas would be out of town or on the road. They'd do the record and they'd be done, but if they hadn't totally finished a song you needed what they call the 'sweetening.' We wouldn't change the sound or anything, we'd just go in and sweeten the parts that [producer] Lou Adler wanted us to do. 'Monday, Monday' was the one I really remember because it was so big. Lou said there was something missing and he couldn't bring the group back in town to do it, so he got us to sing the background parts."
"If I Can Dream," Elvis Presley (1968)
"The other recording session I always think of was Elvis. Not in my wildest dreams — I mean, it was like how is this little girl singing background for Elvis Presley? How do things like that happen? The stars lined up, everything was in order, and Elvis fell in love with me because of my gospel background. Whenever he would get a chance he would go to me, 'Do you know this song? Come on, let's go sing it.' Gospel music was the closeness that we had."

"'If I Can Dream' is my all-time favorite Elvis song. It was a big record, but not as big as it could have been. It was one of those records where you'd think it sold 10 billion copies, but it didn't. I did that song in my show a couple of times, but it's a really hard song to sing, it really is, the meter is really difficult. You have to really study hard to learn how to sing that song. That's why I don't sing it anymore."
"Basketball Jones," Cheech and Chong (1973)
"I did background work all the way up to the '80s. No one knows we did background for Cheech and Chong. We did 'Basketball Jones' in the early '70s. Those two guys were so funny. The way you see them onscreen? They're just that funny."
"Power of Love (Love Power)," Luther Vandross (1991)   
"Luther was the last person I ever sang background for. He was the only person that was serious about background singers. Luther was the greatest, because he started out in the business as a background singer, so his sessions were always so much fun. He always had the greatest background singers. When it was time to work, we worked. He was never one of those people that was like, 'Listen, I'm Luther Vandross, let's get things straight.' He was just one of the guys. Sometimes he'd come out and sing the background with us. He made up all the arrangements himself."

"His ear was so phenomenal. If he heard somebody sing the wrong notes he'd call your name out. Most of the time, it was vibrato. I have a lot of vibrato in my own voice when I'm holding a note, and I didn't know you could control that until I started working with Luther. He'd say, 'All right, Darlene, too much vibrato,' and I'd say, 'Yeah, but what am I supposed to do?' He said, 'Well, you can hold your breath and the note will come out straight.' He was the first person who ever told me that."
And of course, two of the only hits where Love sang lead and is actually attributed as such…
"Christmas (Baby Please Come Home)"/"Johnny (Baby Please Come Home)," Darlene Love (both recorded in 1963, "Johnny" finally released in 1977)
"We did 'Johnny' because Phil Spector thought 'Christmas (Baby Please Come Home)' was such a great song that he could also have a secular hit with it, not just a Christmas song. But it just didn't work singing 'Johnny.' Plus, you could hear Cher singing 'Johnny' in the background. I kept saying, 'Phil, why are you messing with this song? Johnny? Come on, please!' I knew at the time it did not have the same feeling.

"When we finished doing 'Christmas (Baby Please Come Home),' everybody was so wiped — it was a six- or seven-hour session. But it was the first time I ever did a session where all the players and the engineers and everybody knew it was going to be a big record. You could just feel it. Everybody put everything into that song that they had. We heard playback and everybody just sat on the floor listening, and we were all just like, 'Wow.'"