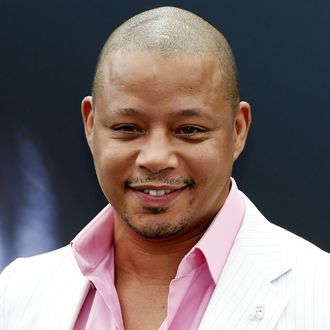 Well this is strange.
Photo: Valery Hache/AFP/Getty Images
Terrence Howard is not unlike his Empire character Lucious Lyon: Both have troubled pasts, exhibit extreme behavior, and make for a great interview. That last one is especially apparent from a new Rolling Stone profile that treats the actor like a ticking time bomb ("You never know what you're going to get with a guy like Howard," Erik Hedegaard writes) whom no one can believe still has a job in Hollywood, let alone a starring role on a runaway Fox hit. The piece analyzes Howard's two-decade career, from his long-reported volatile behavior — both on- and off-screen — to his secret passion for studying logic and mathematics. It also details his troubling recent marriage to Mira Pak. The whole thing's a doozy to digest, so we've broken it down into the nine most bizarre things we learned about Howard.
1. Lucious Lyon may be Howard's last role.
"I'm just trying to pay my bills," he says. "I'm looking forward to this show running its course. If I make a decent amount of money from it, I'll retire."
2. He's patented his own theory of logic called Terryology.
"This is the last century that our children will ever have been taught that one times one is one," he says. "They won't have to grow up in ignorance. Twenty years from now, they'll know that one times one equals two. We're about to show a new truth. The true universal math. And the proof is in these pieces. I have created the pieces that make up the motion of the universe. We work on them about 17 hours a day. She cuts and puts on the crystals. I do the main work of soldering them together. They tell the truth from within."

3. Howard hasn't seen any money from Empire, yet.
"You know, all my checks from Fox are being held for garnishment, because of my ex. I'm broke as can be. But my wife, she did well for herself, so she's covered us. This place, she's renting it. I'm suffering. There's nothing worse than being a broke movie star."
4. He admits to abusing his first wife, Lori McCommas.

"She was talking to me real strong, and I lost my mind and slapped her in front of the kids," he says. "Her lawyer said it was a closed fist, but even slapping her was wrong."

5. The Best Man, he believes, permanently tarnished his reputation.
"Well," he says, "I was difficult, but only because I would not conform. During The Best Man, they kept saying about this one line, 'This is a joke, so say it as a joke.' I was like, 'Y'all do what you want, but I'm not going to mutilate this moment.' And I said the line like I wanted, pausing before saying, 'Y'all know there ain't nothin' better than pussy, except some new pussy.' That seals my character, who he was. But after that, they spent the next year talking about how difficult I was. Then the movie comes out, I get all these accolades, and now the producers are like, 'Oh, you made the movie.' But now they've set it up that Terrence is difficult, and so that has followed me."
6. He's discovered why bubbles are round, but won't elaborate.
Since I was a child of three or four," he says, "I was always wondering, you know, why does a bubble take the shape of a ball? Why not a triangle or a square? I figured it out. If Pythagoras was here to see it, he would lose his mind. Einstein, too! Tesla!"
7. He maintained an unusual marriage with ex-wife Mira Pak. Pak elaborates:

"We don't have a normal life. In our two years together, I've only gone to restaurants with him two or three times. We've never been to the supermarket together. We've never been to the movies. I've never gotten a gift from him. Never, never … I help him, cutting, drawing and putting things together. I've developed a slight form of agoraphobia lately. I never go out. I have no friends here. I feel like Rapunzel, you know, stuck in a penthouse with my baby."

8. He claims he lost his role in Iron Man 2 because Robert Downey Jr. didn't help him.

"I called Robby and was like, 'Look, man . . .' Leaving messages with his assistants, called him at least 17 times that day and 21 the next and finally left a message saying, 'Look, man, I need the help that I gave you.' Never heard from him. And guess who got the millions I was supposed to get? He got the whole franchise, so I've actually given him $100 million, which ends up being a $100 million loss for me from me trying to look after somebody, but, you know, to this day I would do the same thing. It's just my nature."
9. Both he and Pak kept a recording of his second wife, Michelle Ghent, to use for blackmail in court.

It goes on for almost 13 endless, weird, brain-frying minutes, with Howard keeping his cool throughout, both on the recording and in the present moment. What he wants to demonstrate is that Ghent was the pit bull in their relationship, him the passive pussycat, no matter what she might say in legal documents or court. "I mean, does that sound like somebody afraid of me?" And it's true: Ghent's rage and bile are so ocean-deep you could drown in them.