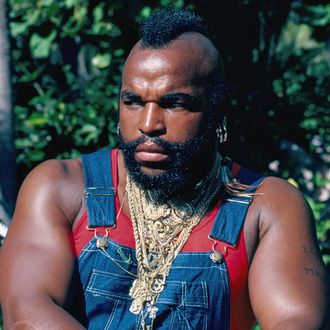 We know, Mr. T, we know.
Photo: Frank Carroll/Getty Images
Reboot fever is far from over: Deadline reports that The A-Team will get a second life on TV. This time around, Fast and the Furious writer-producer Chris Morgan will executive-produce the action show for Fox (the original aired on NBC) alongside Tawnia McKiernan, daughter of the show's original creator, Stephen J. Cannell. It'll have the same premise: A group of American Special Forces ops get framed for a crime they didn't commit, only now the group will prominently feature women instead of mostly putting them on the sidelines, like the original series did with Amy Amanda "Triple A" Allen. In 2010, Fox also remade the series as a feature film starring Bradley Cooper and Liam Neeson that wasn't exactly the box-office smash it hoped for. Perhaps, in its original TV format, it'll fare better — especially if they get Ed Sheeran to revamp the theme song.