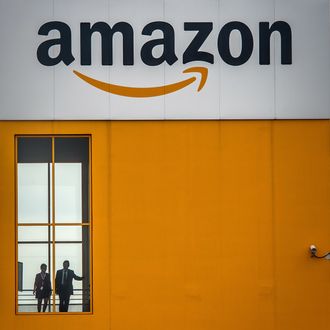 Amazon!
Photo: Phillipe Huguen
If you're an Amazon Prime subscriber, you can now download TV episodes and movies onto your iPhone, iPad, or Android phone — gratis — for future mobile viewing. Well, at no extra charge at least. THR reports that the streaming service has launched offline viewing because it wants its customers to be able to consume content more easily. "There's no doubt that the way people watch entertainment is changing — anytime, anywhere viewing is important and we are excited to provide our Prime members with offline viewing capabilities on iOS and Android platforms starting today," Amazon's Michael Paull, VP of digital video, said in a statement. "We are proud to be the first and only online subscription streaming service that enables offline viewing — on vacation, in a car, at the beach, on a plane, wherever our Prime members want to watch they can, regardless of internet connection." You're a real pal, Amazon, you know that?
On the competition front, a Netflix spokesperson told the AP that the company has no plans to make a similar move, explaining "that with internet speeds climbing and wireless connections available in more and more places, the ability to stream live wherever you are will increasingly dampen the need to download." Netflix is not alone; many of the other major streaming companies have eschewed offline viewing. (In fact, THR points out that one Netflix honcho went as far as saying, late last year, that offline viewing "is never going to happen," because it distracts from solving the problem of developing quality Wi-Fi access.)
As for Amazon: You could do this before if you had Fire TV or Kindle Fire, but the Google and Apple addendum is a new, huge step in the right direction, seeing as it gives you the option to watch your favorite content when you're on the move and there's no available internet connection. The downloadable content will reportedly first be available to subscribers in the U.S., the U.K., Germany, and Austria — via the Amazon Video app. Essentially, you can now, functionally, treat shows such as The Good Wife and Girls like podcasts. The service switch does not apply to laptops or desktops, but, in terms of overall user friendliness, it's still a welcome change and a veritable power move.