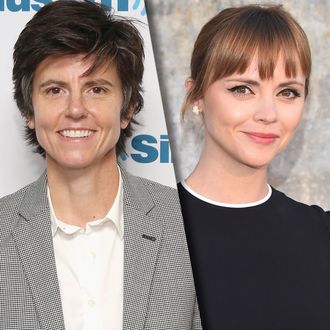 Tig Notaro and Christina Ricci will star in Amazon pilots.
Photo: Getty Images
Amazon's pilot program is back up and running with six offerings on the slate this fall. "I am excited to see which shows spark conversation amongst our customers and what they want to be made into series," said Roy Price, the VP of Amazon Studios. Well, what's on the block? There's a show about '60s feminism! A gritty Western! A show starring Christina Ricci as Zelda Scott Fitzgerald! And perhaps most enticing: Tig Notaro's One Mississippi starring Notaro, co-produced by Louis C.K. and co-written by Diablo Cody. Here's a closer look:
One Mississippi
On paper, this is the real highlight of the pack. Loosely based on Tig Notaro's life, the plot follows her return to her hometown in Mississippi to deal with her mother's unexpected death. The rest of the cast includes Noah Harpster as her older brother Remy, John Rothman as her "emotionally distant stepfather, Bill," and her girlfriend, Brooke, played by Casey Wilson. Notaro is writing and producing the show alongside Diablo Cody; the executive producers also include Louis C.K., Blair Breard, and Dave Becky. The pilot is directed by Enough Said's Nicole Holofcener.
Good Girls Revolt
Based on the sexual discrimination cases from Lynn Povich's book The Good Girls Revolt, this pilot takes place in those heady, revolutionary times of 1969. The show stars Genevieve Angelson, Anna Camp, and Erin Darke as a group of young female researchers at News of the Week as they demand equal treatment. Chris Diamantopoulos, Hunter Parrish, and Jim Belushi also star. There will be famous figures appearing, like Nora Ephron (played by Grace Gummer) and current D.C. representative Eleanor Holmes Norton (played by Joy Bryant).
Edge
Based on George G. Gilman's best-selling book series, Edge is a western set in 1868 starring Max Martini as Josiah "Edge" Hedges, a Yankee officer turned vigilante cowboy. True Blood's Ryan Kwanten and Chuck's Yvonne Strahovski also star. It'll be raw! It'll be gritty!
Highston
This comedy, written by Nebraska's Bob Nelson and co-executive-produced by Sacha Baron Cohen stars Lewis Pullman as a young teenager with a group of celebrity friends that only he can see. Who are the celebrities? Well, in the pilot it's NBA superstar Shaquille O'Neal and the Red Hot Chili Peppers' Flea. His parents, played by Mary-Lynn Rajskub and Chris Parnell, want him to get psychiatric help, but his uncle (always the uncle), played by Curtis Armstrong, thinks this is totally fine.
Patriot
This show is a political thriller from The Secret Life of Walter Mitty's Steven Conrad about an intelligence officer whose job is to keep nukes out of the hands of the Iranians. It stars Michael Dorman as agent John Tavner and Lost's Terry O'Quinn as Tom, Tavner's father who also happens to be the State Department Director of Intelligence. The rest of the cast includes Michael Chernus, Kathleen Munroe, Aliette Opheim, and Kurtwood Smith.
Z
Christina Ricci stars as the brilliant Zelda Sayre and follows her wild and turbulent relationship with fellow writer F. Scott Fitzgerald, played by Gavin Stenhouse. You can expect a host of drunken parties, flapper costumes, struggles with alcoholism, adultery, and lots of jazz — you know, basically the material for what went into The Great Gatsby. The show is written by The Killing's Dawn Prestwich and Nicole Yorkin, and is directed by Tim Blake Nelson.