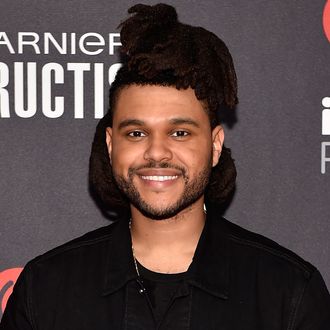 Congrats!
Photo: David Becker/Getty Images
The summer may be over, but the Weeknd isn't done owning it just yet. With just one day left in the season, he'll conclude his summer reign with yet another new No. 1 song. On this week's Billboard Hot 100, "The Hills" replaces his other song "Can't Feel My Face" for the top spot, giving him both the No. 1 and No. 3 songs in the country right now. But that's only the half of it: The Weeknd once again has the No. 1 album with Beauty Behind the Madness for the third consecutive week; it's the first album to spend that many consecutive weeks at No. 1 since Taylor Swift's 1989. The Weeknd has seen a few career milestones during this album cycle. With "The Hills," he becomes just the 11th artist to replace himself at No. 1, and the first since Swift did it last year. Earlier this month, he became the first non-rapper to have 12 songs on a single Billboard chart at the same time, when his entire sophomore album charted on the Hot R&B/Hip-Hop Songs.
Sandwiched between the Weeknd, at No. 2, is Justin Bieber's "What Do You Mean?" which debuted at No. 1 two weeks ago. A few spots down, Selena Gomez's "Good for You" has peaked at No. 5, giving Gomez the first Top 5 hit of her career. Meanwhile, Drake's "Hotline Bling" has risen to the Top 10, entering at No. 9 just a few days after Sam Smith and Disclosure covered the ballad. Drake may have an even bigger week ahead of him: His new mixtape with Future, What a Time to Be Alive, is expected to debut at No. 1 with potentially half a million copies sold for the second-biggest sales week of the year just behind — you guessed it! — Drake himself. What a difference two years can make.