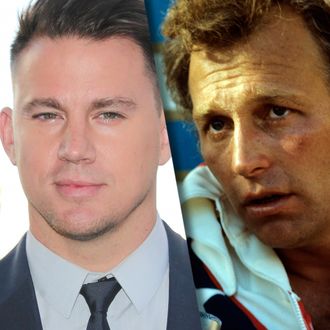 Channing Tatum (left) and Evel Knievel.
Photo: Paul Archuleta/Getty and ABC Photo Archives
According to THR, Darren Aronofsky is in talks to tackle Channing Tatum's long-gestating Evel Knievel biopic. Aronofsky is reportedly working alongside Scott Silver on a script for the previously untitled project, now called Pure Evel, and will then direct the finished product. It's great news not just for Tatum, who has been trying to get this project off the ground (literally!) for years, but also for moviegoers, as there's no director working today whom we'd rather see direct an Evel Knievel biopic. Imagine it — fast montages of Knievel pushing himself to the physical limits, follow shots of him making impossible leaps, the Snorricam isolating him among crowds of fans. As long as he avoids the time when Evel Knievel built a 400-foot ark, this movie will be perfect.