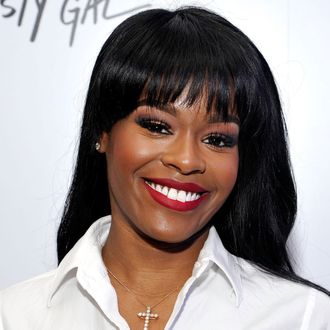 Azealia Banks.
Photo: John Sciulli/Getty Images
Oh, Azealia Banks. The beleaguered, outspoken rapper was on a flight from New York to Los Angeles Monday night when she got into an altercation with another passenger. According to other witnesses who recorded part of the incident, the fight began when a French couple was blocking the aisle as Banks was trying to get through. She tried to squeeze past them, but the man put his hand in her face. At this point, everything escalated: Banks allegedly spat in his face, punched him, and clawed at him. A flight attendant stepped in and took her luggage. He refused to let go of her bag, at which point a tug-of-war ensued. A co-pilot also appeared, and Banks called one of them a "fucking faggot." This is the moment caught on camera.
The co-pilot said he called the police, who caught up with Banks at baggage claim. The French couple did not press charges because they were on vacation. Banks tells TMZ that the man did indeed hit her. "I don't tolerate bitchassness and I don't tolerate men putting their hands on me," Banks said.
Banks has been passionate about her use of the slur faggot. She famously called gossip blogger Perez Hilton "a messy faggot" and then proceeded to defend her use of the word. In this case, she tweeted, "I am bisexual. my brother is trans. My employees are all gay men. .Nothing else to say [sic]." She has said her definition of the word is "a man who hates women" and that, despite its common usage, it is not specifically a homophobic slur.