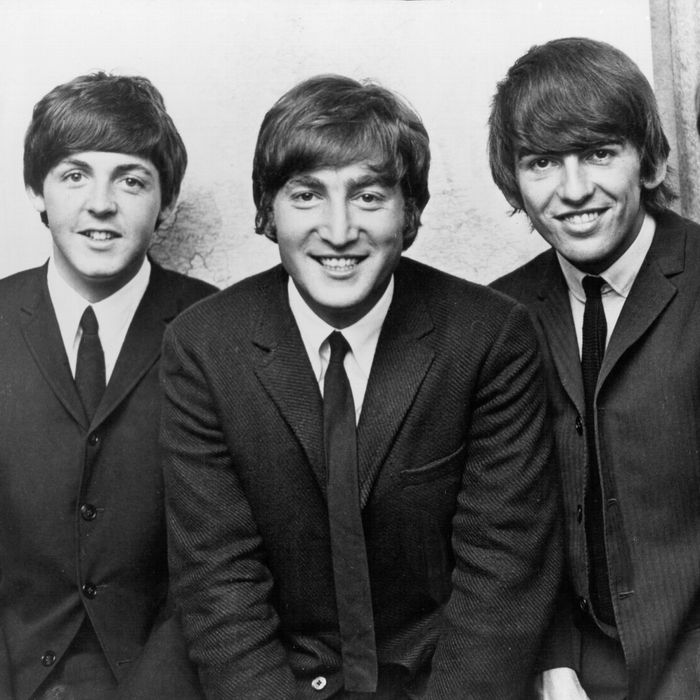 The Beatles pose for a portrait circa 1962.
Photo: Michael Ochs Archives/Getty Images
Today Rolling Stone published a list of the 50 greatest songs by boy bands. While the ranking sent us off on a nostalgia-tinged reverie spanning the Monkees to One Direction while highlighting underrated boy-band fare (the Bay City Rollers' "Saturday Night" and Musical Youth's "Pass the Dutchie"), there was one glaring omission: the Beatles. (Fine, two: the Beach Boys.)
As is often the case with lists of this nature (Vulture's included), RS's stated criteria attempts to justify its choices — in this instance, the disqualification of the Fab Four, the Wilson brothers, and more boy-band-y boy bands. "In deciding the right stuff for a list of the 50 greatest boy band songs," the introduction read, "we had to exclude bands that weren't sufficiently svengali'd (apologies to Hanson and 5 Seconds of Summer — you kept it too real) and avoided acts too close to the Motown vocal group tradition (Boyz II Men, All-4-One and even Color Me Badd just seemed too much like our old 45s)."
Having a boy band list that doesn't include Boyz II Men and Hanson seems illogical, but the phrasing of RS's setup suggests that the Beatles weren't considered — even if they lacked a Svengali, wouldn't they merit a mention over 5 Seconds of Summer? Which leads us to wonder: Can anyone possibly think that the Beatles weren't a boy band? Beatlemania established the barometer by which all other boy-band-demonium has been gauged. Is that not the defining aspect of what separates a boy band from merely an all-male pop group?
Released in 1964, Hard Day's Night remains the defining portrait of a band whose mere presence inspires all-out frenzies from its young female fans. The film not only made it understandable when, in 1966, the Beatles stopped performing live due in part to their inability to hear themselves, but also led Bob Rafelson to refine his concept for the Monkees. Certainly Elvis and even a young Sinatra inspired similar reactions in teen girls, and doo-wop and R&B groups had proven that there's a certain magic in male voices playing off each other. But the Beatles marked the first time listeners were able to customize their fandom by claiming one of four distinct personalities that corresponded to their romantic tastes. This is the model more or less emulated by every wildly successful boy-band since: a boy for every type of girl (however laughably reductive that may be).
Though it wouldn't be accurate to say that a Svengali put the Beatles together, early manager Brian Epstein did engineer their look and persona in these boy-band-specific ways. The suits, the haircuts, the fan club, the movies and products that established the Fab Four's personae in the early days? That was Epstein, the Liverpool record-store owner who "discovered" the Beatles at the Cavern Club. We would never call him a Svengali because that term's connotation typically involves savvy businessmen putting together talented young entertainers who would have not thought to do so otherwise. But by that definition, it would be hard to argue that family bands — like the Jackson 5, who dominate RS's list — were Svengali'd into existence.
Perhaps the chief motivation for the band's omission is that because the Beatles are considered — by the music world in general, but especially by Rolling Stone — rock and roll's primary influencers, it could be seen as a diss to "relegate" them to boy-band status. But anyone who's paid attention to music in the last 50 years knows that the Beatles were not one thing. Their earliest hits were bubblegum pop, but by 1965's Rubber Soul (and even the weirder bits of Help!), the Beatles were evolving into something weightier in tone and more experimental in their rock-driven sound. That's part of the beauty of the band: Even more than Michael Jackson, the Beatles proved that revolutionary, capital-A Art can come from teen heartthrobs.