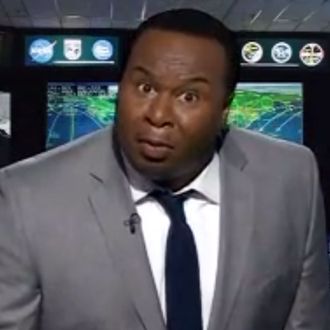 As our critic Matt Zoller Seitz noted, last night Trevor Noah showed a lot of promise as host of The Daily Show in his maiden voyage. However, it was the debut of correspondent Roy Wood Jr. that brought the most laughs. This is by no means a dig at Noah — it is anything but — since part of the job of Daily Show host, as Stewart routinely showed, is allowing your correspondents to be funnier than you. Wood? He was really freaking funny.
People like to knock the correspondents after the "Era of the 3 Cs — Colbert, Carell, and Corddry," as no one called it, but the group remained consistent throughout Stewart's run. Now, though all relatively new, Noah's team is an exciting bunch. Beyond being very funny, there is a notable, unprecedented diversity: Noah's correspondents look more like the cast of Hamilton than Stewart's original team. And with last night's performance, Roy Wood Jr. positioned himself to be a breakout.
That's a funny term to use for a man whose been doing comedy for nearly 20 years, but there was something undeniable about his performance. Years of touring experience prepared him to hit the ground running. Wood, whose stand-up covers a wide variety of topics (I'd suggest listening to all his fantastic 2013 album, Things I Think — it's on Spotify), is particularly skilled at deriving comedy from race. There is sort of bemusement, as he is able to skewer race relations by portraying it as fundamentally silly.
That was on display last night. Here was easily the biggest laugh of the episode:
Noah (seriously): "But Roy, think about this: Doesn't this raise the possibility that one day people can live on Mars?"
Wood (befuddled): "People like who? Me and you? How am I going to get there? Brother can't catch a cab, you think we can catch a spaceship?"
It's a simple joke built on a familiar premise, but through Wood's delivery you instantly understood how ridiculous of a concept this is: Black people are still struggling for equality on Earth, and you want to talk about Mars? Freaking Mars!?!?
Just as it would be premature to make too much of Noah's future after just one episode, making a mountain out of one correspondent segment is a bit ridiculous. But still, in less than two and half minutes, Wood was able to display a clarity and confidence of comedic character that takes many correspondents years on the show to find. You instantly know who he is and where he is coming from. Watch Wood's debut below, and get excited for his time on the show. It's going to be good.