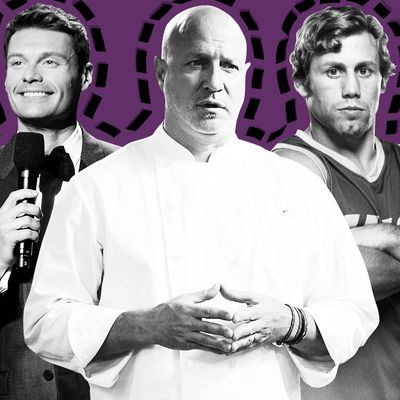 Photo: Vulture Illustration and Photos by FOX, Bravo and Zuffa LLC via Getty Images
All week long, Vulture explores what happens to reality TV contestants after the show ends — and the future of the genre itself.
Reality television may be synonymous with fame-chasers, but it's also a field crowded with amateurs and semi-professionals trying to rise to the top in their industries. Are Top Chef, American Idol, and the legions of also-rans really the launching pads to professional success they make themselves out to be, though? We made it our mission to find out.
The ground rules: We started with shows that aim to launch careers, and then discarded those that cast already-established professionals (The Next Iron Chef) or focus on behind-the-scenes roles where stardom is rare (Top Design, Shear Genius). Then we looked at the winners and runners-up of the shows that made the cut, and decided if each person achieved professional success after their appearance. We focused on the top two finishers because those were the contestants emerging from the show with the most juice. If someone who finished outside of the top two went on to great professional success (sixth-place Nashville Star contestant Miranda Lambert, for example), they deserve more credit for it than the show does. In the end, we emerged with a picture of just how good reality TV is at turning nobodies into somebodies. The answer: Not very good at all.