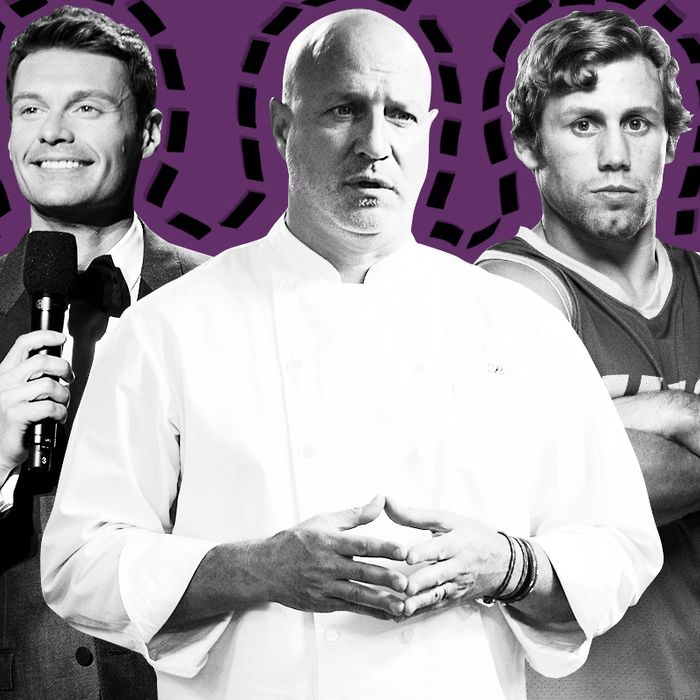 Photo: Vulture Illustration and Photos by FOX, Bravo and Zuffa LLC via Getty Images
All week long, Vulture explores what happens to reality TV contestants after the show ends — and the future of the genre itself.
Reality television may be synonymous with fame-chasers, but it's also a field crowded with amateurs and semi-professionals trying to rise to the top in their industries. Are Top Chef, American Idol, and the legions of also-rans really the launching pads to professional success they make themselves out to be, though? We made it our mission to find out.
The ground rules: We started with shows that aim to launch careers, and then discarded those that cast already-established professionals (The Next Iron Chef) or focus on behind-the-scenes roles where stardom is rare (Top Design, Shear Genius). Then we looked at the winners and runners-up of the shows that made the cut, and decided if each person achieved professional success after their appearance. We focused on the top two finishers because those were the contestants emerging from the show with the most juice. If someone who finished outside of the top two went on to great professional success (sixth-place Nashville Star contestant Miranda Lambert, for example), they deserve more credit for it than the show does. In the end, we emerged with a picture of just how good reality TV is at turning nobodies into somebodies. The answer: Not very good at all.
Food
Considerations: Restaurants owned, cookbooks written, subsequent TV shows appeared on, and online following.
Biggest: Carla Hall. The two-time Top Chef contestant never won Bravo's cooking competition, but she did coin a catchphrase. "Hootie hoo," indeed. Along with two cookbooks, a cookie company, and a gig on ABC's daytime cooking show The Chew, Hall's got a 110-seat restaurant inside D.C.'s Reagan National Airport and, opening this fall, a soul-food joint on the Brooklyn waterfront.
Top Chef
Launched the careers of:
Harold Dieterle
Tiffani Faison
Ilan Hall
Marcel Vigneron
Hung Huynh
Stephanie Izard
Richard Blais
Stefan Richter
Carla Hall
Michael Voltaggio
Bryan Voltaggio
Kevin Gillespie
Kevin Sbraga
Angelo Sosa
Paul Qui
Kristen Kish
Brooke Williamson
Nicholas Elmi
Hell's Kitchen
Launched the careers of:
Jay Santos
Christina Wilson
Virginia Dalbeck
Ralph Pagano
The Taste
This show did not launch any careers.
Careers launched
Not launched
Music
Considerations: Albums released and albums sold, general relevance, fan base, social media following, staying power.
Biggest: Kelly Clarkson and Carrie Underwood. It's a tie between the two American Idol winners, with Underwood just barely out-charting and outselling Clarkson, who, unlike Underwood, starred in From Justin to Kelly.
American Idol
Launched the careers of:
Kelly Clarkson
Clay Aiken
Carrie Underwood
Katharine McPhee
Jordin Sparks
Adam Lambert
Scotty McCreery
The Voice
This show did not launch any careers.
The X Factor
This show did not launch any careers.
Making the Band
This show did not launch any careers.
Careers launched
Not launched
Style
Considerations: Design/modeling gigs after the show, subsequent reality and acting appearances, name recognition, continued success in their field.
Biggest: Project Runway's Christian Siriano. One of the few reality-TV stars to get parodied on SNL, Siriano has carved out his career in the fashion world with a handful of mass-market designs, including a line of sponges and clothes for Home Shopping Network, and regular Fashion Week shows to prove he can still get fancy.
America's Next Top Model
Launched the careers of:
Adrianne Curry
Yoanna House
Eva Pigford
Dani Evans
CariDee English
Whitney Thompson
Allison Harvard
Lisa D'Amato
Project Runway
Launched the careers of:
Christian Siriano
Daniel Vosovic
Leanne Marshall
Top Design
This show did not launch any careers.
Make Me a Supermodel
This show did not launch any careers.
Careers launched
Not launched
Sports
Considerations: Fights fought and fights won, championships fought for and championships won.
Biggest: Rashad Evans. The winner of The Ultimate Fighter's second season has gone on to become one of the most consistent fighters in the history of the UFC. And the former light heavyweight champion is still going, ten years after winning TUF. He'll fight Ryan Bader, a TUF winner himself, at next month's UFC 192.
The Ultimate Fighter
Launched the careers of:
Forrest Griffin
Diego Sanchez
Kenny Florian
Rashad Evans
Joe Stevenson
Michael Bisping
Matt Serra
Nate Diaz
John Dodson
The Contender
Launched the careers of:
Sergio Mora
Peter Manfredo Jr.
Tough Enough
Launched the careers of:
Mike Mizanin
Johnny Nitro
Careers launched
Not launched
Underdogs
A contestant doesn't have to finish in the top two places to go on to future success, but it sure helps. Here are the rare few who finished lower but emerged into stardom anyway.
American Idol
Chris Daughtry
Kellie Pickler
Jennifer Hudson
Nashville Star
Miranda Lambert
ANTM
Analeigh Tipton
Fatima Siad
Toccara Jones
Kim Stolz
Bre Scullark
The Ultimate Fighter
Gray Maynard
Josh Koscheck
Roy Nelson
Diego Sanchez
Top Chef
Fabio Viviani
Dale Talde
Spike Mendelsohn
Tiffany Derry
Ariane Duarte
Brian Malarkey