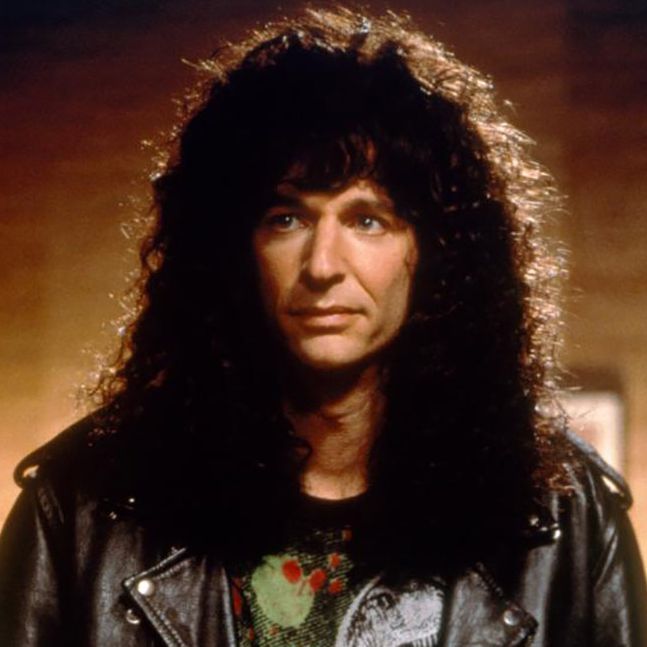 Gloria Swanson (1897 - 1983) and Erich Von Stroheim (1885 - 1957) star in 'Sunset Blvd', Miss Swanson's last film in which she plays a parody of herself. In this scene she recites the immortal line 'I'm ready for my close-up now Mr DeMille'. The film was directed by Billy Wilder for Paramount. (Photo by Hulton Archive/Getty Images)
Photo: Paramount Pictures
This list was updated April 8, 2016 to reflect Netflix's current offerings.
"There's no business like show business, like no business I know," Ethel Merman belted in the 1954 film adaptation of Irving Berlin's Annie Get Your Gun. The musical's lead song is enthusiastic and upbeat, but there's an undercurrent of sarcasm and tragedy, with a few lines sneaking in how fickle the business is, how actors sometimes get stuck with crappy roles in failing projects, and how they have to keep smiles painted on their faces no matter how bad things get. That whiff of discontent runs through virtually all movies about the performance industry, from live theater to music to filmmaking. Show business may make a handful of people rich, powerful, and renowned, but for every one who makes it to the top of the heap, there are hundreds of strivers who spend their lives climbing only to end up back at base camp.
Still, all that frustration produces plenty of screen-friendly emotional drama. Narrative movies about show business run a wide range: Some are about the troubles at the top, some are about the fight to get there, some are about the pain of sliding back down from the peak, and some are just about trying to maintain integrity (or wholeheartedly embracing lack of integrity) in a mercilessly competitive field. Over on the documentary side, there are endless behind-the-scenes stories about how the sausage is made, or what it was like to be a particular conduit in the industry at a crucial time. Here are some of the best films streaming on Netflix about the business Berlin's song claimed is envied by all whose workdays don't culminate with applause. (We'll update this list as titles are added and removed.)
Sunset Boulevard (1950)
Billy Wilder's caustic noir covers not just the end of a film career but the end of a life. It starts with screenwriter Joe Gillis (William Holden) narrating the discovery of his corpse, floating face-down in a Los Angeles pool. Then it loops back to consider how he got there, by feeding the ego of once-famous movie star Norma Desmond (Gloria Swanson), who is out to make a big comeback. This is the bitter side of show business: the delusional self-regard that comes with years of fame, the never-ending hunger for the spotlight, the desperation of a star no one remembers anymore. As Norma and Joe work on a final script together, Wilder's film becomes an ugly romantic drama about mutual need and manipulation on the fringes of the industry. It's a mesmerizing story, all the more so because viewers know from the beginning where it will inevitably end.
20 Feet From Stardom (2013)
2013's Best Documentary Oscar winner dives deep into the lives of top background singers — mostly black, mostly women — who never managed to have significant solo careers but found success and satisfaction backing up artists like the Rolling Stones, David Bowie, and Michael Jackson. There's some frustration from the interviewees here (like Darlene Love and Merry Clayton) over failed attempts to make it to front-of-the-stage fame, but plenty of pride of craft as well, as they recount unbelievable behind-the-scenes stories about the massive, enduring hits that wouldn't exist in quite the same way without their voices.
Being Elmo: A Puppeteer's Journey (2011)
The tragedy of the sweet, gratifying doc Being Elmo is that it seems to have motivated a wave of lawsuits against its subject, Sesame Street puppeteer Kevin Clash, largely by raising his profile until those lawsuits seemed potentially profitable. Ultimately, the related scandal sidelined the career this film is celebrating. But Clash's years-long struggle for vindication in the courts doesn't change the fact that this is an enlightening doc about a kid who loved Muppeteers and worked tirelessly from childhood on to become one, ultimately going to work for his hero, Jim Henson, and gaining worldwide fame for a character he invented. The big surprise is that even viewers who find Elmo annoying can enjoy this documentary about his creator. It's more a behind-the-scenes success story about a far-fetched dream fulfilled than a profile of one particular squeaky-voiced Muppet.
Beyond the Lights (2014)
Gina Prince-Bythewood's romantic melodrama follows a megasuccessful, Rihanna-like pop diva (Belle star Gugu Mbatha-Raw) fighting to get control of her life back from the people who want to exploit her, including her own mother (Minnie Driver). It's a big, juicy premise, and Prince-Bythewood takes advantage of all the opportunities for glitzy, glam stage shows and ruminations on the downsides of fame. But this film isn't just a scolding look at an image-obsessed industry and its slimy interest in mining performers' private lives for any hint of possible PR gain. It's an authentically warm romance that walks a careful, smart line between using its subject as a symbol and keeping her as a character. It's the rare film that acknowledges sexual exploitation but still manages to stay sexy.
Private Parts (1997)
Let's face it, the story of radio-and-TV personality Howard Stern, starring Stern as himself and based on his book, is openly self-serving. It acknowledges from the beginning that Stern is crude, obnoxious, and ego-driven, but every confession comes with a self-effacing intimation that he's harmless and admirably sincere in his desire to make people happy. "Everything I do is misunderstood. I mean, think about what a burden that is!" he whines in the opening scene. That said, Betty Thomas's fictionalized biopic about Stern's rise to media saturation really is entertaining: It's a fast-moving, quotable movie that packs in the outrageous humor, then defangs it by presenting Stern as a Woody Allen–style neurotic who only does outrageous things in an attempt to be loved. Stern's sad-clown hunger for approval still doesn't excuse the deliberately combative, sexist, homophobic, and puerile humor that made his name, and this story never feels entirely honest. But that doesn't keep it from being hilarious, compulsively watchable, and at times more appealing than Stern's actual show.
Shake, Rattle & Rock! (1994)
In the 1990s, Miramax and Showtime sponsored a series of TV remakes of B-movies originally produced by American International Pictures, all helmed by cult directors. One of the best, Shake, Rattle & Rock!, was inspired by the 1956 movie of the same name, about a small town trying to keep the corrupting devil of rock and roll away from their impressionable teenagers. The modern version — still set in the 1950s, directed by Rock 'N' Roll High School's Allan Arkush and starring Renée Zellweger — hits some of the same beats as John Waters's Hairspray: A dancing queen tries to break into the music industry via a popular teen TV show, with the help of four black R&B singers whose skin color keeps them off the air. Part satire, part nostalgia piece, part behind-the-scenes drama, and part celebration of rock, it's another feature about the hunger for fame, and what it takes to get past the cultural gatekeepers and on to the big time.
Pussy Riot: A Punk Prayer (2013)
The Russian protest band Pussy Riot have always been more impressive in their fearlessness and cultural influence than in their raw music, but this doc deals evenly with both. A Punk Prayer profiles the women under the masks as well as examines at their arrest and imprisonment, which became an international cause célèbre. It's a powerful story about courage through art, and while it isn't a typical Behind the Music band story — it deals largely with the show trial against three of the band's members after they invaded a church to shoot a provocative anti-Putin video — it's compelling and wide-ranging in showing how there's more to the performance business than making money. For some, fame (or at least infamy) is just about having the clout to get a political message to a wider audience.
Muscle Shoals (2013)
Greg "Freddy" Camalier's documentary about the tiny Alabama town that produced a significant, influential string of soul hits has been called overstuffed and baggy. But that's largely a sign of how much territory it tries to cover in digging into where the 1960s-era Muscle Shoals sound came from, and what made it memorable. Camalier talks to plenty of big-name musicians — relevant ones who were part of the scene, like Aretha Franklin and Keith Richards, and fans like Bono and Alicia Keys — and digs into the production house and background players who were responsible for a new soul sound. It's an intriguing look into just how many helping hands it takes to propel a singer to stardom, and how many careers one big hit can launch, both in and out of the public eye.
Shakespeare in Love (1998)
Yes, John Madden's Oscar-sweeping historical romance (it won best Picture, Actress, Adapted Screenplay, and four more) has been dismissed as a crowd-pleasing middlebrow prestige drama, and it certainly isn't the stuff of high art or life-changing cinema. But don't undersell the "crowd-pleasing" part. The punch-line-packed script, written by Marc Norman and Tom Stoppard, imagines Shakespeare (Joseph Fiennes) as young, handsome, and looking for inspiration, which he finds in a forbidden romance with Lady Viola (Gwyneth Paltrow). The film is almost a parody of a biopic, the kind of film that's looking for the origins of every significant line in a piece of art, and finds them in every stray comment or meeting. And its comedic look at stagecraft, scripting, the theater, and the acting profession (particularly via Ben Affleck as a strutting stage hog) is about as campy and fictionalized as Spinal Tap's version of the music industry. But it's still a swoony romantic fantasy, the kind of true-love-denied story that's barely one step off from a fairy tale.
Frank (2014)
Lenny Abrahamson's moving feature about an outsider rock band, inspired by the character of Frank Sidebottom, touches on a daring truth that show-business stories virtually never acknowledge: Not everyone has the talent, or the strength, to make it in the industry. "Follow your dreams and you'll succeed" is a seductive sentiment. It just isn't always true. Domhnall Gleeson (Ex Machina) plays Jon, a wannabe musician who gets involved with an aggressively uncommercial band, fronted by a man who wears a giant papier-mâché head at all times. (Three seconds of Googling will reveal who's under the mask, but if you haven't seen the movie, resist the temptation; the mystery makes the experience stronger.) Jon's convinced he can manage the band to high-profile success, but his not-so-secret ambition is to ride their coattails; they have a gimmick, a sound, and a personality, all of which he lacks. Jon Ronson and Peter Straughan's screenplay doesn't overplay the themes in what follows, but they build up to a series of surprises that, for being a bit absurd, feel more honest about showbiz failure in the 21st century than other like-minded films.
To Be Takei (2014)
Ohhhhhh, my. The fastest way to catch up on a legendary actor who abruptly became a ubiquitous comedic and cultural figure, this fan-friendly documentary follows George Takei from childhood to his current status as a gay spokesman and beloved internet star. Along the way, it hits the highlights (his progressive, dignified Star Trek role), the low points (several other roles in an industry that regarded Asian actors as a punch line — when it regarded them at all), and especially his marriage to his longtime partner Brad Altman. It's an intimate, friendly film, and the slow spots don't hinder the lively humor.
Velvet Goldmine (1998)
Todd Haynes' cult drama about a Bowie-esque glam-rock star (Jonathan Rhys Meyers) who faked his own death and subsequently withdrew from public life  is told through the eyes of a journalist with a long-lost personal connection to the musician (Christian Bale); in other words, it's far more than a stylish '70s homage. Sexuality, outsider status, and the trouble with fame are all explored.
Not movies, but still excellent Netflix picks on the topic of showbiz: Netflix's original animated series BoJack Horseman is a showbiz satire about a '90s sitcom star trying to put his life back together while coasting on his fading fame (but it's hilarious, in case you haven't heard). The Story of Film is a fantastic 15-episode film class covering the history of moviemaking, from the impact of technological innovations to specific film movements to how the business has affected society over the last century. And of course there's 30 Rock, the essential TV show about a really inessential TV show.
Not on Netflix, but still essential viewing for show-business movie fans: Network, State and Main, The Player, Nashville, A Prairie Home Companion, A Chorus Line, Victor/Victoria, That Thing You Do!, Crazy Heart, Gimme Shelter, Ziggy Stardust and the Spiders From Mars, Walk the Line, I'm Not There, Don't Look Back, Moulin Rouge!, Singin' in the Rain, 8 ½, Tropic Thunder, The Big Picture, Adaptation, Boogie Nights, A Hard Day's Night, Barton Fink, Shadow of the Vampire, and a whole lot more.