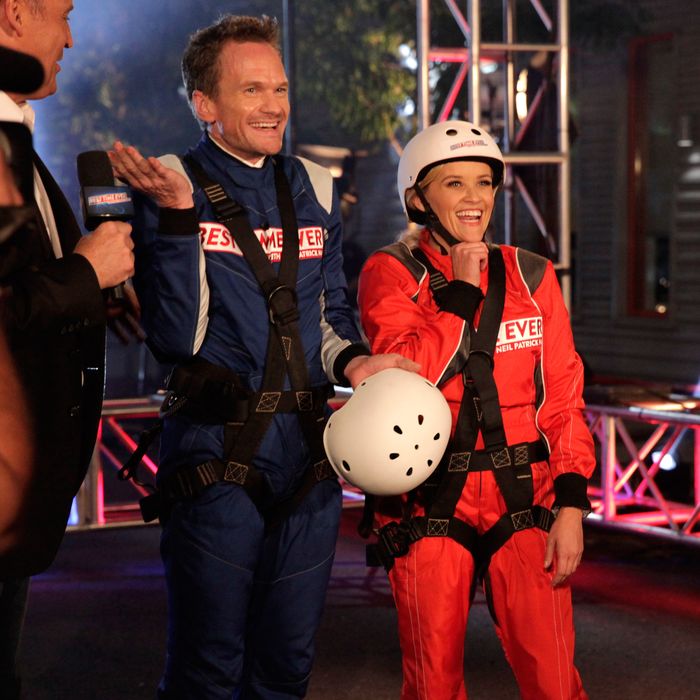 Left to right: Neil Patrick Harris, Reese Witherspoon, Nicole Scherzinger.
Photo: Greg Endries/NBC
Best Time Ever is a show in the truest sense — a spectacle of mastery broadcast live from Kaufman Astoria Studios in Queens and presided over by Neil Patrick Harris, who can seemingly do anything and is fearless no matter what he does. It draws on a tradition of madcap variety-stunt-sketch-musical-whatever programs, notably Britain's Ant & Dec's Saturday Night Takeaway (the official basis for this series). America is a bit late to the party here: Nearly every national television tradition has one or more shows like this one, wherein the host might front a visiting rock band, ride an elephant around the studio, then play a prank on a legislator — maybe one involving the rock band and the elephant. I'm not aware of any single show where all of those things happened, mind you, but I could see Neil Patrick Harris doing them, with his characteristic brio. As a friend of mine suggested, he's the comedy Tom Cruise — more accurately, Tom Cruise's character in the Mission Impossible films, a man who can escape a terrorist attack on the Kremlin on foot, then draw a police-quality mugshot on his palm in five seconds flat, without ever once losing his cool. Harris's unflappability is the glue that binds all the disparate bits together. You keep waiting for him to lose his cool or fail spectacularly, in much the same way that certain people watch NASCAR races mainly for the possibility that somebody's car will wreck and burst into flames.
The show has an intriguingly sinister undertone, which I guess is inevitable when it's built around the idea that its host is capable of anything — not just in terms of performance, but how far he's willing to go to get a gasp or laugh. One of the pre-shot segments revealed that Harris has been trailing a newlywed couple around, manhandling their wedding cake, photobombing them, and hassling them at a college football game in costume as Big Al, the University of Alabama mascot. He donned a helmet and climbed into a harness and rappelled down a length of cable (a stunt inspired by the finale of American Ninja Warrior) in tandem with celebrity guest announcer Reese Witherspoon, who proved what a great actress she is when she managed not to curse Harris out on live TV for roping her into that stunt without warning her about it first. Backstage after the stunt he found his doppelgänger, Little NPH, reading a copy of Gone Girl, in which Harris's character meets a grisly fate in David Fincher's film adaptation. The show finished with a bizarre number involving Harris simultaneously flipping bottles — à la Cruise in Cocktail; thanks for justifying what might otherwise have been a strained comparison, Neil! — and then joining a professional pogo team that jumped ten feet in the air and did backflips. Harris joined them, with some limits (nobody wants to break their neck on live television). There was a fair amount of cross-promotion of NBC properties, including The Voice, but at least it was clever enough to stand on its own terms as entertainment rather than entertainment-flavored shilling: Harris donned a disguise and fooled the judges into thinking he was the host of a nonexistent Austrian version of The Voice, revealing his true identity only at the end, when he came out to "audition" with "I Am Telling You" from Dreamgirls.

I've seen a lot of next-day complaints that Best Time Ever was awkwardly staged and performed and disappointing and so on. I didn't see that last night. What I saw was a series of physically and musically and otherwise gifted people doing amazing things with no safety net to speak of, save the rather brief pauses afforded by the prerecorded clips. I don't think I've used a pogo stick since I was a kid, and I damn sure can't do a backflip from one, as Harris did. Live, people. Live. And he kept balancing things and tossing things and catching them and doing magic, keeping live conversations chugging along. I can't stand on one leg for longer than ten seconds without needing to steady myself by leaning on something. What we're seeing here is not just an artistic performance but an athletic one, and it's amazing. Respect must be paid, and if it isn't, it will be demanded by the time the show heads into sweeps and Harris successfully performs open-heart surgery on a panda while singing "Another Hundred People" from Company. Upside down.