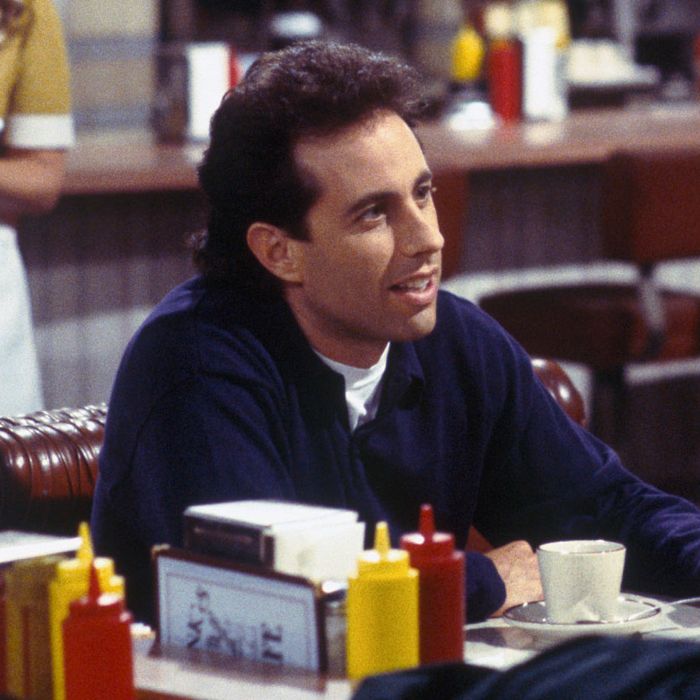 SEINFELD – "The Blood" Episode 4 – Pictured: (l-r) Jerry Seinfeld as Jerry Seinfeld, Jason Alexander as George Costanza (Photo by Joey Delvalle/NBC/NBCU Photo Bank via Getty Images)
Photo: Joseph Delvalle/NBC
This list was updated April 8, 2016 to reflect Hulu's current offerings.
As with its main TV-streaming competitors (Netflix and Amazon Prime, I'm looking at you), one of the few drawbacks to a service like Hulu is that it offers too much of a good thing with no easy way to browse. (One could also argue that the plethora of streaming-service options is itself a hair-pulling overabundance of riches, but let's not get too meta.) Sometimes you just need to find the best shows quickly and get down to business (i.e., binge-watching to your heart's content). That's why we've sorted through the many, many options to present you with our picks for the best TV shows on Hulu. As always, feel free to note anything we've left out in the comments. We'll update this list as titles are added and removed.

SITCOMS
Absolutely Fabulous
What you'll be saying to your Ab Fab–loving friends once you finally watch this 1990s gem of biting and blotto British humor: "Sweetie, darling, let me in! Sweetie, darling, let me in!"
Archer
The most apt description and most ringing endorsement possible for this animated spy spoof comes from creator Adam Reed, who once described it as "James Bond meets Arrested Development." Now that you have what's "obviously the core concept" (to use some signature "phrasing" from the show), time to deep-dive into this delightfully raunchy, pop-culture-riddled gem. "Sploosh!"
Arrested Development
Arrested Development stands as one of the most complete sitcoms of all time, an all-you-can-laugh smorgasbord of spoof, satire, farce, slapstick, and wordplay that necessitates repeat viewings to catch every last joke filling every single shot. There's always funny in the banana stand!
Bob's Burgers
Wait, you've never watched Bob's Burgers? Oh. It's okay. I guess you weren't meant to have a good life.
Casual
One of Hulu's continued forays into original programming, this dark comedy follows jaded shrink and mom Valerie (Michaela Watkins) as she navigates the aftermath of a bad divorce. Her subsequently messy foray back into the dating scene — with the help of her brother, the wonderfully cynical Tommy Dewey — are cringe-worthy in a frustratingly relatable way.
Cheers
When you get right down to it, we pretty much watch TV for one reason: to keep us company. And no show has ever embodied that desideratum like Cheers, a sitcom as cozy as it was zany and as brilliant as it was puerile. You're pretty much guaranteed to have more fun staying in with Sam Malone and his regulars than you are going out to an actual bar.
Community
Could Community fans be any bigger nerds? No, most of us have reached our maximum potential.
Difficult People
Caustic as sulfuric acid, this new Hulu original series is neatly summed up when bitter TV recapper Julie Kessler (Julie Klausner) says to her bae, bitterer wannabe-comic Billy Epstein (Billy Eichner), "I'm so funny when I write mean things about TV shows. How come no one's hired me to write for one?" And Billy replies, "Because our lives are garbage and it's the world's fault." Self-obsession isn't just Difficult People's milieu; it's a jumping-off point for mining the minutiae of our pop-culture-drenched lives and, ultimately, for illustrating that failure is the stuff that really makes us interesting (and probably insufferable, too). Bonus points for one of the year's best guest-star rosters (Martin Short, Gabourey Sidibe, Kate McKinnon, Fred Armisen, pretty much everyone else who's ever been on SNL).

The Dick Van Dyke Show
A little TV history won't hurt, especially when it comes from the mind of Carl Reiner, with terrific performances by Van Dyke and Mary Tyler Moore.
Everybody Hates Chris
TV is great and all these days, except where are the genuinely funny, family-oriented sitcoms, the ones that sidestep treacle for levity, that maintain a PG-bordering-on-PG-13 worldview without sacrificing smarts or sass? It took the blue-streak-cussing Chris Rock to deliver us the rare worthy Wonder Years successor, a sitcom so intelligent yet so cute, with a teen-boy protagonist (Tyler James Williams) who's equal parts knowing and naïve, an imposing yet tenderhearted father figure (Terry Crews), and a narrator (Rock himself) who looks back on his own childhood with cheeky compassion.
Frasier
The greatest sitcom spinoff of all time, which happened to win more Emmys than its predecessor (see: Cheers) and co-holds the record (for now, with Modern Family) for the most consecutive Outstanding Comedy Series Emmys at five. Seriously, what about Frasier was not just perfect? The characters (Roz! Niles!), the casting (John Mahoney! John Mahoney!), that gorgeous Seattle high-rise bachelor pad, the title cards between scenes, the celebrities who made voice cameos as callers on Frasier's radio show, the occasional return of Lilith (Bebe Neuwirth). Heck, even Eddie the dog is a sitcom legend in his own right.
Happy Endings
When the cult-favorite "putting the fun in dysfunctional" comedy was cancelled after three seasons on ABC, it sent fans into a crazed frenzy, even prompting us at Vulture to strongly bemoan the decision. Following a group of six best friends as they navigate their intertwining lives in Chicago, Happy Endings took a tired formula and turned it into something distinctly its own.
I Love Lucy
Be a TV fanatic who's done your homework. Watch the entire episode where Lucy and Ethel go to work on a candy assembly line, not just the smidgen of it that Julia Roberts watches in Pretty Woman, and know that that episode is actually called "Job Switching." Be able to say "Vitameatavegamin girl" ten times fast and get the reference you're making. Laugh! Enjoy!
It's Always Sunny in Philadelphia
It's Always Sunny is often called "Seinfeld on crack," and like that seminal sitcom, Sunny offers its fans a fount of one-liners and in-jokes that now stand as its own vernacular. Hips and nips! Rock, flag, and eagle!
Louie
Not so much a situation comedy as a living, breathing, rumbling, gurgling organism that feeds off life's hard, funny truths, grafted from the organs of Louis C.K.'s stand-up material and his discomfiting offstage persona.
Parks and Recreation
Amy Poehler's post-SNL comedic vehicle, about do-gooder Leslie Knope and her quest to better the tiny town of Pawnee, Indiana, may be the quintessential network sitcom of this decade: a low-key but often hilarious observational comedy about the family we make out of our friends and co-workers.
Party Down
A sublime black comedy about what's left of life — the mundane, the quotidian, the stuck-in-neutral ennui — when your once-grand illusions are proven to be nothing more than delusions. A pre–Parks & Rec Adam Scott stars as Henry Pollard, a barely-was actor in L.A. who returns to event catering after his showbiz career goes nowhere. Alongside him in the chafing-dish trenches are aspiring comedienne Casey (Lizzy Caplan), wannabe screenwriter Roman (Martin Starr), untalented actor-singer-model Kyle (Ryan Hansen), and catering captain "Ron" Donald (Ken Marino), whose life goal is to own his own Soup R' Crackers franchise.
Samantha Who?
Samantha What: A sitcom starring Christina Applegate as a 30-year-old real-estate exec whose life as a bitchy-cosmopolitan type is upheaved when a hit-and-run leaves her with amnesia. Samantha When: The show ran for two seasons, from 2007 to 2009; for various reasons, ratings plummeted after a strong premiere. Samantha Why: Because Applegate's underappreciated comedic prowess would've made her the Carole Lombard of a previous era. As the confused Samantha, she capably delivers screwball and pathos in the same breath. Also because the supporting cast (Melissa McCarthy, Jean Smart, Jennifer Esposito, Barry Watson) is freaking sick.
Seinfeld
It was a show about nothing. And, you know, nothing can be very filling in the midst of a binge.

South Park
They killed Kenny on every episode for the show's first five seasons, but seriously, can anything kill South Park? For nearly 20 years, Trey Parker and Matt Stone's crudely animated, crudely everythinged cartoon has lampooned the macro (organized religion) and micro (shit, both the word and the fecal matter itself) in American society (which may be the key way it supersedes the show it owes so much to, The Simpsons, which has always remained content to spoof the small stuff). A truly superlative sitcom.
Sports Night
Occasionally there are TV shows you think back on like the one that got away, so reliable and sophisticated and funny were they … Oh, Sports Night, I'm sorry we didn't treat you well enough to make you stick around. I know you deserved so much better than the stingy ratings you received, the mere passing glances viewers gave you. Sports Night, you "got" me — and I don't even watch SportsCenter! What could have been between us, Sports Night. Nowadays, my eyes glaze over as I watch other Aaron Sorkin shows (ahem, The Newsroom), and I wish we could make it work again.
Strangers With Candy
Never-not-funny Amy Sedaris plays Jerri Blank, "a boozer, a user, and a loser" who returns to high school decades after becoming a teen runaway. The show purports to poke fun at pre-millennium after-school specials, all the while getting away with some of the most un-p.c. humor of the post-millennium age. ("Orlando, you can't be a pilgrim. The pilgrims had snowy white skin to match their pure Christian souls. They didn't sacrifice coconuts to their monkey gods.")
The League
Even with a cast led by such comedy-riffing ninjas as Mark Duplass, Nick Kroll, and Paul Scheer, did anyone think a low-stakes FX sitcom about Windy City dudebros and their fantasy football league could last an amazing seven seasons? You don't have to care about sports to love The League; you just have to be cool with raunchiness so raunchy it should be coined ultraraunch.
You're the Worst
It's about two awful people (Chris Geere as Jimmy and Aya Cash as Gretchen) who attempt to date one another, and it's the best.
SKETCH SHOWS
A Bit of Fry & Laurie
Hugh Laurie's origin as a daffy sketch comic is something many Americans have read about but rarely seen. His partnership with Stephen Fry on this BBC program produced some distinctly British humor, natch — but in a way that's palatable to both lovers and haters of Monty Python.
Chappelle's Show
Embrace "the darkness" by gorging on Chappelle's brilliant and influential 28-episode series in one sitting.

Drunk History
Do you find drunk people funny? Do you find it funny when Americans reveal their stupefying lack of knowledge about historical events? Do you like to pretend that Jack Black, Kristen Wiig, Michael Cera, Owen and Luke Wilson, Patton Oswalt, and Dave Grohl are your friends in real life and that you'd all have such a great time hanging out and acting all hammered and silly together? If so, then this is the sketch-comedy show is for you.
Inside Amy Schumer
If it hasn't already, Inside Amy Schumer will one day find a place on the syllabi of countless Feminism and Pop Culture university courses for its next-level skewering of everyday gendered stereotypes. For men, that entails: having their egos bruised by women who mention they have boyfriends, and feeling entitled to police the female form on TV. For women, it's eating carbs on the couch in your pajamas, refusing to graciously accept a compliment, making your boyfriend watch rom-coms, being jealous of prettier women, and enduring the low-grade embarrassment of eating at a Hooters.
Key & Peele
One of the downfalls of Saturday Night Live has always been that it can't resist a surreal sketch premise, but it rarely knows what to do with one beyond its initial bizarro-world setup. Keegan-Michael Key and Jordan Peele, meanwhile, could teach a master class on morphing normalness into ludicrousness into hilariousness. (See: "Flicker," "Pizza Order," "Dueling Hats," etc.) They spoofed pop culture like a pair of comedy snipers ("Hell's Kitchen Parody," "Les Mis"), knew exactly how to mine everyday moments for comic gold (the "Substitute Teacher" who can't properly pronounce a name to save his life; the "Gay Wedding Advice" given to a family that just can't get with the times), and their interpretations of President Barack Obama — not just "Obama's Anger Translator," but his "Meet & Greet" style and his alleged "College Years" marijuana habit — were simply exquisite. Frankly, I am so mad this show is no more, but it lives on via Hulu.

Kroll Show
TV has been in the midst of a sketch-comedy renaissance (or just a naissance? Has it ever been this good, this much?). The downside is that ameeeezing shows like Kroll Show never get their due. Nick Kroll's parodying of the modern pop-culture landscape, especially the sausage-making of reality TV and the types of wannabes who choose to star on those shows, was merciless and mercilessly funny.
Nathan for You
Just when it seemed like there was absolutely no humor left to mine in the realm of candid cameras and faux reality, along came deadpan Canadian comic Nathan Fielder and the 2013 premiere of his Comedy Central show, in which he mock-helps actual businesses and offers insipid suggestions for life improvement. Got too many shoplifters? Just let the good-looking ones slide. Can't meet women? Lure them with smoothies proffered in little cups on the sidewalk. Finding it hard for your indie coffee shop to compete with java giant Starbucks? Open Dumb Starbucks!
DRAMAS
A Gifted Man
For several reasons, this one-season-and-done CBS drama deserved a second chance: Lead actor Patrick Wilson (hey, Universe: Be more generous to Patrick Wilson!); co–executive producer and pilot director Jonathan Demme; co–executive producer Susannah Grant (who wrote Erin Brokovich); a supporting cast that included Margo Martindale and Pablo "Pornstache" Schreiber. The premise — slick NYC doctor is routinely visited by kindhearted but dead ex-wife (Jennifer Ehle), prompting him to start caring about others — was both clever and mawkish, but the show itself was much more the former.
Alias
J.J. Abrams and Jennifer Garner teamed up for a spy series that put its fans through dizzying paces. Garner, in her breakout role, plays a young agent at SD-6 — which she thinks is the CIA, but as she soon learns, it's actually an enemy-combatant organization; she then signs up with the real CIA, thus becoming a double (or would that be triple?) agent. If that sounds complicated, good; that entanglement was truly the fun of it.
Bleak House
Based on the Charles Dickens novel of the same name, this 2005 British mini-series' scene-stealer is actually American actress Gillian Anderson, whose post-X-Files career renaissance doing small-screen work on the other side of the pond was kicked off by her portrayal here of Lady Dedlock, an aristocratic ice queen with a secret past.
Hill Street Blues
Tweed-jacketed TV-critic types rightly pontificate that Hill Street Blues kicked off a second golden age of television. Everything we now take for granted in a drama — multi-episode story lines, expansive ensemble casts, a downbeat verisimilitude, handheld camera work, sex, and violence — can be traced back to Steven Bochco's Anycity, USA, cop show. In fact, the only drawback to viewing it with fresh eyes in the new millennium may be that its once-groundbreaking elements can now come off as overplayed. So, hey, let's be careful out there.
Murder One
The premise: Every season of this Steven Bochco legal drama would focus on a single, high-profile homicide trial. The payoff: TV audiences weren't ready for that kind of commitment  in the mid-1990s, and after more or less abandoning that conceit in its second season, Murder One was (sorry) killed. But in the meantime, those who tuned in were treated to Stanley Tucci salivating all over the scenery in one of his first big roles, playing a murder suspect and Hollywood bajillionaire, as well as a sneak peek of the future greatness that was Patricia Clarkson as the lead defense attorney's wife.
My So-Called Life
Allow yourself to become absorbed (let's admit the truth: reabsorbed) by the greatest teen dramedy of all time — a show so painfully accurate when it comes to the tumults of adolescence, it hurts to watch — and your entire existence might start to resemble Angela Chase's precocious monologue about her chin zit: It will become the focus of everything. It is all you can feel, all you can think about. It blots out the rest of your face, the rest of your life. Like, My So-Called Life will become … the truth about your own life.

Sons of Anarchy
Antiheroes have dominated the TV-drama landscape ever since The Sopranos, but few shows have rivaled Tony and Co.'s ruthless bloodletting like Sons of Anarchy, FX's erstwhile series about a motorcycle gang/crime syndicate based out of the fictitious hamlet of Charming, California. Ron Perlman stars as the club's president and Charlie Hunnam as his stepson and eventual successor, but thrillingly, it's Katey Sagal who steals the show as the familial and organizational matriarch.
The Good Wife
The Good Wife might accurately be called the best of the last of the great prime-time network dramas. Excellently acted and confidently written, it's exactly what you want from a legal drama, including steamy sex scenes and occasional, knowing splashes of social commentary. It's also managed to get better with age, leaving behind its initial premise (Julianna Margulies as a politician's stay-at-home wife who returns to her litigation career after hubby's incarcerated on corruption charges) to flourish into a twisty-turny affair that never disappoints.
Twin Peaks
With Showtime planning to bring back David Lynch's magnum opus of moody weirdness in 2017, you've got just enough time to fix yourself a slice of cherry pie and a damn good cup of coffee and settle in with the original 30 episodes from the early '90s.
REALITY
America's Next Top Model
As Jade fiercely opined on the sixth season (pardonnez-moi, Tyra: cycle) of ANTM, this modeling competition is not America's Next Top Best Friend. Indeed, what ANTM is is arguably one of the bitchiest shitshows in reality history. (P.S.: You could also argue that it's not a modeling competition, given how seldom its contestants actually break into the business, but why exude such dreckitude?)
Flavor of Love
Sorry, did I just say ANTM was the bitchiest shitshow in reality history? Because it's definitely this one — yeeeeahhhh, boyyyyyyy!!! (P.S.: You could also argue that it's literally a shitshow, given that a girl named Somethin' actually pinched a loaf all over the staircase in the season-two premiere.)
Hoarders
Reality TV is just an unfancy synonym for schadenfreude, and short of Intervention, no reality show has mainlined pleasure from someone else's pain like this somber documentary about people suffering from compulsive hoarding disorder.
Top Chef
Let's get serious for a second. Reality programming can be well done, although it is rare. (See what I did there?) Yes, the competition on this chef-to-the-death contest can feel manufactured at times, but Top Chef proves that the reality genre is really at its best when true professionals put their talents to use doing something everyone needs, wants, and loves. Hey, you gotta eat!
SCI-FI/HORROR
Alfred Hitchcock Presents
Because all you really know about this show is its theme music and the thing where Hitchcock walks into his own silhouette during the opening sequence, and that's sad.
American Horror Story
Amid a pop-culture landscape overrun with vampires and zombies, American Horror Story consistently manages to provoke, titillate, gross out, and scare the pants off its audience by reinvigorating antiquated horror tropes like witches, sanitariums, and spooky houses. Fantastic fun and a bona fide fright fest all at once.
Buffy the Vampire Slayer
If there was such a thing as a TV dictionary, and if you looked up the word subversion in that dictionary, what you'd find next to that definition is a picture of Buffy Summers (a.k.a. Sarah Michelle Gellar, the best she's ever been, and quite possibly the best she'll ever be) holding something sharp and bloodied. Joss Whedon's most canonical contribution to TV was a complete overthrow of so many pop-culture themes — high school, horror movies, stereotypical ditzy blondes — and one of the most addictive and engrossing TV-watching experiences ever offered. (There's a reason academics write papers about the "Buffyverse," after all.)
Firefly
Joss Whedon's futuristic "space Western" is as funny, hip, smart, action-packed, and geeky as anything Whedon's ever done. Like most of Whedon's oeuvre, Firefly embodied every worthwhile reason that TV should exist, and was way too smart and innovative to ever be allowed to stay on it.
Quantum Leap
After the U.S. government threatens to cut off its funding for his top-secret "Project Quantum Leap," Dr. Sam Beckett (Scott Bakula) becomes the first-ever guinea pig for his own Quantum Leap Accelerator. His winds up proving that space-time travel is indeed possible, but now Sam can't stop time-traveling, assuming the form of somebody new with each (all together now!) quantum leap. As he careens through history, Sam's only constant companion is his longtime friend and superior Al (Dean Stockwell), who appears to him as a hologram. If a quantum leap is what your believability-o-meter must make in order to accept this premise, then maybe this isn't the show for you. But if you're cool with a lighthearted sci-fi drama that finds its payoff in small moments of humanity, then you're in for a fun ride.
The Twilight Zone
Along with Alfred Hitchcock (see: Alfred Hitchcock Presents), Rod Serling invented an entire genre of modern-day entertainment based on creepy realism; his seminal sci-fi anthology still makes for spine-chilling television. A caveat: A handful of the second season's episodes were taped rather than filmed (which network brass insisted upon to cut costs), resulting in a much less sophisticated feel (which is why the network soon reversed that decision).
The X-Files
I want to believe … that you have already seen this show. If not, watch it.
Additional writing by Devon Ivie.