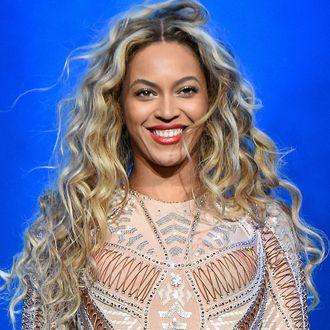 She draws a great emoji.
Photo: Kevin Mazur/Getty Images for Anheuser-Busch
Much has been made about Beyoncé's recent seen-not-heard relationship with the media. She no longer grants interviews, but she's on the latest cover of Flaunt magazine, and for a change, she isn't just flawlessly photographed. No, she doesn't have a 15,000-word profile; she's instead communicating to the BeyHive through a good ol' fashioned game of word association — or "Cloud," as they're calling it. Here, in her own writing, we finally have the inner workings of Queen Bey's mind — in which she second-guesses calling celebrities bipolar and gives a shout-out to Broadway's latest sensation, Hamilton. She even offers advice to the next writer she does deign to speak to: Don't call her iconic.