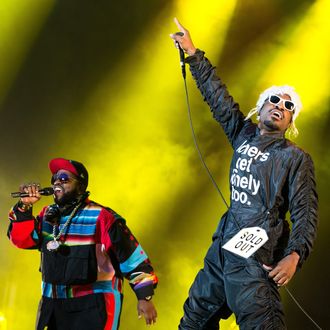 Big Boi and Phantogram participated in a joint Reddit AMA session this weekend to promote their forthcoming Big Grams collaboration, out September 25 (you can pre-order it here, though, and get "Fell in the Sun" instantly, if waiting isn't your thing). As might be expected, the trio discussed trivia (Phantogram used to go by Charlie Everywhere, as a joke), a few of their favorite things (Kate Bush, Blue Velvet, Eternal Sunshine of the Spotless Mind), that Key & Peele sketch (yep, again), and who would win in a game of 21 (Big Boi claimed his "diack" would be king of the court). But hands down the most exciting tidbit came when a fan asked Big Boi if, in light of Straight Outta Compton's recent success, there's any chance of an OutKast biopic in the near future.
Me and 'Dre were just discussing this over Labor Day. Stay tuned. — Big
Another Redditor quickly posted this MCU-inspired dream, which is fantastic, in response:
There's a thread over at /r/HHH where we discussed how a cinematic rap universe would start, after Straight Out of Compton, kinda like Marvels. Yours would start at the 95 Source Awards then flashback to back when you two met and started making joints together and go from there.
Big Boi has also said, multiple times, that he and 'Dre have been getting their friendship back up and running. Our hopes are officially up; fingers crossed. You can scope out the full AMA here.