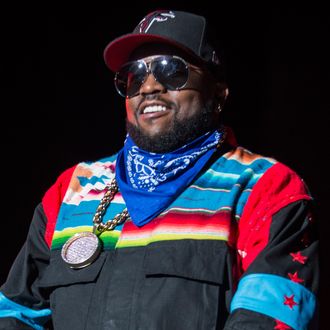 Photo: Josh Withers/Corbis
Last month, Key & Peele (sadly filing its series finale tonight) parodied the surreal yin-and-yang relationship between André 3000 and Big Boi to the delight of Outkast fans. Turns out, Big Boi actually liked it, too. In light of the rapper's recent collaboration with Phantogram, Pitchfork asked Big Boi if he had seen the sketch, as well as what he thought about it. He told Pitchfork that, yes, he saw it, and, yes, the sketch was way off — but it was also "funny as hell." This evaluation wholly makes sense, because, yes, it was a Key & Peele sketch!
Here's what Big Boi had to say:
I sent it to Dre, that shit was funny as hell. It was funny as hell cause it was way off, but it was funny as hell. … If anybody's been following me on social media — if we're not doing music then people think we're not together — but we've been really hanging out with our kids this summer; we've been going paintballing, we've been going to golfing, we've been hanging out every week.

We had a real good summer. It's been a real relaxing summer for the both of us but you know, we've really just been enjoying the brotherhood aside from the music. Since we've been doing that all our life, we're just getting back to the friendship, you know?
True. But Big Boi has also been busy with Phantogram and their newly formed portmanteau act, Big Grams, on that previously mentioned joint project. The group has a seven-track EP coming out September 25, featuring the likes of Run the Jewels and Skrillex (you can read more about it, and find the track list and cover art, here). One of the record's songs, "Fell in the Sun," will reportedly premiere on Zane Lowe's Beats 1 radio show Thursday.
This is all great; the only bummer is Key & Peele won't be around any longer to make a follow-up sketch about Big Boi and André paintballing with kids — in memoriam of the show (and fake Big Boi and André ), make sure to tune in tonight on Comedy Central for one last hurrah: