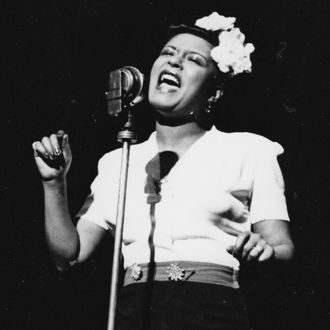 Billie Holiday, the real thing.
Photo: Gilles Petard/Redferns
Harlem's legendary Apollo Theater hasn't heard the sound of Billie Holiday's voice in more than 50 years, but the lady will sing the blues there once more this fall. The Apollo plans to bring back the jazz icon in hologram form close to Thanksgiving as the first venture in a two-year partnership with the Alkiviades David–owned Hologram USA. Earlier this year, to mark what would've been Holiday's 100th birthday, the theater inducted her into its Hall of Fame. And now the Apollo wants to use both her likeness and voice — with the permission of Holiday's estate — to serve as a spokesperson for the venue. "Billie is going to be able to talk about the history of the Apollo," Jonelle Procope, the Apollo's president, told the New York Times. "She can take questions from the audience in an interesting way. She can sing some songs." There's also talk of making a James Brown hologram that could re-create his famed 1962 performance at the Apollo. So in case you were wondering if the hologram business is still kinda creepy as ever, there you have it.