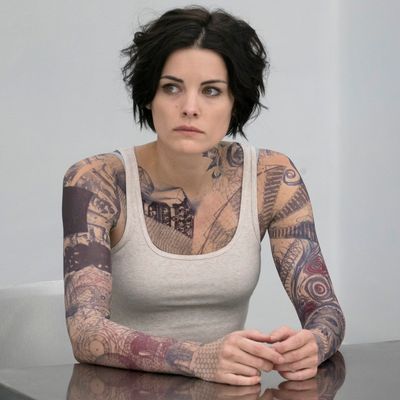 Jaimie Alexander as Jane Doe.
Photo: Virginia Sherwood/NBC
There's a weird throwback feeling afoot this year among the network dramas: Quantico feels a little bit like the short-lived ABC drama Traveler from 2007. The images of synapses firing and cranial folds lighting up on Limitless are straight out of CSI — plus the movie it's based on, which came out in 2011. Minority Report's source film came out in 2002. It's a throwback season, and Blindspot fits right in, pulling from Prison Break, John Doe, Nowhere Man, with maybe a dash of La Femme Nikita. Shake it all up, drain out any interesting dialogue, and voilà: You have yourself a network pilot.
We open in Times Square, where someone has ditched a duffel bag. When the bomb squad approaches — ziiiiiiip! There's a naked lady in there (Jaimie Alexander). She's all freaked out! She has no memory of who she is, thanks to being "pumped" full of a memory-erasing drug, as a dutiful lab tech explains. It's the kind of experimental drug given to rape survivors or soldiers with PTSD, we're told. Hmmmmm. Our Jane Doe is also covered in mysterious tattoos, cryptic and freshly inked. The only unmistakable tat instructs the reader to call FBI Agent Kurt Weller (Sullivan Stapleton), so he is summoned, and rather than being investigated in any way, he's given full access to Jane and her searching, pleading eyes. They are perfectly lined, with mascara just so, and of course her eyebrows are tweezed to perfection. Whoever put her in that bag sure cared about eye makeup. She can't remember anything about what she likes — what music, what food, whether she prefers coffee or tea — but goddamn if she doesn't know how to create the perfect beach-wave texture for a chin-length bob. Just run a 1.25-inch barrel iron through big pieces, alternating the direction, and then spritz with salt spray, and go! Maybe that is one of her tattoos, these hair instructions. That would make as much sense as anything else on this show.
Do I need to explain that Jane Doe and Kurt wind up solving crimes together? On the off chance you couldn't have guessed, yes, of course they do. Jane's tattoos somehow lead them to clues! She also discovered that she reads and speaks "Chinese" (Mandarin? Cantonese? Unspecified, because why bother), is a skilled martial artist, and an excellent shot. Hmmmm again. If Jane and Kurt don't bone in the first 13 episodes, we should all get our money back. (If they wind up being brother and sister, give us back double.)
Blindspot isn't the dumbest show of the fall season, not by a lot. But oh God, does it ever sell itself out by cramming in the most labored, faux-action-movie dialogue. "Who is this woman?" grumbles FBI boss-woman (Marianne Jean-Baptiste, who should be on a better show). "She might be just the most important resource we've ever had!" growls Kurt. Oh, brother. Sadly, he's not done: "One thing's for sure," he adds. "Someone likes playing games … and this is just the beginning." Why is that for sure?
The show moves briskly enough, and the performances are all fine, but the show's, well, blind spot is its off-putting use of women as props. The pilot episode features two instances of domestic violence in which men are abusing women, neither of which is central to the story but serves instead to let our leads step in and save the day. The whole series rests on Jane's body being evidence, something other people claim access to; she's objectified in very literal ways throughout the episode. Maybe this is all done consciously, and the show is meant to serve as a commentary on this exact idea, but if that's so, it would be the absolute only moment of subtlety in the entire pilot, which spends the rest of its time in Anvil Town. I asked NBC for more episodes to watch, but a rep politely declined.
Executive producer Greg Berlanti has made lots of good shows, shows high on emotional stakes and gnarled families: Jack & Bobby, Everwood, Eli Stone, The Flash, Arrow. Brothers & Sisters lost me after a while, but there are some strong ideas in there. He's the guy who came up with the idea that Joey and Pacey should get together on Dawson's Creek, and for this, the world will always be in his debt. But his body of work also includes some odd misses, like Dirty Sexy Money, No Ordinary Family, Political Animals, Golden Bow, The Tomorrow People, and, most egregious, The Mysteries of Laura. Writer and executive producer Martin Gero created The L.A. Complex, which was a salty delight, and was an executive producer on two different Stargates, among other things. There should be more to Blindspot, then, more energy and identity, more humor, certainly. More urgency, some kind of spark or thrill. As it is, the show is functional. That hardly feels like enough.
Especially when Blindspot is entering itself in such a fraught genre, the one of the massive central mystery. Not that everything's Lost, but it's a little bit Lost, and the show doesn't get to act like it doesn't know that. The problem with central-mystery shows like Lost, like Prison Break, like Kidnapped, is that they have to figure out the deal with the island, break out of prison, find their kid, and the show can only ever be as good as that resolution. Presenting the tautology of "If Blindspot gets good it will be good" feels unhelpful, but it's the truth. If Blindspot's dialogue gets better it will be better is also true. Maybe that happens eventually, maybe it'll never happen, but unless it happens very soon, I can't picture watching many more episodes.