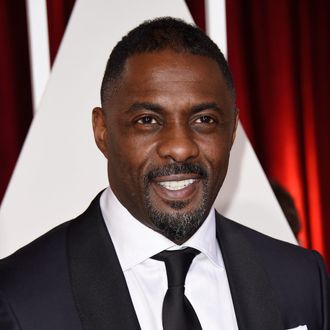 Too suave is more like it.
Photo: Frazer Harrison/Getty Images
With Daniel Craig recently expressing uncertainty about his future as James Bond, someone close to the franchise has offered his two cents on who could step into the iconic role next — or, rather, who shouldn't. Anthony Horowitz, whose upcoming Trigger Mortis is the latest novel in the series, has revealed that he isn't onboard with Idris Elba playing 007, despite the majority of fans picking him as their favorite candidate for Craig's successor. Speaking to the Daily Mail, Horowitz had this to say:
"Idris Elba is a terrific actor, but I can think of other black actors who would do it better. For me, Idris Elba is a bit too rough to play the part. It's not a color issue. I think he is probably a bit too 'street' for Bond. Is it a question of being suave? Yeah."
While he qualifies his reasoning with the caveat that it isn't race-based, his language says otherwise. On Craig, Horowitz has nothing but praise, calling him "a terrific Bond" and Casino Royale a "total return to the gritty seriousness of it." When that same "grit" applies to Elba, however, it's rejected with casually racist generalizations like "street" and "rough," two descriptors Horowitz likely associates with Elba from the actor's acclaimed performances in The Wire and American Gangster. But Horowitz doesn't mind if a black man plays Bond, so long as he's the "right" kind of black. He suggests Adrian Lester, known for his theater work and starring role in the BBC's Hustle, as a better potential Bond, though Horowitz gives no reason why Lester could do better than Elba. And David Oyelowo has been selected to record the audio book for Trigger Mortis, effectively making him the first black Bond, if only in voice.
Horowitz's problem with Elba isn't that he's too "street" to play 007, it's that he's too black. He drops Caribbean-influenced slang in his cockney accent, raps for fun, and will next play a West African rebel who recruits child soldiers in Cary Fukunaga's Netflix film debut. Elba's also widely regarded as one of the most beautiful men in the world across all races. He recently became the first man to cover Maxim and regularly lands on best-dressed lists — and still, it's not enough for Horowitz, whose most wild assertion might just be that Elba isn't suave enough to play Bond. We hate to break it to him, but no one personifies suave more than Idris. Maybe Horowitz is just too blinded by Elba's blackness to see it?
Update: Here's Horowitz's apology: