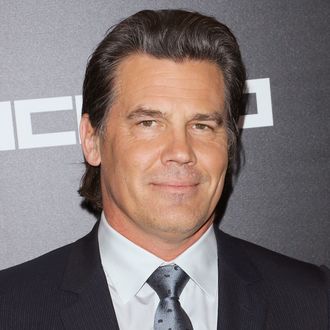 Photo: Jim Spellman/Getty Images
In his new cover story for Man of the World, Josh Brolin sounded off on a variety of watercooler-worthy tidbits, including his path to sobriety and slowly softening up his previous "tough guy" demeanor. Nothing caught our attention more, though, than when the Everest and Sicario leading man began to sound off on Hollywood's newest crop of young actors and their ill-fated attempts to be braggadocio-oozing bona fide tough guys. "I see young Hollywood punks on the set, and it's funny to me. Because it's absolutely me all over again," he says. "I'm the old guy who's like, Oh cool, you got your leather jacket and it cost you $400 and you bought it all ripped up! I remember a guy I worked with who was from Ontario, but he talked like De Niro. I was like, Holy shit, he's actually doing De Niro. Does he know that I know? I'm not even listening to what he's saying. It's fascinating to me."
Now, of course, there are plenty of actors from Canada. How do we know that he isn't talking about famous bad boy Michael Cera? (They never filmed a movie together.) Well, we now present you three reasons why Brolin is almost certainly talking about his Gangster Squad colleague Ryan Gosling:
Gosling is from Ontario!

Gosling has an affinity for wearing leather jackets!

Have

you heard Gosling speak

, yous guyz?
That said, Ryan, we aren't complaining. Wear your leather, baby!