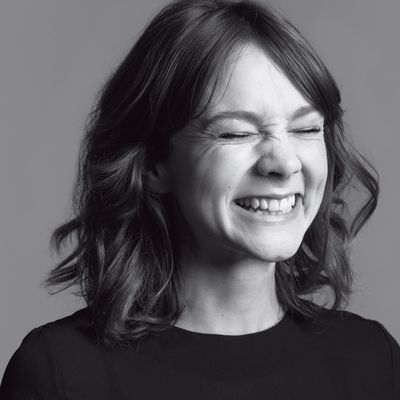 Ever since Pride and Prejudice, Mulligan has orchestrated her career with a shrewd kind of wisdom, wriggling out of pigeonholes at every turn.
Photo: Brigitte Lacombe
Carey Mulligan is the sort of actress who — mercifully — complicates "cute." Her eyes are somehow as dewy as they are world-weary; her mouth has a tendency to go rogue mid-grin and transform into a vaguely impish smirk. Even with a perfect pixie cut (and a vocal cameo on a Belle & Sebastian album, to boot), Mulligan projects something tougher than twee. The characters she's known for (Daisy Buchanan in Baz Luhrmann's The Great Gatsby, most notably) convey a complicated, expertly modulated blend of innocence and experience, joie de vivre and ennui. "I feel old," sighs 16-year-old Jenny in An Education, the 2009 role for which Mulligan earned an Oscar nomination. "But not very wise."
Over the past decade, though — ever since she made her screen debut playing Keira Knightley's sister in the 2005 adaptation of Pride and Prejudice — the Westminster, England–born Mulligan has orchestrated her career with a shrewd kind of wisdom, wriggling out of pigeonholes at every turn. "I worry about repeating myself," she told Vogue in 2010. "I'm afraid of anything remotely period, afraid of anything to do with the '60s or playing a schoolgirl." Suffice it to say, the girl's got range. Onstage, she's dazzled, playing Nina in an acclaimed 2008 run of Chekhov's The Seagull and, more recently, acting opposite Bill Nighy in this year's staging of Skylight. Onscreen, she eschewed the requisite post–"It" girl superhero's-girlfriend roles and instead sought out nervier fare. She lent a touch of humanity to Nicolas Winding Refn's stylish neo-noir Drive and a bit of welcome anarchy to Steve McQueen's placid Shame. By the time of 2013's Coen-brothers folkie homage Inside Llewyn Davis — not the first movie in which she'd sung, but the first one where she proved her voice could hold while harmonizing with Justin Timberlake — she could put those fears about repeating herself to rest.
Up next: Mulligan's Norma Rae moment. In October, she stars in Suffragette, the female-written-and-directed (by Abi Morgan and Sarah Gavron, respectively) period piece. She plays Maud Watts, a factory worker radicalized by the early pioneers of the women's-suffrage movement. (This fall, she's also expecting her first child with musician-husband Marcus Mumford.) The cast is stellar (Meryl Streep, Helena Bonham Carter), and Mulligan is already generating awards-season buzz. The uncompromisingly political role is unlike any she's ever tackled, but expect a classic Mulligan performance — as fresh as it is fiery.
*This article appears in the September 21, 2015 issue of New York Magazine.