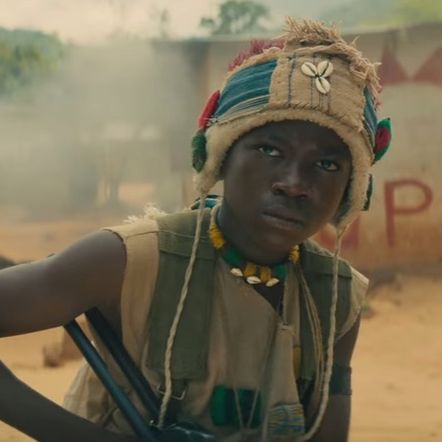 Photo: Bleecker Street Media
All through True Detective's disastrous second season, critics and viewers struggled to figure out what made the first season so indelible. Did it have more to do with Cary Fukunaga's direction, or the alchemy of Matthew McConaughey and Woody Harrelson? After watching Fukunaga's latest film, Beasts of No Nation, which had its first press screening at the Toronto Film Festival, my vote is that it was Fukunaga all the way. This new movie, starring Idris Elba as a commander of a rebel army and newcomer Abraham Attah as a child soldier in an unnamed West African country, is the kind of undeniable directorial calling card you come across once every couple of years, if you're lucky. Forget that the Toronto Film Festival is still young; I don't think it's too early to start talking about Fukunaga's Oscar chances, or those of Elba or Attah, for that matter.
What's most thrilling about watching Beasts — which Fukunaga wrote, shot, directed, and produced, and is the first foray by Netflix into original filmmaking — is seeing him use the visual and storytelling trademarks that made True Detective's first season so compelling to create an entirely new world. We know that the movie, based on Uzodinma Iweala's 2005 novel of the same name, will turn a young boy, whom we see at the start of the film telling stories by flashlight with his brother in a homemade fort, into a killer. But Fukunaga takes his time. We see Attah's character, Agu, running around to the various military groups in the area trying to sell a TV with no screen, acting out kung fu scenes with his friends and claiming to the soldiers they're entertaining that it's an "imagination TV." We become immersed in Agu's family: with his big brother who's trying to bulk up because he wants to sleep with a girl before the war comes, and with his father, who's unwittingly signed his own death sentence by pushing a crazy homeless woman off his family's land to make room for refugee camps. Mostly we see the little moments that define childhood and on which familial love and relationships are built, which in other hands might be saccharine, but which Fukunaga never wrings for cheap emotion.
I could go on about the many images that had me catching my breath: The rebel army in their patchwork uniforms standing in the open doors of speeding cars with their automatic rifles raised to the sky; the masked tribesmen Agu may or may not actually be seeing as he slinks through tall grass to ambush his enemies; the blood that splatters on the camera when Agu makes his first kill; the trenches of red earth filled with red, muddy water and the bodies of the dead. It all works, including the tense, droning score from Beasts of the Southern Wild composer Dan Romer (guess he only does "Beasts" movies), and those incredible costumes that evoke what an army of orphans might pick while pillaging villages to seem fierce. Elba, who was last at TIFF pouring his heart into a portrayal of Nelson Mandela that deserved a better movie, is frighteningly believable in the complex role of a power-hungry leader who saves Agu's life, but replaces it with an existence that might be worse than death. And Attah, who was cast through an open call in Ghana and very deservedly won the award for best young actor today at the Venice Film Festival, is a Quvenzhané Wallis–level find (another "Beasts" parallel, but it's apt).
So strong is Fukunaga's command of tone, and so high are his demands of the audience to see Agu's situation for just how fucked up it is, that I did find myself wishing he'd have loosened up just enough to let me have one good cry. Instead I left the theater numb and struggling to process what I'd seen — but without a doubt that everything Fukunaga does from now on should be considered essential viewing.