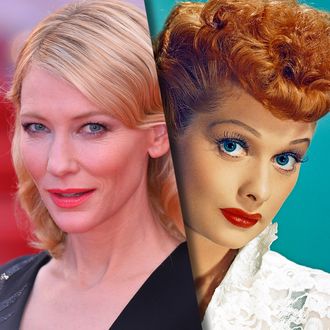 Sure, why not.
Photo: Mustafa Yalcin/Anadolu Agency/Getty Images and Silver Screen Collection/Getty Images
Cate Blanchett is set to play yet another Hollywood legend: The Wrap reports she's been picked to play comedy icon Lucille Ball in an authorized biopic written by Aaron Sorkin. It'll be the first time the two have worked together. The Ball biopic, which currently doesn't have a director attached, will center on her 20-year marriage to Desi Arnaz and their run on I Love Lucy. The couple's two children together, Lucy Arnaz and Desi Arnaz Jr., will produce.
You may recall that Sorkin, in an email leaked in the Sony hack, previously took a swipe at Blanchett's work, calling her Oscar-winning role in Blue Jasmine "nothing close to the degree of difficulty" of the men nominated that year. So you can pretty much guarantee he'll make her put in overtime for her next Oscar bid with his mile-a-minute dialogue about how the show would've been nothing without Desi. As for whether the film will have a longer shelf-life than all of Blanchett's other "arty" films, we'll see what Tarantino has to say in five years or so.