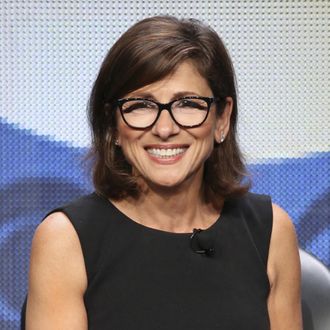 Photo: Monty Brinton/CBS via Getty Images
TV's most-watched network — and, behind the scenes, its most stable —  is losing one of its top executives: Nina Tassler, who has run CBS Entertainment since 2004 and been a key part of its success since 1997, is stepping down. Tassler was promoted to chairman of her division just last year and signed a new deal keeping her with the Eye until 2017, but all indications are that the well-respected TV-industry veteran is leaving by choice and was not pushed out. For one thing, CBS has worked out an orderly transition plan: Tassler won't officially leave her post until the end of the year, and she'll remain a consultant to the network through 2017. And her replacement isn't some sexy new outsider, but someone who's been working closely with Tassler for years: CBS current programming head Glenn Geller. He will immediately take over as president of entertainment, working with both Tassler and CBS CEO Leslie Moonves. Geller, whose main job has been to oversee production of existing CBS shows, will now be charged with developing new series, as well as overseeing the network's daytime and late-night divisions.
While big changes at the top of TV networks often come when said networks are struggling — see Kevin Reilly's exit from Fox last year — CBS is actually doing fine, or at least as well as can be expected given the massive changes taking place in the TV universe right now. The network remains a dominant first among total viewers, and while it's not presently No. 1 among the key demographic of adults under 50, it's competitive and has plenty of hits with youth appeal (The Big Bang Theory, Scorpion, Criminal Minds). Had Moonves brought in some upstart exec from the cable or tech worlds, it might suggest he had a desire to shake up the programming at CBS. Instead, by selecting a top Tassler deputy, he's backing up what he told Vulture last month: He's generally satisfied with the creative direction of the network.
So what prompted Tassler's decision to walk away from a top job at TV's top network, ending her run as the longest-serving entertainment chief? Last month, I spoke with Tassler informally in between sessions at the TV Critics Association summer press tour, and actually asked her if she had any sort of exit strategy. The conversation wasn't explicitly off the record, but it wasn't a formal interview, either, so I won't quote her directly. But it seemed very clear that, as she approached 60, Tassler was interested in doing things outside of TV. She has a background in Broadway, and recently worked on a collection of essays (What I Told My Daughter) with Variety editor Cynthia Littleton to be released next spring. In a statement announcing Tassler's transition, Moonves hinted this desire to try new things is what guided her decision. Calling his work with Tassler "one of the proudest partnerships of my professional life," Moonves said he wasn't shocked by her choice. "Nina is a creative executive with the instincts of an artist, so it came as no surprise that she would eventually want to express those talents beyond television," he said. "All of us here are grateful and proud of CBS's success with Nina leading our entertainment programming, and we will be the biggest fans for all her future endeavors."