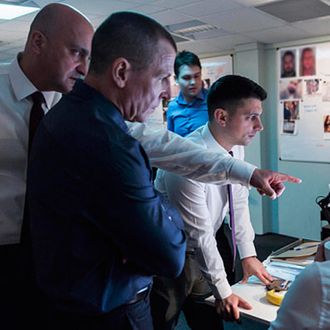 A photo from Shine TV's Hunted.
Photo: Colin Hutton/Channel 4
Finally, a new network reality show that sounds interesting: CBS has green-lit production on Hunted, an unscripted hour in which average Janes and Joes go off the grid, disappearing from friends and family, all as "the world's most highly skilled investigators and trackers pursue them in a nationwide manhunt," according to a network release. The show will be adapted from a British series of the same name from Shine TV, which debuted just a few weeks ago to some rave reviews and strong ratings. According to an Eye press release, after the civilians on the show go into hiding, the professional trackers will use both modern and old-school methods as "they look for clues to potential hiding places and collaborators that can ultimately lead to capture." New CBS Entertainment boss Glenn Geller says Hunted  "combines the suspense of a crime drama with the thrill of a competition reality series and some very topical social issues." Among those "issues": whether it's possible to find any true privacy in the digital age. 
No word yet on when Hunted will premiere, but given how quickly CBS moved to land the show, it wouldn't be surprising if it were on the air as soon as this spring or summer. By the way, this isn't the first time TV has tried to mount a reality show built around the concept of hide-and-seek in the digital age. Back in 2000, ABC teamed with Matt Damon and Ben Affleck on a project called The Runner, which would have enlisted viewers in the hunt for a "rogue" operative. It was shelved post-9/11 because of security concerns; Yahoo! and Mark Burnett considered reviving the idea in 2006, but that plan went nowhere. The CBS/Shine project will avoid the issues with Runner by keeping the audience as spectators, rather than participants, in the hunt.