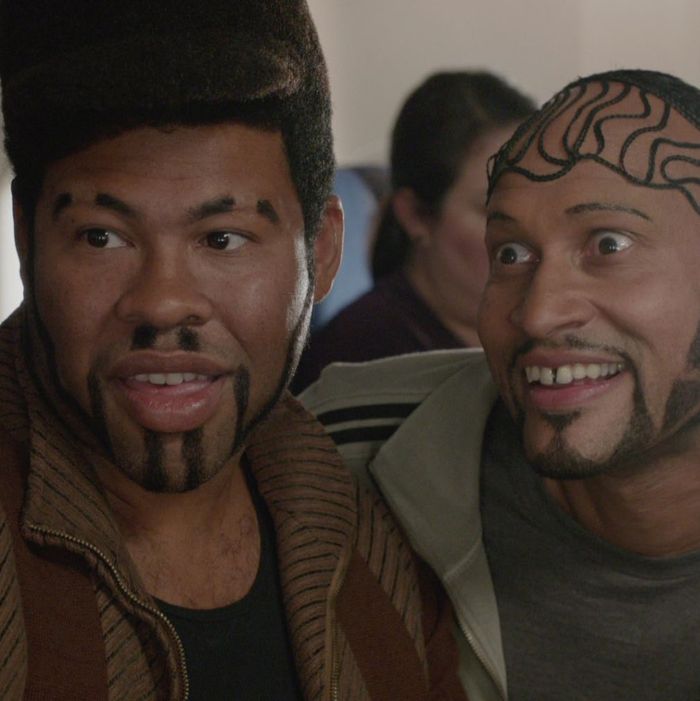 Key and Peele.
Photo: Comedy Central
Key & Peele's glorious five-season run as a sketch-comedy series came to an end last night. As with most things Keegan-Michael Key– and Jordan Peele–related, their timing is perfect, but that doesn't mean their show won't be missed. In fact, it will be yearned for painfully. To soften the blow, Vulture caught up with 39 comedians and comedy professionals working in the industry and asked them to share their favorite K&P memories, sketches, and moments. The brilliance and absurdity of the comedy titans live on below. 
Nick Kroll
There are too many immaculate Key & Peele sketches to have a favorite, but a few that came to mind immediately are pizza with Wendell and Carlos and the '80s dance video "Aerobics Meltown" (keep dancing!). Both exemplify two different things the show did really well: beautifully executed, premise-driven sketches pushed to [their] limits, and also eerily dark horror-comedy. Their writing was always strong and focused, Peter Atencio's visual direction and pacing was on point, and Jordan and Keegan, I believe, are the two most versatile comedic actors on TV right now. Their performances were nuanced and silly, specific but always broadly familiar, and always, always funny.
Jake Johnson
Something that the cast of New Girl — Damon [Wayans Jr.], Lamorne [Morris] and I — were all joking about one day that pops in my head is the scene where the dude gets busted with his internet porn. And he erases his history. And she asks about it, and then he's like, "Nothing," and then he starts sweating, and then she starts sweating. I think what Peele does as mean Obama is next-level. I think they're both so talented. I'm sad it's ending.
Kids in the Hall
Kevin McDonald: I am a big fan of Key and Peele, and in this time of excellent sketch-comedy shows that we live in, I would have to say that they are probably the best. The sketches are perfectly written, and then Key and Peele find even other nuances to the idea by performing in them so well and digging into their characters. My favorite sketches are "Pizza Order," which almost seems like they improvised it — they start off with two definite characters and … a good-enough premise, and as they find their way into the sketch, they keep getting weirder and funnier; the slave-auction sketch, which, like all of their best sketches, starts with a great premise and then is performed perfectly. It's one of those premises that makes you say, "Wow, how come no one has ever thought of that before?" And the landlord with the little guy with a purple beard, which is just inspired insanity. It's one of my favorite sketches of all time. Of any show.
Mark McKinney: "Backhand/Fronthand." A slow man steps up to the game. A great reverse. It's a great character, played totally silly and yet undercut with a slice o' pain. They went there. Respect! I hit rewind every time it gets to "With great power comes great responsa-trilla-trunse" from "Terries." I am on the floor.
David Cross
Oh man, there are too many to choose from. As of this exact moment, I would say, of course "East/West Bowl." I've seen [that one] numerous times and shown it to dozens of people. "Auction Block" was the first thing I ever saw them do, and it perfectly encapsulates what's great about their sketches. "Substitute Teacher," "Gay Wedding Advice," "Magical Negro," they're all great sketches with pitch-perfect performances. They have a clear point of view, they are the best at presenting escalating absurdism (in that classic Python way), they are probably the best sketch actors (regarding performance) working right now, and their director (or directors) are fucking spot-on. They are miles above everyone else right now. Bummed to see them go. But looking forward to the movie!
David Wain
One of my very favorites that comes to mind is "Georgina and Esther and Satan." Two devoted churchgoing women lament Satan's influence on their families' lives and compare the painful things they each want to do to him — in the most graphic way imaginable. Ultimately, Satan possesses them, and they completely tear him apart. It encompasses so much about what I love about them: willingness to completely lose themselves in the characters in hysterical but also somehow believable ways; their willingness to commit hard to their premise and take it farther than anyone would expect. Not to mention their straight-up physical and vocal talents. This one (among so many) always makes me laugh.
Ken Marino
One of my favorite sketches is an obscure one: There were the two women who go to church and talk about, "I'm going to fuck the devil!" Which, I couldn't — I watched it like five times, like, I can't believe they just did that. And then the other one that pops into mind is Jordan at the continental breakfast. He's at a breakfast buffet, acting very sophisticated and looking at all the crappy, shitty food and acting like it's very international, very upper crust-y. That killed me for some reason.
Michael Showalter
Sure. This is easy. The football players saying where they went to college is one of the funniest sketches ever, of all time ever, in any sketch show ever.
Thomas Middleditch
Aside from the Les Mis sketch featuring the Powerful Thomas Middleditch, I really loved the baby Forest Whitaker sketch. It's just absurd and dark, and the special effect they used was just perfect. All the Van and Mike bits are incredible because they are.
Adam Scott
I love the Game of Thrones guys. They were really funny. The guys are hilarious, but, you know, as with any comedy show, it comes down to the writing, and the show was brilliantly written from start to finish. I also think the interstitials were always smart because you got a sense of the guys and who they are even though it was heightened and it was always slightly surreal. You got a sense of them and their friendship. 

Mike O'Brien
I love "Lightning in a Bottle." Where Peele is more excited about making an app than having lightning in a bottle. That was my favorite sketch I've seen in awhile. I just saw it like a month ago. At all times, I have a new favorite. I go back to Chicago with both those guys. They are both old friends from Second City. I was working in the box office when Jordan was a waiter in probably, like, 2000 or 2001, and he was one of the funniest guys around at the time. He did a great sketch show called "Two White Guys" that was him and a woman — Rebecca Drysdale, who is very funny — and then Keegan was onstage on Second City stages, so. I'm a huge fan and I love the show.
Chelsea Peretti
I'm torn between the Meegan sketch (all of them), the comedian who gets heckled by the burn victim, the evil Make-A-Wish child, and "Continental Breakfast." This is because every girl I know loves Meegan and identifies with her as her inner demon. Also, why is her boyfriend so enchanted by her abuse? Amazing dysfunction and perfect use of both characters. I love the heckler sketch because, as a stand-up comedian, I'm obsessed with worst-case performance scenarios. It was completely unpredictable that the audience member who begs to be heckled could cry and admit they were wrong and actually can't handle it. That sudden vulnerability deepened Keegan's predicament beyond conception. I love the evil Make-A-Wish child because it's the strangest villain to be able to pull off. It seems like it would be impossible to vilify a child on death's door, but then, here is this purely evil and sinister child using his wishes for a dark purpose. It's like a dark fairy tale. I love "Continental Breakfast" for its arch sarcasm about how corporations try to sell mediocre fare/lodgings as glamorous perks. It reminds me of all the various letdowns in life on the road, but also some of the joys — like indulging in unhealthy hotel food with zero witnesses or accountability.
Jason Biggs
The football-player names [sketch] is pretty fantastic. What's the one they do where they're the ladies, and one is like, "Uh huh," and she just says one word with different inflections the whole time? What is that one? They're all so funny. Still, the one that really stands out is the football players. Yeah. It's pretty great. And only they can get away with that stuff.
Jay Pharoah
The Family Matters skit that they did. The one where Jordan was playing Carl Winslow and he was getting real mad at Steve getting all the jobs. That was really funny. Yeah. And then the two comparisons of the homosexuality that they did.
Bill Maher
I love Obama in his dorm room in 1980 — first, Jordan does the faraway best impression of Obama out there, so that's a joy to watch — and in that sketch, we see the future president clearly, his very serious and large concerns about the country and its people … and all the while he's smoking, rolling, and passing the weed. I've seen it ten times, it always kills me, but all of their stuff does. Will miss them badly.
Jon Glaser
The one that immediately pops to mind is "Aerobics Meltdown." What I love about it is that they took a fairly well-traveled and parodied premise and gave it a really hilarious spin with the off-camera story. And then they executed it extremely well across the board. Great costumes and set, really well-written, -directed, -shot, -edited, and -performed, which also sums up why their show is so consistently funny and great. The writing on the cue cards is perfect, I love all the "KEEP DANCING" cards. I also love that it takes a really long time to even get to the turn. From the time the sketch starts, it's almost a minute of just stupid, gross dancing until they switch to the offstage stuff, and then almost another 30 seconds after that until you see the first cue card announcing there's some bad news. But even that 30 seconds of buildup is fun to watch, especially watching it the first time and thinking, Okay, where the fuck is this going? — knowing something's coming, and then it has a really funny-as-hell payoff.
Margaret Cho
My favorite are the church ladies where they play two very proper women who are very angry about what the devil has done, and they picture all these scenarios that always end in "with my prayers …" It's so hysterical, and I love when Key and Peele play women; they really put a lot of truth into their performance, and the characters seem real and not like caricatures. They are tremendous actors as well as comics!
The Lucas Bros.
Keith: My favorite K&P sketch of all time is, hands down, their sketch about the hit '90s sitcom Family Matters. The sketch centered on Reginald VelJohnson (Carl Winslow on the show) and how Urkelmania mentally destroyed him. I loved it because Family Matters played a huge role in my development as a comedian. It inspired a lot of our work. Coincidentally, we wrote and released a Family Matters' sketch around the same time. However, K&P's take was much more sinister and cinematic. They were able to delve into the psychological impact the show had on Reg, which instantly made it a masterpiece. In addition, the writing and acting were second to none.
Kenny: If I had to choose one, I'd probably say "Aerobics Meltdown." In it, the guys play aerobic instructors for an '80s-style television program. I personally believe Key and Peele can make anything funny without ever saying a word — this sketch fully encapsulates this uncanny ability. Everything about this sketch is flawless, from their facial expressions to their ability to do aerobics while also selling the jokes. I was particularly impressed with their physicality and commitment. I also loved the way it was shot and scored.
Sam Trammell
Well, one of the ones that I love was the two guys that are in front of a hotel talking about movies — talking about white-guys movies. Like, Bruce Willis and stuff, and they are just talking about how amazing they are. It's so funny. It's so good.
Jermaine Fowler
Shady Landlord looking for the dwarf with a sword. It's one of the funniest sketches I've ever seen. Not only is it funny, but the look of it is amazing. The cinematography made the jokes hit harder and the landlord more devious. It has the wildness of blaxploitation and the feel of a Fincher movie. Jordan is a fucking hilarious straight man, and Keegan plays manic so perfectly.
The Birthday Boys
Tim Kalpakis: I love their "Substitute Teacher" sketch. Keegan is an inner-city teacher who's subbing at a white school, doing attendance and pronouncing the kids' names wrong: "Dee-NICE." "You mean Denise?" And: "Has anyone seen A-A-Ron?" "It's Aaron." It's such a simple, hilarious premise that's naturally inspired, and you wish you'd thought of it. Plus, I always love it any time Keegan and Jordan get mad. That sketch has a great Keegan flip-out. "Ya done messed up, A-A-Ron!"
Dave Ferguson: A couple sketches come to mind. "Proud Thug" is hilarious. That sketch is a great example of their ability to perfectly execute a really funny and simple premise. Jordan has a crazy knack for getting huge laughs out of subtle performance. "My body's stupid, homes … Life is for pussies." The show jumps from those sketches to big, cinematic scenes really well, too, like the surprise birthday "Mafia Hit" sketch, or the Family Matters sketch. It's the production value that just further elevates two insanely talented performers.
Chris VanArtsdalen: One of my favorites is definitely "Auction Block." The premise is dark and horrible, but they play it light, almost like two guys getting rejected by women at a bar. On the lighter end, "Dubstep," "Pizza Order," and "Retired Military Specialist" crack me up, but "Auction Block" epitomizes the gutsy tightrope walk that K&P do so well. It's provocative, fearless, and hilarious.
Alex Ross Perry
I loved [the Family Matters sketch]. I liked that sketch a lot. I thought it was pretty amazing. It inspired me to see more.
Max Silvestri
Usually, when I watch a sketch from something, I can tell if it's a "writer" sketch or a "performer" sketch. Meaning, you can generally tell whether the sketch grew out of a very funny character somebody created, around which a script was written, or whether the sketch was created by writers and then there are funny actors playing their roles in it. And that's not a bad thing! I like both kinds, and so does America. But Key & Peele, consistently wows me with shit where I cannot separate the two. So many one-off sketches on that show are populated with performances so strong and particular, you could build whole films around the characters, but then those characters are totally in service to an incredibly well-written sketch. And I couldn't tell you how it all came about. It's a credit to how amazing the writers and directors are and how once-in-a-generation talented Key and Peele are at comedic acting.
Jake & Amir
"Continental Breakfast": It's such a simple, funny premise (the fact that continental breakfasts are nothing like the name implies), done to perfection and beyond. Every line is the funniest line. "Well, aren't you a tiny little plum?" "Ah the danish, clearly from Brussels …" "I'll have what I'm having!" They're all so good! There was a time when the show was just starting out, that the highest accomplishment you could have as a comedy writer was being the first person to show somebody a Key & Peele sketch. They will be missed.
Ike Barinholtz
I hate to say it, but "East/West Bowl" is the best, and I know that's like saying Michael Jordan is the greatest player ever, but it is what it is. It's a perfect sketch. It takes a real thing and heightens it to the point of absurdity just the right way. Jordan saying "donkey teeth" is my personal mantra. I can't believe they're going off the air and no one checked with me first.
Lauren Lapkus
I love "Aerobics Meltdown." They commit to the workout choreography so hard, and it makes the subtleties of Keegan dealing with the news even funnier. I feel super lucky I had the chance to be in one of their sketches ["Make-A-Wish"]. They were great to work with, and their comedic abilities are even more impressive in person.
Jason Mantzoukas
Obviously, the substitute-teacher sketch is great. I like the relationship stuff. I like the Meegan-and-her-boyfriend sketches. I recently liked the Neil deGrasse Tyson sketches. They do amazing stuff. [I think their show was] exactly what I feel like sketch comedy should always be doing, which is confronting all the issues that are going on in society. They've done amazing stuff on race, on masculinity, and on relationships. They've done amazing work on multiple fronts that is incredibly impressive.
Cedric Yarbrough
Over their five seasons, I was lucky to do two sketches with Jordan and Keegan. One being the pegasus sketch, where a reporter has nothing on his docket and makes up a story in an all-African-American community to have content for their broadcast, à la "Leprechaun in Mobile, Alabama." The second is "Slap Ass: In Recovery," where a Dominican baseball player is in recovery from slapping his teammates' behinds before, during, and after games. But what I'm most proud of is that these guys are one of us. By that I mean, there's a very small group of black comedic actors who write, sing, improvise. Quadruple threats. They came up through the school of sketch comedy and writing and improvisation, and don't take that craft lightly. We're those actors who aren't stand-up comedians first. We're actors first. They've been brilliant for a long time. Now the world knows.
Jillian Rose Reed
Their comedic abilities are fantastic. I've actually always been a fan of sketch comedy, so to see a show on the air that is complete sketch comedy other than, you know, Saturday Night Live, is so fun to watch. I can't remember which one it is, but [Jordan Peele] plays a substitute teacher, and he walks into the room and he introduces himself, and then he farts, and then he is mortified and walks out. And that is the end. That's it. That's the end of the sketch, and I laughed for days.
Matt Braunger
For me, it's a solid tie between "Substitute Teacher" and "Retired Military Specialist." Don't make me choose! "ST" because it's perfectly silly and reminds me of the character he'd do on MADtv when he'd scream an absurd made-up name at me ("Caraco!"). "RTS" because it's the best example of their dynamic (Keegan: logical; Jordan: absurdly ridiculous). Plus, anytime someone onscreen gets really hurt and tries to maintain their cool, it kills me. Honorable mention, "Luther," obviously, for the impact (he did it with Obama!), but also because I'd like to see other people's Luthers. Just think of someone who can't say what they want because of their position, then insert their Luther. Man!
Nyima Funk
So many favorites come to mind. "Negrotown" is my jam, not just musically but also because of its current relevance and social commentary. Full disclosure: My favorites are the sketches with music because my husband, Joshua Funk, writes most of them, and those are the only sketches he'll let me watch. Of course I like "Bitch," not only because I'm in it but because I'm being called a bitch in it. I'm honored to be called a bitch by Keegan-Michael Key.
Justin Hires
My favorite Key & Peele sketch was "Fronthand Backhand." It's basically a fake game Keegan's character has made up just so he can slap Jordan's character in the face. In the sketch, Keegan repeatedly slaps Jordan by asking him to pick which side of his hand he wants to get slapped with, fronthand or backhand. I get to slap Jordan as well at the end of the sketch. It's my favorite not only because it is a hilarious sketch, but because I was able to work with Key and Peele for the first time. While there, I was able to learn so much about comedy, committing to characters as an actor, and how much funnier those guys are than me.
Baron Vaughn
"East/West Bowl" is going to go down as one of the silliest, most infectious sketches of all time. I spent the year after I saw it making up other names for that sketch. And the fact that they made it a sketch trilogy? Incredible. There's also "Magical Negro Fight," "Cute Puppies," "Negrotown," "Black British Actors," and "Damn, Check That S**t Out." There are too many to name. The wardrobe on the show: Whoever did that kilt it. Not a literal kilt. A kilt is one of the few things I don't remember seeing on the show. My favorite is when they go for a time period or a particular slice of black life that I've never seen on TV before. I'm thinking about the sketch where Jordan has brain freeze while Keegan narrates. The outfits and the hair? I know those guys.
Thomas Lennon
Probably "Slave Auction." They play it as if they're not getting picked for a kickball team, and it keeps pissing them off more and more. It's a perfect Key and Peele sketch because it takes a giant taboo from our national history — and turns it into two jealous dudes acting like they're at a callback for a touring production of A Chorus Line. The sketch is perfectly written, in my opinion. Key & Peele will go down as one of the all-time-great sketch shows. For a lot of reasons. The fact that it has two of the best actors I know, comedy or otherwise, is probably a big factor.
Leslye Headland
Liam Neeson is my shiiiiiit. Because my girlfriend and I, our biggest dildo is named Liam Neeson, so we are fans. You can imagine when Liam Neeson gets shouted that way in our house. It means good things. I'm sorry. I couldn't resist.