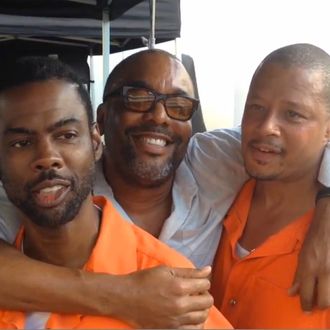 This would've been … interesting.
When Empire returns for its second season next week, it'll pick up with Lucious Lyon in jail, and Chris Rock as a fellow inmate. However outrageous you think that story line will turn out, it won't be nearly as controversial as Lee Daniels intended. According to The Hollywood Reporter, Daniels and the show's writers envisioned Rock's character as a cannibal until Fox nixed the idea. Still, Daniels tried to make his Hannibal fantasy happen:
According to multiple insiders, Fox brass shot down an early idea to have Chris Rock's character, who's in jail with Lucious, be a cannibal in the first episode of the season. But Daniels, who directed the season opener, is said to have ignored the mandate and shot the Rock story as initially envisioned, including one particularly grotesque scene featuring the actor with a plate of human body parts before him. Rock agreed to return to the series' Chicago set for reshoots this summer, where sources say the cannibal plotline was scaled back to the point of barely detectable at the network's insistence.
In the cover story, Daniels also says that he's not to blame for the second season's bloated cast: "You think we wanted the names? No, it was [Fox] that wanted them. Don't get it twisted."
As for the show's returning male lead, Terrence Howard, and how his contentious offscreen antics might affect his future on the show, neither the network nor Daniels is worried. "Taraji and Terrence are the leads of this show, they are at the center of Empire, and we would never look to displace Terrence from that position," says Dana Walden, Fox TV Group chairperson, of the rumors Howard's season may be cut short. Daniels remains sympathetic of Howard: "That poor boy. [Terrence] ain't done nothing different than Marlon Brando or Sean Penn, and all of a sudden he's some f—in' demon. That's a sign of the time, of race, of where we are right now in America."