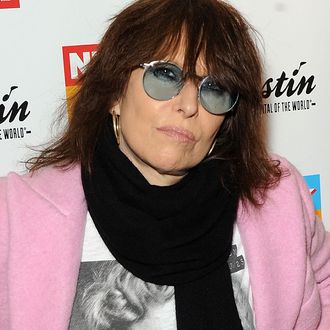 Chrissie Hynde.
Photo: Dave J Hogan/Getty Images
In an interview with the Sunday Times last weekend, Pretenders front woman Chrissie Hynde stirred up controversy with comments about rape that many viewed as victim-blaming. "Technically speaking, however you want to look at it, this was all my doing and I take full responsibility," she said of being sexually assaulted at 21. In an excerpt from her forthcoming memoir, she offers more general opinions about rape: "If I'm walking around in my underwear and I'm drunk? Who else's fault can it be?"
Since then, other rape survivors have criticized Hynde's words, most notably, former Runaways bassist Jackie Fuchs, who revealed her own assault earlier this summer. "It's a really dangerous message … Poor judgment is not an invitation to rape, nor an excuse for it," Fuchs told Yahoo on Tuesday.
Despite the outrage, Hynde is standing by her original comments. She tells the Washington Post in a new interview:
"They're entitled to say whatever they want. Do I regret saying it? I don't know. I haven't really thought about it. [What I said] sounds like common sense. If you don't want my opinion, don't ask me for it. At the moment, we're in one of the worst humanitarian crises in our lifetime. You see that picture of  a Turkish policeman carrying the body of a 3-year-old boy who got washed up on the shore. These are the heartbreaking images we have and we're talking about millions of displaced persons and people whose families have been destroyed and we're talking about comments that I allegedly made about girls in their underwear."
Hynde also elaborates on the two instances she believes she was sexually assaulted, again taking responsibility. "I would say there was an element of sexual assault, but frankly, if you go into the club house of the world's most notorious bikers, it's not going to be for a Bible reading," she says. On being drugged and inexplicably waking up naked after hitchhiking, she says: "I knocked on the guy's car door and said, 'Can you give me a lift?' to a stranger. What was I thinking?"
Ultimately, she's still internalizing what happened to her. When asked to consider her own daughter's future, Hynde remains cautiously hopeful:
"Most people aren't as stupid as me. I wouldn't expect most people to do some of the stuff I did. But then again, most people don't get to be a rock star, either. We have to walk the plank. I don't think that's a sign of intelligence, I don't know what it is a sign of. I'm not saying I was asking for it. It wasn't the same as walking down a street in the middle of a nice evening and somebody dragging you into a bush with a knife in your throat."