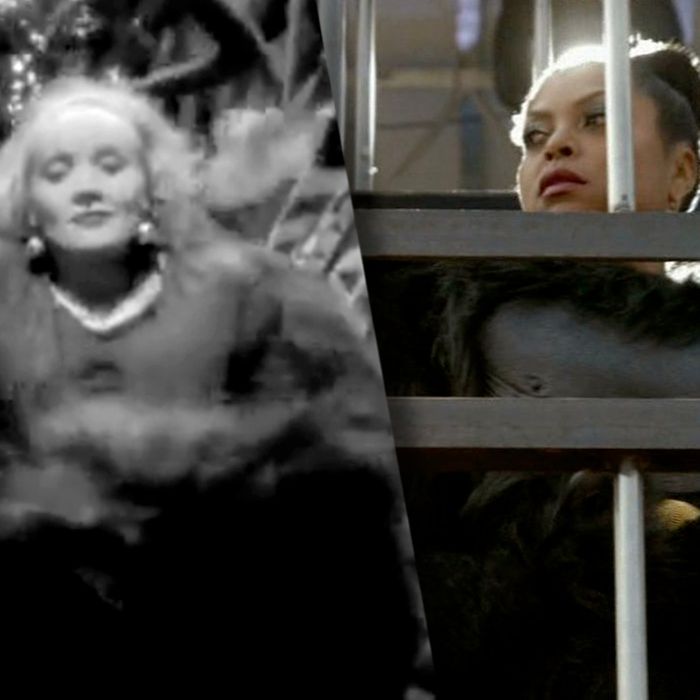 L-R: Marlene Dietrich in Blonde Venus, Taraji P. Henson in Empire
With her jaw-dropping fashion sense and bold outfits in the first season of Empire, few could have predicted that Cookie Lyon would make her first appearance on the second season of Empire in a gorilla suit. According to the Fox show's costume designer, Paolo Nieddu, that was not always the plan.

Vulture needed more details. Below, Nieddu outlines how Cookie's gorilla outfit at the Free Lucious rally scene came to be, and where he drew inspiration for the stunning, feathery outfit she donned beneath the gorilla getup — a 2013 heaven's bird Gucci dress.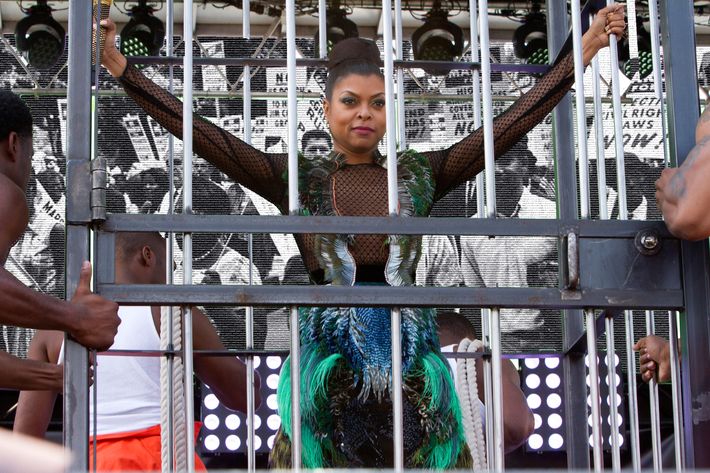 "We had these T-shirts made for the audience that said 'Free Lucious.' And initially it was scripted that Cookie would be wearing a 'Free Lucious' T-shirt also because she'd be emceeing the crowd. I said to [show creator] Lee [Daniels], 'Okay, well maybe hers doesn't need to be a T-shirt. I don't want the first time we're gonna see Cookie in season two to be her wearing a T-shirt!' I felt like it was such a disappointment. So then we talked about doing a bustier with 'Free Lucious' on it. And then finally Lee comes up with this other idea: 'So she's gonna come down from a cage and this is what's gonna happen. She's gonna be in a gorilla suit.' I was a little surprised. But there's this Marlene Dietrich movie called Blonde Venus, and in it she performs in this club. I love old Hollywood, and I just love Dietrich. I love that stuff. So she comes out of this gorilla suit in that scene and she slowly peels the hands off and the face off. She's in this short, sort of tribal-feathered dress.
"And I remember seeing the dress we ended up having Cookie wear at Gucci, and I thought, Oh my God. This will be the perfect dress to have her in when she comes out of the gorilla suit! I showed it to Lee and he said, 'No, I want it to be the T-shirt.' But then I showed him the Dietrich clip and we did the fitting and Taraji loved the dress and that was how that moment was born. I don't know how people are going to react, honestly."