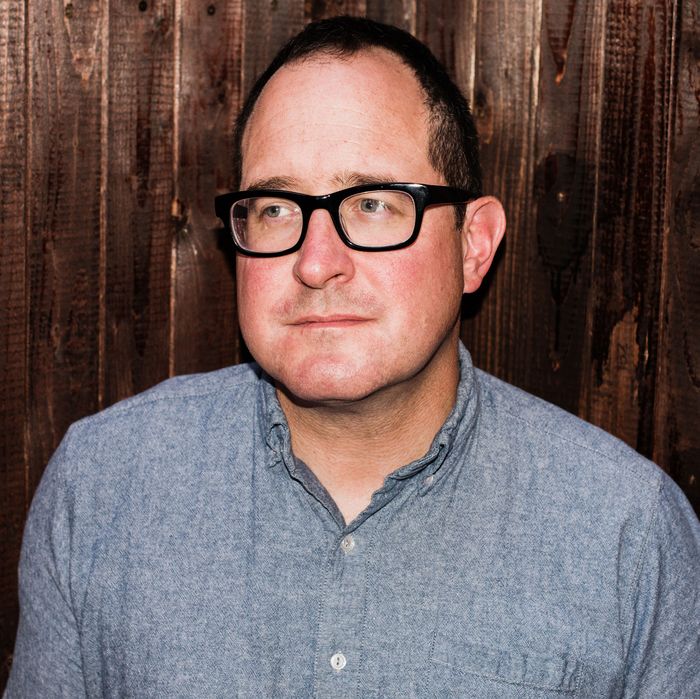 When Craig Finn began work on his second solo album, Faith in the Future, the Hold Steady front man told his producer Josh Kaufman that he wanted it to be "elegant and hopeful." And by elegant, he meant "something that befits a 44-year-old man." He started writing the songs, which possess far more subdued vibes than the loquacious bar-rock of his main band, in the wake of his mother's 2013 death by examining how people move forward following tragedy. Some songs are more autobiographical than others: "Newmeyer's Roof" stems from Finn's experience on 9/11, watching the towers fall from a friend's roof in the East Village; while "Going to a Show" is partially about his love of going to concerts by himself. To accompany Vulture's exclusive early stream of Faith in the Future, out September 11 via Partisan Records, we caught up with Finn at a bar in Greenpoint to talk about how life in New York inspired these soulful troubadour songs.
Did you start this album with a theme in mind?
I started writing this record when my mother died. My mom passed in April 2013, and I was with her for it. Of course it was awful, but not without moments of beauty, to be with someone at the end. I came back not doing so hot. Days would fly by, and I'd be like, Wow, I did nothing. So I said, "All right. I'm just going to write songs." I didn't have it in me, and I still don't, to write a song about my mom or about her passing, but a lot of the songs, when I look back on them, ended up being about people persevering after times of tragedy or change. I had a friend who had gone through the same thing [with his mom], the same kind of cancer, and he was talking about how he would be in a crowded train or some other annoying situation, and he thought, Everyone's going to have to go through these things. I was feeling in touch with, like, deep sympathy for everyone. So, a lot of the songs came from that period. "Faith in the future" ended up being a lyric in a song that didn't make the record, but it's about feeling that things could get better if you just went to work, which is the process I used.

Newmeyer and Roman from "Roman Guitars" are both real people, but then there are several women in the song titles: Maggie, Christine, Sandra, Sarah. Are they real, too?
No. Oftentimes the song doesn't even end up being about the woman. It's sort of about the guy who's trapped in her orbit. I sweat a lot about the women characters in my songs because, look, I'm a white male, 44 years old, and if you look at the Hold Steady's audience, it's about 85 percent male most nights, so writing about female characters could go horribly wrong. I'm nervous about it a lot of the time, so I end up checking myself a little bit. I do believe they come across as human and realistic, and that's certainly my intention, but a lot of it is that I need to have two people involved to tell the story.

Aside from "Newmeyer's Roof," which songs are really influenced by New York?
"Going to a Show" is, definitely. "Trapper Ave" is a song that, there's a certain downtown New York sensibility I was trying to grab at, sort of a Lou Reed or Mink DeVille kind of thing. And then "St. Peter Upside Down" is sort of set in New York. It mentions Mustang Sally's, the bar on Seventh Avenue, near Penn Station; it's like a "before the Rangers game" kind of bar. I go, "Came into the city / I was looking for a girl / I met her in 1999 / Up in Windows on the World," which was on top of the World Trade Center.

I moved here in September 2000, turned 30 on August 22, 2001, obviously, a few weeks later, 9/11 happens. There's this hangover that happens after that. Then I was married and got divorced, the Hold Steady takes off. All of a sudden you're spit out on the other side of it, this other life in 2013, 2014. It is somewhat of a New York record in that way. The experiences that led to the songs all happened in New York, where I don't know if I'd say that about some of the Hold Steady stuff.

Some of your Hold Steady songs, like "Sweet Part of the City," are nostalgic for a certain period of your life in Minneapolis. Is this album sort of like that for New York?
That might be. Having 15 years of changes that all took place here and being in a better place now than I was, and sort of taking stock … In some ways, the songs come [more] from the place where I currently live than the place I used to live. When we started the Hold Steady, I was still interested in telling people what a neat place Minneapolis was. I still like it there, but I don't have anything to say about it anymore. People ask, "What's a good place to eat?" and I say, "Ask the concierge at your hotel."

Did you let the rest of the band hear this new one?
I gave them all copies, and they're all super-supportive. They know I want to do things that are quieter at times, and also, I keep a pace. We get together to do things, and it takes a little bit of extra work. If I'm sitting at home, I don't have any kids or anything, so it's like, "I'll just write." That's my reaction to my life. If something happens, I tend to write a song.