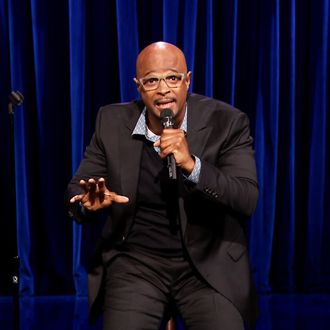 Speaking with Power 105.1's "The Breakfast Club" on Friday, comedian Damon Wayans (Sr.) hypothesized why nearly 50 women have accused Bill Cosby of drugging and raping them:
"Tell the truth. If I was him, I would divorce my wife, give her all my money and then I would go do a deposition. I would light one of [those] three-hour cigars. I'd have some wine and maybe a Quaalude and I would just go off, because I don't believe that he was raping. I believe he was in relationships with all of them and then he's like, 'You know what? [I'm] 78. It don't work like that no more. I can't get it up for any of y'all. Bye, bitches,' and then they're like, 'Oh, really? Rape!'"
Wayans went on:
"If you listen to them talk, they go, 'Well, the first time …' The first time? Bitch, how many times did it happen? Just listen to what they're saying and some of them really [are] unrapeable. You just look at them and go, 'You don't want that. Get outta here.'"
The comedian then asked about something that literally no one else in the world has ever wanted to think about: "How big is his penis that it gives you amnesia for 40 years?"
You can watch the interview below, if you want.