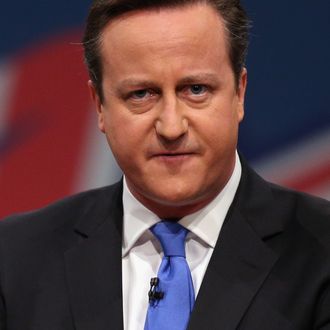 David Cameron.
Photo: Oli Scarff/2013 Getty Images
(Warning: If you've never seen Black Mirror, spoilers follow.)
After reports pointed out that a new David Cameron biography published this week includes a story about the British prime minister allegedly putting a "private part of his anatomy" into a dead pig's mouth, the internet began to uneasily recall Black Mirror's first episode. In Call Me Dave, the bio written by Lord Ashcroft and Isabel Oakeshott, there are unverifiable claims that Cameron was coerced into performing the stunt as an Oxford student fulfilling a hazing ritual. In Black Mirror, which premiered in 2011, a fictional PM is also coerced into porcine sex acts — but to assist with the ransom in a royal kidnapping.
The coincidental similarity in animal of choice seems to be an unfortunate example of art imitating life (most notably, this was not lost on Black Mirror's creator, Charlie Brooker):
And yes, of course, there were jokes and puns, too:
For more, you can read the original story from The Daily Mail, which is serializing portions of the biography. And if you'd like to watch (or rewatch) the Black Mirror episode in question, it's available here on Netflix.