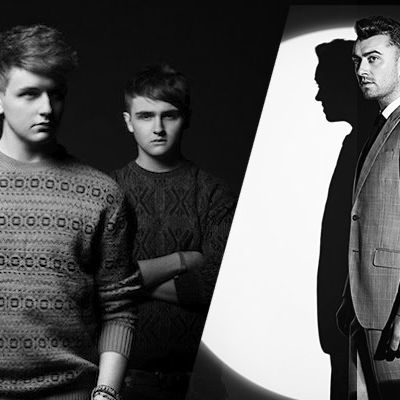 Anyone who dips their toes into Bond-theme territory has their work cut out for them. Sam Smith and his collaborator — songwriter and producer Jimmy Napes — had a lot of boxes to fill when they co-wrote "Writing's on the Wall" for Spectre. Not only did they need to make sure the song had sweeping strings, big swells, even bigger vocals, and a climactic ending, they also had to figure out a way to put a new spin on that classic Bond-theme sound. For that latter task, they enlisted the expertise of Guy and Howard Lawrence of the U.K. house duo Disclosure.
Once Napes and Smith finished the lion's share of "Writing's on the Wall," they reached out to their "Latch" and "Omen" collaborators for some subtle final touches — not the dance productions they're known for, which they strengthen on new album Caracal. The brothers from Surrey ended up in the studio "just trying some stuff out," before adding "a few bits and bobs, like some synthesizers and some textural effects, and things just to kind of make it a little bit less classic-sounding and a little bit more contemporary."
"The orchestra, piano, and vocals were already on it, and it sounded incredible," Howard tells Vulture. "I don't think they knew exactly what they wanted us to do at that point, but they just wanted us to add a more modern vibe." That's harder than it sounds: To write a Bond theme is a delicate balance between upholding a legacy while also putting your own stamp on it. Some, like themes from Duran Duran ("A View to a Kill") and Madonna ("Die Another Day"), sound like time capsules of an era; Smith's is more of a low-simmering torch song in the style of — unsurprisingly — Adele (the Oscar- and Grammy-winning "Skyfall") and the iconic Bond voice Shirley Bassey.
Though he was brought in specifically to help "Writing's on the Wall" sound more current, Howard says the key to a great Bond tune — like his favorites, "Goldfinger," "Diamonds Are Forever," and Paul McCartney's "Live and Let Die" — is not its contemporary spin but its timelessness. "I feel like you need to be able to listen to it in 30 years and it still be good," he says. "I think that they've done that with this one, as with most of the Bond themes. They've got such a good hit record. That's why it's such an honor for Sam to have to been asked in the first place. It's such a legacy to leave. No matter what Sam does now in his career, that's still always gonna be one of the biggest things he's done. That's just so cool."
While the initial response to "Writing's on the Wall" has been a bit tepid — The Guardian dubbed it a less-compelling "Skyfall" redux, and it's already slipped to No. 25 on the iTunes chart within five days of release — the song is now headed to No. 1 on the U.K. charts this Friday. Shockingly, it will be the first Bond theme song to do so.
"There's been a pretty mixed response overall," Howard says, "but it's generally been incredible. I feel that Sam and Jimmy have written one of the best things that they've written as a team. I still think it's such a good song."