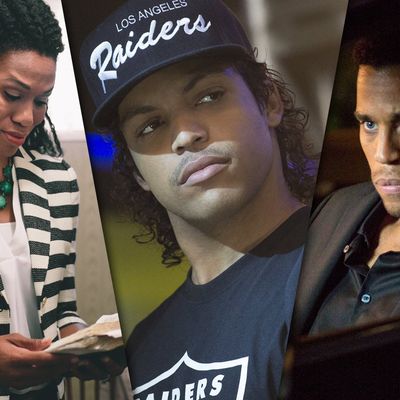 From left: The War Room, Straight Outta Compton, and The Perfect Guy.
Photo: Sony Pictures, Universal Pictures
Across the cinematic landscape, the story of last weekend was M. Night Shyamalan's return to something like form. The much-ballyhooed director of films like The Sixth Sense and, in descending order of release and watchability, The Village, The Happening, and After Earth, put out The Visit, a found-footage horror flick with a SHYAMALAN TWIST that mainly had to do with it being not terrible. But despite these Pyrrhic accolades and the flawless metanarrative of its director's comeback, Shyamalan's movie did not win the box office. Instead, The Perfect Guy, a thriller produced by a Sony division called Screen Gems, took the weekend. That it did so — and that the industry didn't expect it — should not come as a surprise.
For five weeks in a row, the top box-office weekend performer has been a film featuring a predominantly African-American cast. First it was Straight Outta Compton, one of the biggest overachievers of the year, which opened to a massive $60 million and then held the No. 1 spot for three weekends in a row. Then it was War Room, a faith-based massively profitable release from distributor TriStar that, as of September 15, has grossed $41 million on a tiny $3.5 million budget. Although none of these movies faced much in the way of competition over the last month or so — The Man From U.N.C.L.E., Hitman: Agent 47, American Ultra, The Transporter Refueled, Sinister 2, and No Escape all opened to less than $15 million — the consistency of this success has been confirmation of a trend that's been revealing itself for years now: When presented with programming that acknowledges they exist, nonwhite and faith-based audiences show up.
"I'm interested in the point where it's no longer a surprise, where it's not described as overperforming and we aren't wondering where this came from," Tommy Oliver, one of The Perfect Guy's producers, told me. "It's like Bridesmaids, where it was like, 'We can put a female as the lead of a movie and people want to go see it: surprise!' It is what it is, but people want to see movies with diverse casts, in both ethnicity and gender. If you look at any number of films over the past couple of years, people go see these movies."
Certainly, Screen Gems' recent track record bears that out. Since 2009, the production company has released five films that featured mostly black leads. All five — Obsessed, Think Like a Man, About Last Night, Think Like a Man Too, and No Good Deed — grossed at least twice their budgets domestically, according to data from IMDb, and the most successful, Think Like a Man, made $92 million on a budget of only $12 million. And they didn't kill because of quality, at least if the critics are your measuring stick: The five films have an average Tomatometer rating of 34.6 percent.
Meanwhile, Heaven Is for Real, which Screen Gems co-produced with TriStar — the producers and distributors of War Room — made $91 million on a budget of $12 million. The filmmakers behind War Room, Alex and Stephen Kendrick, have a growing track record of turning small budgets into big money: Their previous two films, Courageous and Fireproof, made a combined $68 million on $2.5 million spent. And these might not even be the most noteworthy details from September's receipts: The same weekend War Room won the box office, a Spanish-language animated movie called Un Gallo Con Muchos Huevos ($5.3 million budget) opened to $3.5 million, the ninth-best showing in the country. Let's repeat that: A Spanish-language animated movie was the ninth-highest-grossing movie in the United States.
"I don't know if anyone took a spreadsheet and said, 'If we create a faith-based movie with an African-American cast, it'll do business,'" said Paul Dergarabedian, senior media analyst at Rentrak, a company that measures entertainment viewership. "But these movies are appealing to an underserved audience, and if you build the right movie, the audience will come out."
According to Rentrak's research, it's not just black moviegoers who are seeing these movies. Straight Outta Compton's audience has only been 39 percent black. War Room's has been 30 percent black and 48 percent white. It isn't like nonwhites were cast and all of a sudden white people stopped going to the theater. Moviegoers across the racial spectrum are seeing these films.
The Perfect Guy takes it a step further. While so far the thriller's viewership has been 58 percent black, it's been even more significantly female, with women making up 64 percent of the audience. Now, certainly the dynamics of incorporating strong female actors, writers, and directors into mainstream Hollywood filmmaking is not the same as creating a more racially diverse industry. But historically, women have still been an underserved audience, particularly considering that the Motion Picture Association of America's research from 2014 that shows women make up just over half of theater audiences, and when they are offered substantial fare, like Bridesmaids and the well-reviewed Amy Schumer vehicle Trainwreck, they tend to respond far beyond analysts' expectations. Hollywood's never been an industry that moved fast; in this case, it's still glacially adjusting to the clear evidence that nonwhite, non-male audiences are desperate for films that represent them in a realistic way.
"There's still room for improvement," Oliver said. "Most of that room lies in stories where there are black people in the film but it's not a black film. There's a place for movies that are intrinsically black, and there's nothing wrong with those movies, but there's space for other movies where they're not necessarily telling the black experience — they're telling stories about people, and some of those people happen to be black. The Perfect Guy, they could've been any color, but they happen to be black — they're not hiding that they're black, but it's not a black story."
Factor in international audiences, where an increasing amount of the industry's bread is buttered, and it's obvious that diverse casts aren't just good for our humanity. That, more than any altruistic feeling, is what will make studios shift their behavior: Every movie with a significant budget needs to perform overseas now, not to mention with as wide an audience as possible at home.
"There's money to be made," Oliver said. "It's not about, 'Let's do this group a favor, let's give them a handout.' It's business."