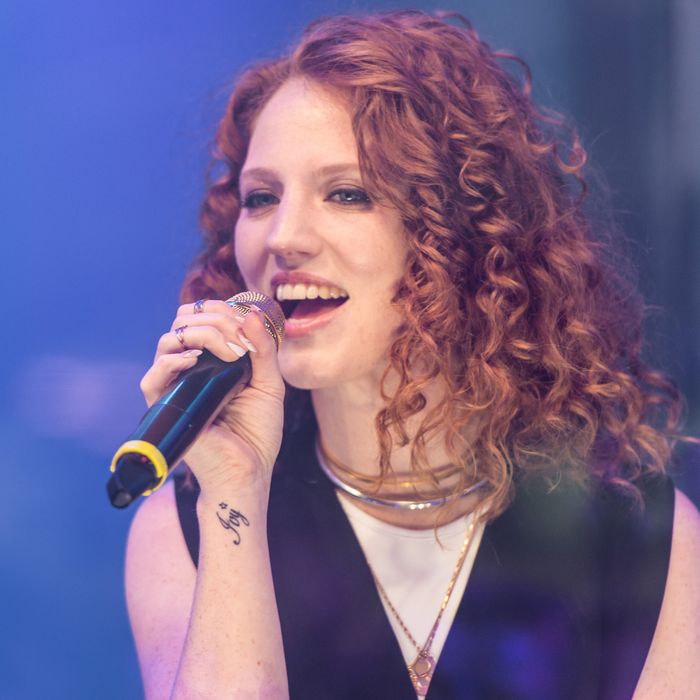 Photo: Ian Gavan/Getty Images
I don't know what it is about Jess Glynne. Maybe it's the fact that the U.K. singer looks like a younger, cleaned-up version of Eddie Monsoon from Ab Fab. Or perhaps it's because her music reminds me of the dance routines my friends and I would come up with as kids, '90s club hits filling my parents' living room. Most likely it's because — among the steady flow of U.K. pop exports arriving at our shores in pursuit of American stardom, from the over-the-top (Charli XCX, Paloma Faith) to the more sedate (Sam Smith, Adele) — Glynne seems like the most fun. She's the one you want by your side at a party, because she seems determined to show you a good time. Whatever it is, Jess Glynne has my attention, and she should have yours, too.

Glynne's first album, I Cry When I Laugh, debuted at No. 1 in the U.K. at the end of last month, and finally made its way to the U.S. last week. It's a relentlessly upbeat collection of songs that are meant to get you on your feet. "Don't Be So Hard on Yourself" features the kind of self-affirming claptrap that I usually hate, but in Glynne's capable hands, I'm a believer. The piano-driven, hip-hop-tinged opening track "Gave Me Something" is a pick-me-up on a rainy day. "Hold My Hand," the "this just sounds like a hit" anthem that became a career-defining single for Glynne earlier this summer after spending three weeks atop the U.K. charts, has the exuberant quality of Gloria Gaynor in her prime. This is the kind of music Eddie and Patsy dance to at 4 in the morning while sipping vodka.

Last night at Bowery Ballroom, for Glynne's first proper show in Manhattan, the 25-year-old Hampstead native went through an aspiring-pop-star rite of passage: the tiny introductory New York show. The hope is that, in just a few years, attendees will brag of an "I was there" moment with a singer who's not just hiding at the top of the charts but has the star recognition to truly dominate them. With the crowd singing along to every word and dancing for the entirety of the 60-minute set, it's fair to say Glynne left a memorable mark. At times, it felt like the only thing missing was a gospel choir to help lift her soulful and gravelly alto higher into the heavens. She opened with her album's standout, "Ain't Got Far to Go," the aspirational tune with a few "amen"s that has set the tone for Glynne's 2015. Her most likely goal is to join the ranks of Adele and Sam Smith as America's Pop Antidote, and Glynne has the talent and charisma to get there. But she's done well not to put these thirsty aspirations center-stage, instead presenting a fairly specific narrative: It was only after providing guest vocals for two songs by the Cambridge electro outfit Clean Bandit ("Rather Be" and "Real Love") early last year that Glynne decided to make a name for herself as a solo star in an already-crowded market. A similar slow burn worked for Grammy-approved golden child Smith, who stood out as the hook boy on Disclosure's "Latch" in 2012 before releasing anything to his own name the following year.
In commending England's pop domination (and providing last night's most memorable moment), Glynne performed a gutsy cover of "Tears Dry on Their Own" by Amy Winehouse, another fun-loving Jewish girl from North London with a big voice. That song samples Motown classic "Ain't No Mountain High Enough," a nod to the fact that Glynne's musical provenance is rooted in soul and R&B — a departure from mainstream pop's ongoing and increasingly stale fascination with all things synth-based. But Glynne hasn't been able to resist the temptation of following that formula completely. Clean Bandit's "Rather Be" is a deliciously tropical banger made even more buoyant thanks to Glynne's vocal assist, but it feels out of place on I Cry When I Laugh, like it was tacked on simply because it was already a proven hit.

I Cry When I Laugh suffers some from modern major-label pop's most common problem when it comes to albums: throwing everything against the wall and seeing what sticks. This lack of cohesion is likely the consequence of having so many producers tinkering with Glynne's co-writes, from the U.K. hip-hop guys (bona fide star Naughty Boy, grime-tinged future favorite Knox Brown) to the pure-pop folks (Wanted producer Steve Mac) to the dance-pop dudes (Kylie Minogue and Ellie Goulding producer Starsmith).

Glynne was a little hoarse last night, as a result of recent vocal surgery, but her raspy voice still hit some big notes. On the rare occasion that she wasn't able to, Glynne turned to joyfully two-stepping to the beat and let her backup singers fill in. It was good sign that she already knew when to relax and when to reach for the stars. If this promising beginning is any indication, Glynne has a long career ahead of her, and it's moving fast. It's better to pace yourself if you want to make it to the top.