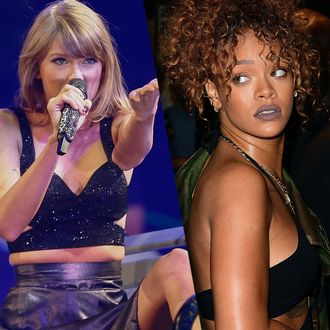 Would you say the blood is … bad?
Photo: Michael Hickey/Getty Images and James Devaney/Getty Images
Recently, Rihanna gave an interview to NME in which she addressed the topic of potentially joining Taylor Swift's squad. (Vulture's use of squad here is pursuant to Title 35, §358 of the U.S. Code, which states that all media references to Taylor Swift after July 23, 2015 must use the term squad. Henceforth, using girl gang and friend group carries a sentence of death, and a $20 fine.) This is a complicated topic that's sure to push people's buttons a little bit, but we believe it's important to talk through controversial issues such as these like rational adults. Here's a handy explainer to walk you through the sensitive issues at play.
Does Rihanna want to be in Taylor Swift's squad?
No!
What!!!!!!!!! Why not???????!????
She doesn't think their brands are the same, and doesn't think they match. As she tells NME: "I don't think our brands are the same. I don't think they match."
Does this have something to do with Rihanna not wanting to be a role model?
Yes!
Does she think Taylor Swift is a role model?
Also yes!
And despite their many ostensible similarities, is it this key difference that has made the distance between their brands nigh insurmountable, as outlined by Rihanna in the September 18 issue of New Musical Express?
Again, yes! "In my mind she's a role model," Rihanna says. "I'm not."
What about their audiences? Does Rihanna think they're the same people?
Definitely not! "I don't think our audiences are the same," Rihanna told the magazine.