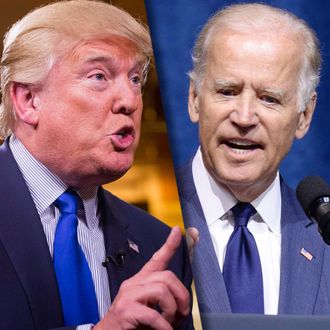 Good luck, hairdressers.
Photo: Getty Images
"Nothing would be more boring than a late-night war," Stephen Colbert told Jerry Seinfeld this summer — but, like a German diplomat in the summer of 1914, it turns out he was lying! Next week, Colbert's Late Show will go head-to-head with Jimmy Fallon's Tonight Show, with an awe-inspiring list of guests that includes George Clooney, Kendrick Lamar, and Jeb Bush. Now today, Variety reports Fallon's own guest list for that week includes Donald Trump, a former NBC employee who is quite possibly the most attention-grabbing person in America right now. As a counterattack, Colbert this afternoon announced yet another guest for his first week: the vice-president of the United States, "Diamond" Joe Biden.
It's clear this war won't end until one of these two books Taylor Swift, at which point the universe will eat itself.