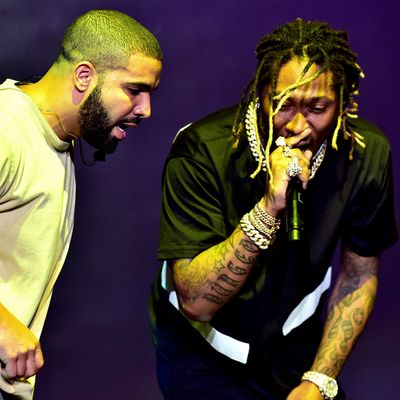 Drake and Future.
Photo: Prince Williams/Getty Images
Last week Drake gave his first major magazine interview in a year and a half, which is how long it's been since Rolling Stone had the audacity to pull his promised cover at the last minute and instead eulogize the recently deceased Philip Seymour Hoffman. ("RIP to Phillip Seymour Hoffman [sic]," Drake tweeted during a Twitter rant about this perceived injustice. "All respect due. But the press is evil.") In Leon Neyfakh's new profile of Drake for The Fader — don't worry, he got the cover this time — the artist formerly known as Jimmy Brooks speaks candidly about his creative process. One of the interview's most revealing moments comes when Neyfakh asks Drake why he likes to "remix" hit songs by up-and-coming artists like Migos, iLoveMakonnen, and, more recently, Mississauga crooner Ramriddlz. Quite unexpectedly, Drake says that he is just "channeling [his] mom."
When he was growing up, he explains:
"I'd bring home an essay that I did really well on, and my mom would read through it and give me notes back — on the essay that I just scored a 94 on! So sometimes I just do that. I'll hear people's stuff and … I'll just give my interpretation of how I would have done it. It's just, literally, I've recognized the potential and the greatness in this piece, and I want to take my stab at it too."
Over the past two years, Drake — apparently the self-appointed helicopter mom of the rap game — has been rewriting quite a few essays. The modern Drake "remix" as we know it dates back only to late 2013, when Drizzy dropped a few verses on a rereleased version of Migos's then-underground hit "Versace," affectionately employing the group's signature sprinkler-sputter flow. It was a well-timed assist; Drake's remix helped the song crack the Billboard Hot 100. And he did something similar last August, when he released his own version of rising DIY-R&B oddball iLoveMakonnen's "Tuesday," except this time he also signed the artist to his label, OVO Sound. Again, it worked: The original song was probably too strange for radio, but radio was not going to ignore that new Drizzy Drake.
Drake's more recent "remixes," though, haven't been as generous to the original artists. Drake's version of Ramriddlz's "Sweeterman" is essentially a cover (it doesn't feature Ramriddlz's voice at all), and the official title of his current radio smash, "Hotline Bling," is actually "Hotline Bling (Cha Cha Remix)" because of the heavy stylistic debt it owes to the Virginia rapper D.R.A.M.'s single "Cha Cha." (Though I doubt most of the people who have heard Drake's song realize this.) Are these homages or erasures? It depends whom you ask. You could see it as a popular artist generously sharing the spotlight and giving upstarts he genuinely likes strategic boosts into the mainstream. Or, just as easily, you could see a calculating overlord swagger-jacking whoever happens to be new and hot right now, like a high-school queen bee who begrudgingly befriends the new "It" girl, just so down the line she can claim credit for her sudden popularity.
I can pinpoint the exact day I jumped from the former camp to the latter: May 5, 2015, when Drake released his remix of Fetty Wap's second hit, "My Way." Unlike Migos in 2013 or Makonnen in 2014, Fetty's ascent to stardom didn't really need a boost from Drake: "Trap Queen" entered the Billboard Top 10 in mid-March and was well on its way to becoming a ubiquitous song-of-summer juggernaut. Drake's past co-signs have been endearingly left-field, but this one — obvious, inevitable, a little self-conscious — felt off-brand. Fetty hardly needed Drake, but he wasn't about to turn him down. "He sent me a [Twitter] DM, and I sent him my number," Fetty has recalled in the charming but sort of frenzied story of how Drake first got in contact with him. Then Fetty got on a plane, and when he landed, Drake FaceTimed him from a club, where he was playing "My Way." "He was like, 'Yo, I want to cut the record tonight.' Next thing I know, I checked my email and [the remix] was there."
This strategy is a savvy way for Drake to keep his voice on the radio between albums, of course — not that any of these artists has objected to his interjections. (Makonnen cried when he heard the "Tuesday" remix for the first time, but he has since said he was on mushrooms, so.) And Drake is not the only famous rapper who does this sort of thing. Nicki Minaj also likes to spit over recognizable beats; last year, between her glossier singles, she released playful remixes of PTAF's "Boss Ass Bitch," Rae Sremmurd's "No Type," and Young Thug's "Danny Glover." But the difference is that none of these remixes became hits, and none of them (with the possible exception of "Boss Ass Bitch") eclipsed the original in popularity. What Drake is doing feels more in line with what Taylor Swift has been doing on her 1989 tour, inviting just about every other contemporary hitmaker onstage to "duet" one of their songs with her. When I saw her, it was the Weeknd; slightly later to the party than Drake, she brought Fetty out to sing "Trap Queen" in early August.
This summer it became fashionable to make fun of Taylor's effort to become our all-conquering pop overlord, but Drake's methods for staying on top are seen as beyond reproach. Meek Mill's accusations that Drake uses ghostwriters, and Drake's eventual, shrugging so-what-if-I-do, have somehow only made him stronger. With each step he takes, Drake is revising the playbook of what is and isn't acceptable — or achievable — for a pop star of the hip-hop generation. Whatever Drake does becomes the new normal.
*
For the second time this year, Drake is getting rich off a mixtape. Last Sunday night he surprise-released What a Time to Be Alive, an 11-song collaboration with Atlanta rapper Future. By the following Monday, some sites were reporting that the release would sell 500,000 copies in its first week — insane numbers in 2015, especially considering that the mixtape was, insouciantly, released on a Sunday night and not a Friday morning. That number turned out to be closer to 375,000, which gave WATTBA the third-highest debut week of any album this year, bested by Drake's other surprise-release mixtape, If You're Reading This It's Too Late. That one sold 535,000 in its first week, and recently became the only 2015 album to surpass a million copies sold. These are remarkable achievements, and ones that Drake has pulled off with total nonchalance. He has completely dominated the album chart in 2015 without even putting out a proper album.
What a Time to Be Alive is, according to its creators, a "mixtape," although that's a funny word. The internet has made the definition blurrier than ever. Some think a mixtape these days is anything released for free online; purists think something with all-original beats doesn't qualify. But What a Time to Be Alive features all-new beats from Metro Boomin (as well as a few others), and almost hundreds of thousands of people paid $9.99 for it on iTunes last week. It's easy to think that the digital era's obsession with the mixtape has hastened the much-reported Death of the Album, but Drake's approach to mixtapes has actually breathed new life into the idea that the album has the format for an artist's most meaningful, important statements — his albums are still what he saves his best stuff for. (The final track on What a Time to Be Alive, the razor-sharp "30 for 30 Freestyle," basically feels like a sonic trailer for his still-forthcoming album Views From the 6.) He's called WATTBA "a little soundtrack for people that need it right now," the most revealing word in that phrase being little. He also spoke of If You're Reading This self-critically in that Fader interview: "There's corners cut, in the sense of fluidity and song transition, and just things that we spend weeks and months on that make our albums what they are." He seems to personally define mixtape as "good, but not my best work," and the tossed-off release strategies of these efforts are the ultimate humblebrags. Drake knows that right now, even his rough drafts will be blockbusters.
WATTBA is a minor release for Drake and Future both, but it certainly has its moments. The icy, bouncing "Diamonds Dancing" is an instant classic; the imminently quotable "Big Rings" will be inspiring Instagram captions until the end of time. "Plastic Bag" contains one of the tape's catchiest hooks — and one of the only moments of what seems like genuine camaraderie between the rappers, when Drake builds a chorus around the phrase "you deserve it," possibly as a nod to one of Future's great early singles. In terms of chemistry, WATTBA isn't exactly Watch the Throne or Run the Jewels. At times, it's not even Cheek to Cheek. Future and Drake barely interact on these songs, and they both seem here to tell unrelated stories that are lopsided in their respective depths. (Music writer Kyle Kramer has parodied this on Twitter: "Drake: I am rich and invited to lots of parties," he tweeted. "Future: I almost died drinking lean.") WATTBA is not a buddy flick so much as the rap-game Wild Palms.
Which means that ultimately, once again, Drake's involvement here seems more strategic than anything. Future is having a hot and insanely prolific year (he's put out three mixtapes and one full album), and — though the two have had rumored beef in the past — it just feels like a good time to for Drake to have this guy publicly on his side. And vice versa. In July, Future landed his first No. 1 album with Dirty Sprite 2, which sold an impressive-for-him 140,000 in its first week. WATTBA did almost triple that — such is the Drake Bump. At this point, Drake's stamp of approval has less in common with any other rapper's co-sign than it does the seal adorning an Oprah's Book Club pick.
Something about all of this makes Fetty Wap's tuneful, spirited self-titled debut album, which came out on Friday, feel like even more of an achievement. I can't imagine the last time you could say this about a high-profile rap release, but nobody on this record was famous a year ago. There are no career-sanctioning guest-verses from superstars, no hooks sung by up-and-coming starlets — just Fetty and his Remy Boyz crew, grinning with an infectious, I-can't-believe-we're-getting-away-with-this exuberance. Those four howling, candy-coated singles weren't flukes; Fetty's got at least a dozen more just like them. I can't recall the last time a 20-song album moved with such spring in its step.
Fetty Wap hits a sweet spot between the familiar and strange — palatable enough for mass appeal, but singular enough to feel like a thoroughly personal vision. He'll be a fixture on the radio for a while, and I'm sure he'll spawn many imitators. But more important, his story will serve as an inspiring tale for plenty of aspiring rappers without the assistance of a well-connected benefactor. Drake's co-sign is already a forgettable blip in the narrative. Fetty's rise was his and his alone.
*A version of this article appears in the October 5, 2015 issue of New York Magazine.