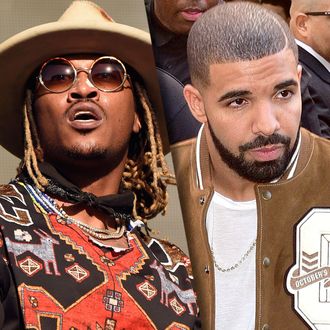 Future and Drake
Photo: Getty Images
It might have happened during the Emmys, but it still happened: Drake and Future dropped their joint mixtape Sunday night. Dubbed What a Time to Be Alive (or WATTBA, affectionately), the 11-track diamond-covered project premiered via the Beats 1 show, OVO Sound, and is available now here for purchase. The record features nine duets and one solo track from each artist. "It's a little soundtrack for people that need it right now," Drake said, according to Rolling Stone. "I went to Atlanta for six days a couple weeks ago with the hopes of doing some songs with Future, and when you get around Future, it's like a vortex, that guy can outwork anybody right now … It's tough to see someone do four, five songs in one night and not try to match it." And you can bet Meek Mill is receiving a lot of troll diamonds on Instagram right now.
Drake celebrated the semi-unexpected release by posting the track list via Instagram:
Actually the only thing arguably better than the fact that the mixtape is here is whatever Drake thinks he's doing on Instagram to promote this thing:
What a time indeed.